Link to the $50K Challenge article:
https://seekingalpha.com/article/318035-the-50-000-challenge-10-picks-for-a-7-5-return-in-one-week
Total Initial Investment Amount: $50,735.50
End of week target: $54,541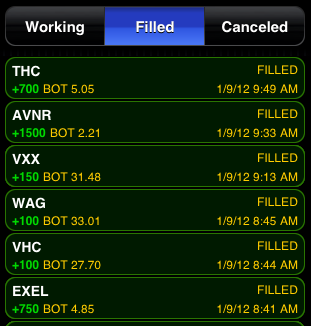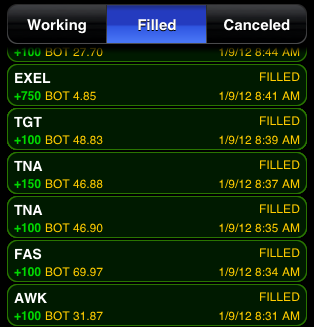 Day 1: Not exactly the initial burst out of the gate that I was hoping for. Mondays are typically my busiest day of the week and I missed some good trading opportunities, but it is what it is. Down about $35.00.
Expect things to pick up dramatically as I get more active
throughout the remainder of the week.
Let the bulls run (then give me some volatility)!

Day 2: I have been having trouble posting my trades to my stock talks page. Here are all of my trades, thus far, today (10:00 AM CST).

Too many trades for the rest of the day to fit/list here, but below are the end of day results.

A little bit better of a day (up about $1,108), but I am still a bit behind the pace necessary to hit my target number. As you can see, I have left myself positioned somewhat bearishly for Wednesday, as I expect a bit of an overall market pullback. TNA, EK, FAS, and WBMD were my winners on the day. I am hoping that TZA, FAZ, and VXX will give me a good boost to start the day tomorrow. Three days to go!
Day 3: It's early (8:00 AM CST), but it is looking like my bearish positioning for today is going to pay off. I have three days to make $2,732.50 to meet my target. Let's see how it goes...
A little better than yesterday, as I finished up about $1,492 on the day. Today's big winners were EK, HL, and FAZ. I had some minor missteps but, overall, my pattern recognition abilities won out again. Despite the slow start on Monday (understatement), I have managed to gain about $2,565 so far on the week...so I am left with two trading days to gain another $1,240. I have left myself positioned bearishly for tomorrow. This may have been a mistake and, if so, I will have to do some fancy footwork early in tomorrow's session. I believe the financials have gotten ahead of themselves, and expect a pullback in that sector. We shall see what Thursday brings us.
Day 4: When I woke up this morning I wasn't happy with the futures considering my FAZ, TZA and VXX holdings. Rather than panic and sell too early, I maintained my discipline, as I expected no rate changes in the EU and that retail and jobless claims data would be worse than anticipated...so I patiently awaited the economic data that came out about a 45 minutes ago and took the opportunity to minimize the damage heading into the regular session by unloading all three of the above tickers at a much better price than I would have been able to a couple of hours ago. So instead of heading into trading today down $500+, I will start the day down about $56.00. Also, holding HL overnight turned out to be a good move...XLE - not so much.

I plan to lean on TZA and TNA heavily today, and am currently looking for a couple of good equity trading vehicles to play with. Once again, we'll see ho it goes.
Mid morning update: Up about $1,100. I think I'm done trading EK for the day, though I do have a buy order in at $0.68. Just can't nail the pattern down on that one today. On the other hand, HL has worked quite well. I believe the major indices will turn positive today, in time.
Mid-morning snapshot:

Another good day. Up about $1,660:

Big winners on the day: HL, TNA and PMC. Losers: EK, FAZ and TZA. I have achieved my objective, as the account is now at $54,900 which is about $359 above the $54,541 end of week target. Being that I have surpassed my objective, I must create a new one. I was once told by a very sharp man that if you fail to set new goals when old ones are achieved, you will find yourself stuck in a rut before too long. I have always said that a goal only becomes real when it is set in writing. I imagine goals as places you intend to get to. How can you expect to get anywhere if you don't know where you are going? As such, I intend to use the final trading day of the week and the challenge as an opportunity to achieve a 10% overall return for the week.
Today, I saw a market that wants to move higher and have left myself positioned bullishly for tomorrow. I am anticipating a 100+ gain on the Dow. In fact, I am looking for 1%+ gains on all of the major U.S. indices. It would also be nice if XLE, and the energy sector bounces back after several day of getting hammered.
I look forward to writing up the follow up piece to The $50,000 Challenge: 10 Picks For A 7.5% Return In One Week on Saturday.
Enjoy your evenings and may the bulls run tomorrow!
Day 5: Thanks a lot Dimon and the EU. Actually, I have no one to blame but myself for holding FAS and TNA overnight. On a positive note, I sold my EK position in the after hours session yesterday at $0.68 for a very meager profit (less than $70.00), and bought another big chunk this morning at $0.51. I will be trading it again today (hopefully successfully) to make up for the $526 I'm down so far this morning. It's going to take a lot more work than I thought to achieve my new 10% target, but I believe I can get it done. Otherwise, why even try, right? Happy trading everyone.
Heading into day 5:

Here we go...
Day 5 mid-morning update (10:00 AM CST): Had to sell all my TNA & FAS, both at a significant losses (TNA @ $49.49 & FAS @ 73.47), early in the session. Bought both back at lower prices and am making up for some of the losses. I also had to dump the rest of my XLE, INFY and PMC at losses. Bought some JDAS and I am having some decent success trading EK & MBLX. So far I am up $740 on the morning. Definitely a scramble, thus far. Stressful is the word of the day.
Mid-morning snapshot:

Unfortunately I had to close all of my positions (some quite possibly at unnecessary losses) and finalize the challenge early. My son is ill and I have to pick him up from my mother-in-laws. Apparently he is inconsolable because they were supposed to go sledding and now he can't. (at least I'll get to start the long weekend early but, then again, I'll probably have to snowblow the driveway again). All that aside, I started on Monday morning with $50,735.50 and ended up today with $56,230.15. This means I met both my initial and secondary objectives, as I ended up 10.83% on the week. Again, I look forward to analyzing the week's efforts on this portfolio and writing up the follow up article tomorrow morning. Enjoy your weekends!
End of Challenge Tally: + $5,494 (10.83%) 12:39 PM CST