Investors have long been seduced by the simplicity of calendar-based investing - selling in May and buying back in autumn, January's predictive power, high returns in the 3rd year of a US presidency, Super Bowl winners determining market moves, etc. 

 

Most of the results of these seemingly predictive rules are pure randomness; but so far in 2011 the market seems to be following the predicted patterns. This graph from the WSJmakes it starkly clear that your portfolio would have out-performed if you adhered to some horoscope-like rules: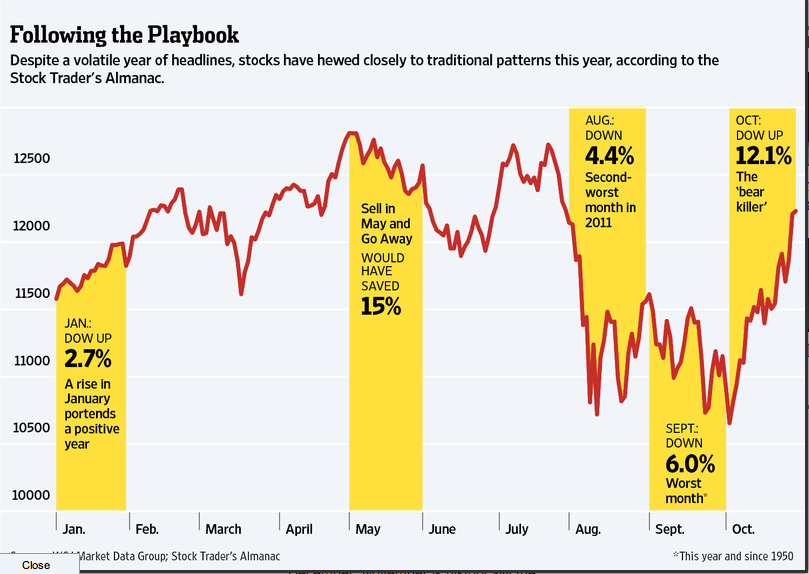 In fact, based on past statistics, September and October are historically two of the three worst months to own stocks. November and December, on the other hand, rank as the fourth and second best months to own stocks, respectively. But here we see that October has bucked the trend. What does this mean?

Well, according to the mystic arts, October has been a "bear-killer". So, apparently we can count on a new bull market - or at least gains through the remainder of 2011. 

Looking as past returns is always interesting, but at Portfolio Research we like to keep the snake oil and other charms at bay. We encourage disciplined, 

efficient, long-term investing

. So please don't spend all the gains you are now counting on making on the anticipated Santa Claus, post-Christmas rally quite yet. Wait and enjoy the post Christmas sales.