[Disclosure: Grey Value Management acquired a position in JCP shares in October 2013. This synopsis summarizes a much longer analysis conducted during 2013. Excluding historical financial data and certain industry statistical data, unless otherwise indicated it has not been updated to reflect subsequent developments. Please see Disclaimer below.]
Plotz [plots] verb: Americanism < Yiddish platsn literally, to crack, split, burst < Middle High German blatzen, platzen
To collapse or faint, as from surprise, excitement, or exhaustion.
Investors could be forgiven for plotzing over J.C. Penney's ("J.C. Penney," "JCP," or the "Company") recent performance. Less than 2 years after activist shareholder Bill Ackman compelled then-CEO Mike Ullman's replacement with retailing rockstar Ron Johnson, profits have collapsed, revenue is down 22% year on year, the share price has plummeted by over 75%, both Johnson and Ackman are history, and Ullman - the same CEO forced out due to his apparent underperformance - is back in charge.
If that wasn't enough, immediately after assuring investors that the Company had sufficient liquidity, in late September management announced it would issue approx. 84,000,000 shares, diluting existing shareholders by approx. 38% (excluding the greenshoe).1
What's not to hate? And yet,
Does it really make sense that in 17 months Ron Johnson could destroy a business that has survived for 111 years?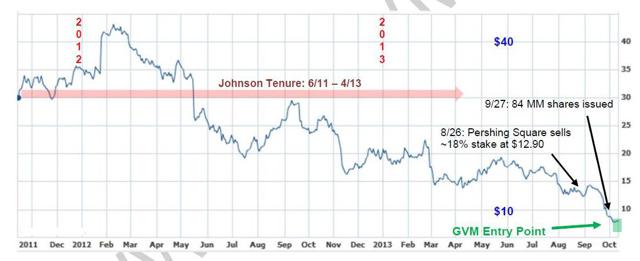 If nothing else, the profound failure of Johnson's strategic shift confirmed that it's the perception of the bargain, not the allure of the brand, that has historically drawn shoppers to J.C. Penney. If the bargain is key and Ullman has already resumed JCP's historical merchandising strategies (including frequent sales and promotions), the question for investors considering the shares at $7 is quite specific:
Why wouldn't the methods that worked for JCP in the past succeed again, at least to an extent sufficient to ensure its survival?
It's a deceptively simple but pivotal question. If certain pricing and merchandising strategies brought customers in to begin with, and their elimination subsequently drove shoppers away, why wouldn't a resumption of such practices bring them back? Why specifically would shoppers stay away? Three reasons occur to us:
1. Once-loyal shoppers are now so disenchanted that, even when presented with the same merchandise, pricing and promotions they once embraced, they refuse to return out of principal.
2. Former customers don't return because they have effectively been "permanently seduced" by the competition.
3. Management's merchandising efforts simply fail to entice shoppers.
Common sense suggests that shoppers motivated primarily by price are unlikely to reject bargains out of spite - especially when it involves merchandise they already know and trust in terms of quality.
It's similarly unlikely that these price-sensitive customers would suddenly prove entirely immune to sales and coupons. After all, their loyalty was always to some degree for sale.
Hence, the question isn't really whether proven management and methods should succeed, but the degree - how much profit they might have to sacrifice to induce shoppers to spend. In this sense, those framing J.C. Penney's future as an either/or proposition are misled;
Management's short-term challenge isn't binary.
The Company doesn't have to immediately recover all of the revenue and profits lost during Johnson's tenure. Short-term, it only has to reverse the losses draining its cash reserves (liquidity is currently projected to be $2 BN at year end2). How difficult will it be for J.C. Penney to stop losing money?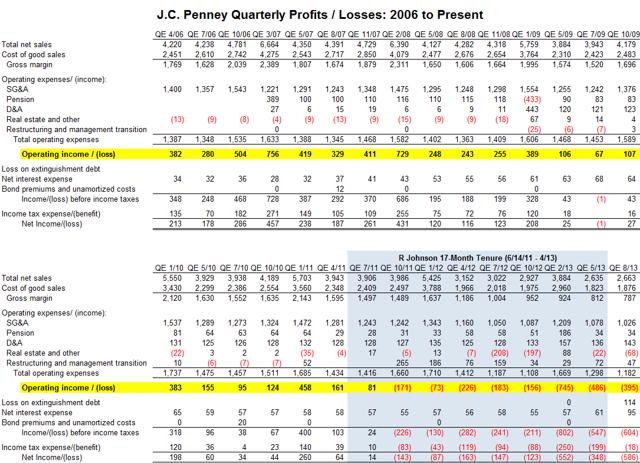 A close examination of the Company's results over the last 30 quarters reveals a business that, while not extraordinarily profitable, has until very recently been remarkably resilient. Note above how consistent the Company's operating profits (yellow highlights) are leading into Johnson's tenure, even during a severe economic contraction.
As a percentage of revenue, during the 21 quarters from QE 4/06 through QE 7/11, COGS averaged 61% and SG&A averaged 30% of revenue. If we project:
COGS of 61%,
SG&A of 30%, and
Average quarterly revenue eventually increasing by only 20% to $3.196 BN - a figure significantly smaller than every quarter from 2006 through QE 7/11,
JCP could achieve operating income of approx. $111 MM, as shown below.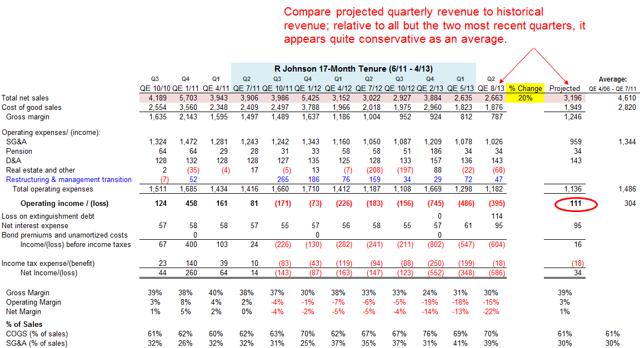 Unless J.C. Penney is irredeemably doomed, revenue eventually rising by only 20% above one of the worst quarters in years would seem a conservative projection. To be objective, 20% is a big increase, even if relative to a historically atypical baseline. But we don't expect such improvement within the next quarter, or even necessarily the next year.
In addition, reducing SG&A to a figure below $1 BN is ambitious, regardless of the historical average as a percentage of revenue. But the projected performance is entirely plausible within the next couple of years - it's in fact not much higher than the worst quarters during Johnson's oversight. Compare with revenue and gross margins in QE 4/12, 7/12, 10/12, and even QE 2/13.
In bringing the Company back to profitability, there are several factors working in management's favor that prospective shareholders should consider: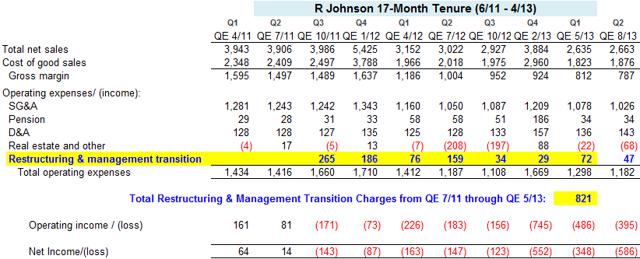 The negative impact of the $821 MM of restructuring and management transition charges (see above) and related cap ex Johnson incurred is history. Ullman's guidance is for $300 MM of cap ex for FY2014.3
However, any positive impact of Johnson's spending spree is residual. This includes physical improvements to the stores, such as the 505 recently refurbished Home departments, as well as any enhancements to the shopping experience generally.
The recent share issuance may have diluted existing shareholders, but not those that purchase thereafter (including readers of this synopsis).4 And that $800 MM in supplemental liquidity buys JCP management a lot of runway to turn things around.
Concluding Thoughts
Even in the best of times, JCP isn't what one would call an extremely attractive business. Its current travails in fact only highlight how difficult department store retailing can be. However, our investment thesis isn't based on outperformance:
The Company need only perform as well as it had during the most difficult years prior to Johnson's tenure - a period which included the worst economy since the Great Depression - for the shares to be worth much, much more than the current price.

However damaging his tenure, it seems suspect that Ron Johnson could in 17 months destroy a business that has survived several world wars, the Great Depression, the stagflation of OPEC I and II, the recent "Great Recession" - the list goes on.
It will naturally require at least several quarters of hindsight to determine whether management's turnaround efforts are succeeding. Investors have every reason to expect considerable share price volatility during that interim informational vacuum.
Moreover, if predictions of a very difficult holiday season for all retailers prove correct, the next few quarters may contain more discouraging than positive news. However, not all short-term volatility will necessarily be negative; once investor focus shifts from survival to profitability, the share price should leap with the collapse of the current bankruptcy discount.
As with any overview, this document necessarily omits more than it includes. That said, we intentionally excluded our analysis of the Company's real estate because J.C. Penney's worth as a going concern presents a very different and much more attractive risk/reward for the equity than a liquidation of the underlying assets. However substantial the value of the real estate, it's not a reason to buy the shares.5
Ultimately, we're not arguing that J.C. Penney is, was, or even could be a very attractive business; the net margins were slim long before Johnson decimated the Company. But that doesn't mean that it's not extremely underpriced for what it is. We didn't think much of Dell's future, but at $9 the business was absurdly, irresistibly undervalued (see Our Descent Into Dell).6 The same goes for JCP at $6.50.
1 An additional 12.6 MM shares may be sold by Goldman Sachs within 30 days of the original issuance, which would increase the dilution of the existing shareholders to ~ 44%.
2 See Business Update, 8-K filed October 8, 2013.
3 See 8-K filed August 20, 2013.
4 To be accurate, current purchasers will still be subject to the dilution from the 12.6 MM share green shoe, if exercised.
5 This is not to say that the same logic applies to securities higher up in the capital structure, or the CDS for that matter. However, this analysis focuses on the equity.
6 www.greyvm.com/GVM%20DELL%20Analysis.pdf.
DISCLAIMER
Grey Value Management may have a position in any of the securities discussed in this presentation. Grey Value Management may reevaluate its holdings thereof and purchase, sell or cover certain positions.
Disclosure: I am long JCP.