By Russell Glaser

The U.S. Gulf of Mexico oil rig disaster continues to make daily headlines and rightfully so. Millions of barrels of oil are estimated to have spilled into the Gulf of Mexico, making this the worst oil spill in U.S. history. Following this disaster will be extensive litigation and stiff regulation from the U.S. government. This may have the influence of raising the price of spot crude oil over the long term.

On April 20th when the Deep Water Horizon oil rig exploded in the Gulf of Mexico and killed 11 of the 126 BP crew members. No one expected the oil rig to leak as much oil as it has and to continue to leak for this long. Even today BP is siphoning off oil and gas from the uncapped well after an undersea robot crashed into a system designed to collect the oil from the leaking well. Underwater TV cameras and constant media coverage have engrained the pictures of oil rushing out into the sea at a frantic pace from the oil well and into the Gulf.

The Obama administration has come under intense pressure because of the handling of the spill. As a response, the administration issued a temporary six month ban on deepwater drilling. However, this ban was later overturned by a U.S. court. The administration is currently appealing.

Fines and penalties may come from the government as well. A number of lawsuits have been filed as a result of the spill and many more will follow which should drag on for years to come.

BP has always accepted its responsibility for the spill and has acted in such a manner by foregoing its Q2 and Q3 shareholder dividends. The company has already put aside $20B into an escrow account in order to meet spill claims. The Independent Claims Fund (NYSEARCA:ICF) will be independently managed outside of BP and will require BP to pony up $5B in 2010 and $5B every year until 2013. However, the ICF does not limit BP's liability for the oil spill.

This is the least BP can do as it appears the company chose cost cutting measures over the necessary safety requirements on the oil rig. This may have caused the explosion although no official enquiry has published its findings.

The impact on the price of crude oil is palpable. A drop in production from the moratorium on deep water drilling may reduce future supplies of crude oil. Further government regulation may also limit new exploration and cause an increase in price as integrated oil and gas companies may be forced to take more safety precautions to prevent another disaster such as this from BP.

However, since the explosion at the Deep Water Horizon oil rig on April 20th, the price of spot crude oil is down 14%.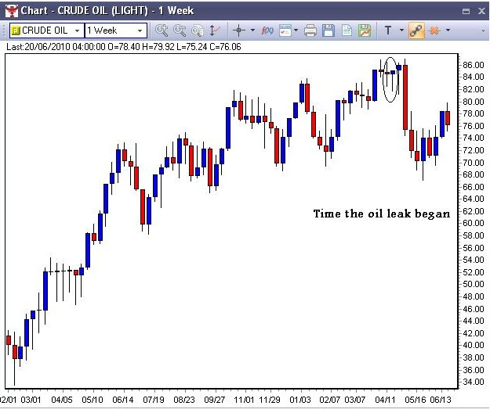 Disclosure:
no positions