By Greg Holden

Sweden's central bank, the Riksbank, recently stated that its growth prospects remain solid, and that its economy currently stands on firm ground. We've seen long-term appreciation of the SEK against its 16-nation EUR counterpart over the past few months, with a few exceptions, but the latest downturn may be due to the negative sentiment offered in the statement.
The Riksbank announced a quarter-point rate hike, from 0.25% to 0.50%, but added a note of caution that its GDP growth forecasts have been decreased substantially due to external factors. With an estimation of a major European contraction in GDP, the Swedish economy will no doubt
be affected in a similar fashion
.
Riksbank Governor Stefan Ingves noted that "The Swedish economy is developing strongly following the severe downturn," But the bank's official report also mentioned that "economic growth abroad is expected to be lower, which means that the repo rate in the longer term will not need to be raised as much as was previously assumed."
This negative assessment of the euro zone has put some expected pressure on the currency combination for the region. From a technical perspective (seen below), we also see the SEK at a position of corrective movement. Many indicators are providing traders with strong bearish signals.
Technical Analysis
- The chart below is the EUR/SEK daily chart provided by
ForexYard
. The indicators used are the Stochastic Slow, the Williams Percent Range, and Fibonacci retracement lines were drawn.
- Point 1: We can see here that the price is currently testing a significant resistance line at the 23.6% Fibonacci level. Should the price be able to break through this level we could see a strong depreciation in the SEK.
- Point 2: The Stochastic Slow seems to be providing what looks like an impending bearish cross. Once this indication is provided, we should expect strong downward pressure on the pair.
- Point 3: The Williams Percent Range has peaked and recently turned downward. This indicator appears to highlight the growing level of bearish pressure being applied.
EUR/SEK - Daily Chart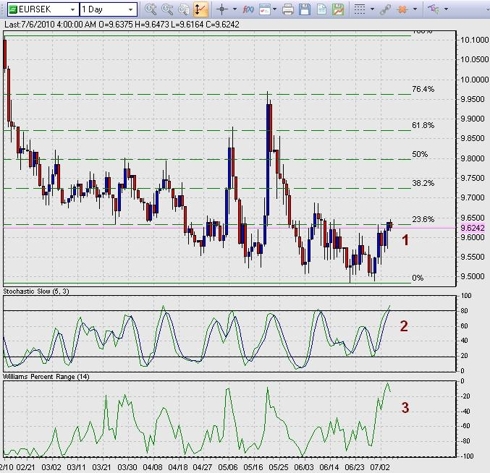 For more on the Swedish Krona, check out
this article
.
Disclosure:
No positions