Spot crude oil has had a standout trading day after strong gains in the European session that have carried into the opening of New York trading. The gains come on higher global equities and a rise in risk taking following a successful auction of Greek government debentures.
The price of spot crude oil was trading as high as $77.13 following an opening day price of $74.69. The gains come on the last day of trading prior to the expiration of the monthly futures contract in London.
Driving the price higher has been European equities that have outperformed in today's trading. The DAX finished up on the day 1.65% and while S&P futures were positive prior to the opening of U.S. trading.
Greece succeeded in selling EUR 1.625B 26-week treasury bills in an auction earlier today. A display of Greece's ability to return to the markets to raise capital helped increase risk taking in the market and overcome pessimism following Moody's downgrade of Portugal's sovereign debt rating.
Tomorrow traders will be anticipating the weekly crude oil report from the U.S. Department of Energy Administration. Crude oil stockpiles are expected to decline by 1.1M barrels. If crude oil inventories do decline, this would be the third consecutive weekly drop in U.S. crude oil inventories. This may fundamentally explain why the price of spot crude oil has jumped 11% since the end of May. It appears that supplies are catching up with fundamental demand, allowing for a rise in spot crude oil prices.
On the technical side, the daily chart is giving a
buy signal
following a cross of the 5-day simple moving average above the long term 20-day simple moving average. A new bullish trend can be found from the May low. The next target for spot crude oil can be found at the resistance line (R1) just below $80.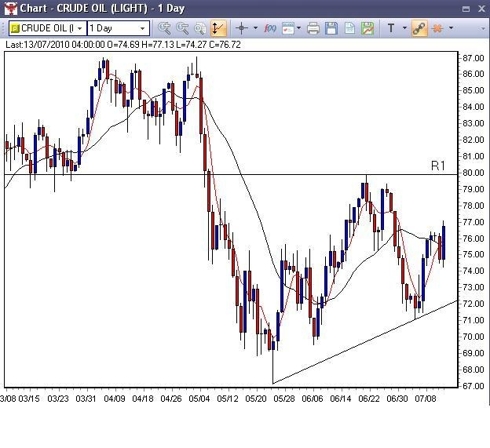 Disclosure:
No positions