I've been bearish on Apple (NASDAQ:AAPL) for the past couple of quarters and for several different reasons as I've outlined in this article. At the same time, the recent drop has also made Apple an attractive candidate for new investors. But is it a screaming BUY? I don't believe it is just yet and this is why.
I first wrote an article in September of last year (5 Reasons why Shares Could Fall Below $100) that was unfortunately declined by Seeking Alpha. However in that piece, I wrote about why Apple would likely fall back into double digits. Fast forward a couple of months later and my target has been reached and after another evaluation, I believe there is still 5%-10% downside to come.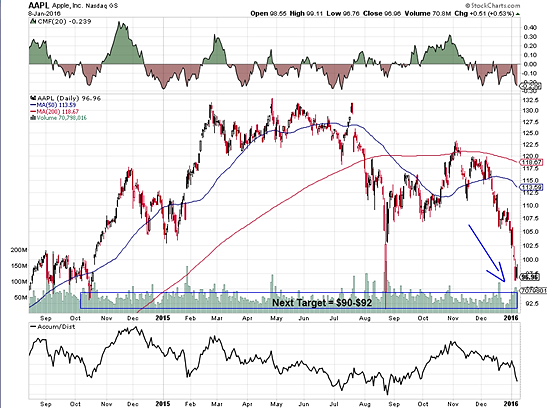 As we can see in the chart above, there is strong support in the $90-$92 range. Shares of the iPhone company last touched that level during the flash crash last August and in October of 2014. As I will lay out, I believe there is still further downside for Apple, and if I'm right again (shares in the $90-$92 range), I believe it presents a great opportunity for investors to start looking at building positions.
Don't "Back Up The Truck" Just Yet
Over the past several months, comments from investors have been along the lines of, "Shares are cheap, it's time to back up the truck." But as we've seen with Apple's decline, shares continue to get cheaper by the day. Hopefully nobody has backed up the truck just yet, but I do think that day is coming. We're just not there yet.
One of the reasons for me is the Tim Cook effect. Let's face it, nobody could step in and do what Steve Jobs did. But at the same time, Cook hasn't done much to take Apple to the next level.
For the past several years, Apple has been making the majority of its revenue (over 60%) from its iPhones sales. And after becoming CEO in August of 2011, Cook hasn't done much to help diversify that revenue stream. And with recent forecasts calling for a 10-15% decline year-over-year for iPhones in the second quarter this year, and down 5% for the entire year, it's just another reason why shares aren't a screaming BUY.
Second, nothing has come out recently that has investors excited. Apple, with its war chest of over $200 billion and counting, hasn't done much with it in any big moves. Sure the company has raised its dividend and has been repurchasing shares, but that hasn't stopped the company's share price from dropping more than 20% over the last six months. Until a new blockbuster product comes out, or news that the Apple Watch has suddenly caught fire, shares will likely continue to trade sideways.
Cook has tried to get the Apple Watch up and going, but really hasn't had the success that many investors and analysts envisioned it would have. We can't forget either of Apple's "splash" with its $3 billion acquisition of Beats back in 2014. And after almost two years of waiting, investors are starting to get some sort of picture on where things are headed.
Several reports have come out that Apple is ditching the traditional headphone jack and moving users to "premium" wireless headphones when the new iPhone(s) comes out sometime this year. However, despite the reports, there are still plenty of questions for investors going forward and this is why shares haven't rallied on these unconfirmed rumors.
Conclusion
Looking at Apple's chart over the last couple of years, it's obvious that shares are in a downtrend. The last time this happened shares went from $95 to $55, for a 40% haircut. Looking at Apple's most recent high (nearly $135), a 40% hit would takes shares back to $81. Do I think this will happen? Let's just say that I'm not holding my breathe. But at the same time, this is where I truly believe Apple would become a screaming BUY if it were to hit those levels.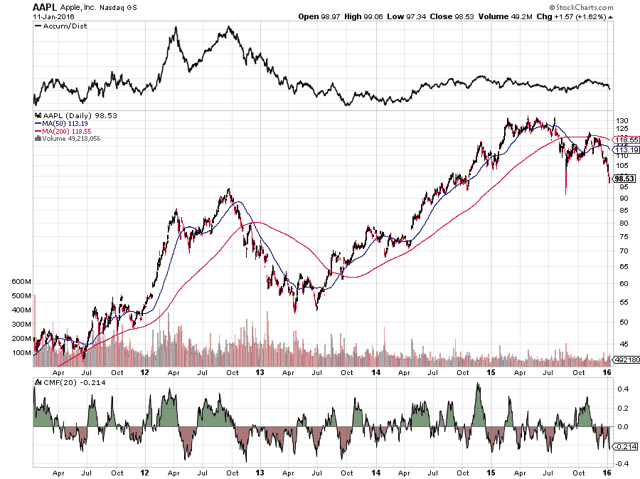 As we can see in the image above, every time Apple has dipped in the $90-$92 range, shares have been quickly bought up and I believe investors will continue to do so based on the company's current fundamentals, particularly compared to the rest of the market with so many overvalued bubble stocks.
However, if the market continues to go south on top of continued geopolitical issues like we've recently seen, I do believe there is a shot that Apple could fall into the $80-$82 range. Like I said, at that point, I believe it would be time to start "backing up the truck."
With earnings just a couple of weeks away, I feel that recent news about Apple's suppliers will start to fade away and investors will start to push shares up into earnings with the hope that fears have been overblown.
Because shares are currently trading at just 10 times 2016 estimates, I believe a good majority of the fear has already been priced in. But not all of it. If investors can get more clarity on the wireless headphones, Apple Watches among many other things in the upcoming earnings call, it will make it much easier for investors to see the vision and get on board the Apple train.
With the market still in disarray and with oil continuting to fall, I don't believe investors should rush into buying shares just yet, until the $90-$92 target has been tested. If that holds, a nice bounce will likely be in store for investors as we've seen the last few times.
Disclaimer: Link
Follow me on Twitter and StockTwits
Disclosure: I/we have no positions in any stocks mentioned, and no plans to initiate any positions within the next 72 hours.