Apple (NASDAQ:AAPL) will report its Q1 earnings results on January 23, 2013. Following the results, a conference call will take place to discuss the financial results of its fiscal quarter at 2:00 p.m PT / 5:00 p.m. ET.
After seemingly topping analyst expectations quarter after quarter, Apple surprisingly has now missed on its last two earnings reports. So what can investors expect this time around? Will the third time be the charm for Apple? Let's take a closer look.
| | |
| --- | --- |
| Apple Q1 Guidance: | What Wall Street Expects: |
| Revenue: $52 Billion | Revenue: $54.70 Billion |
| EPS: $11.75 | EPS: $13.41 |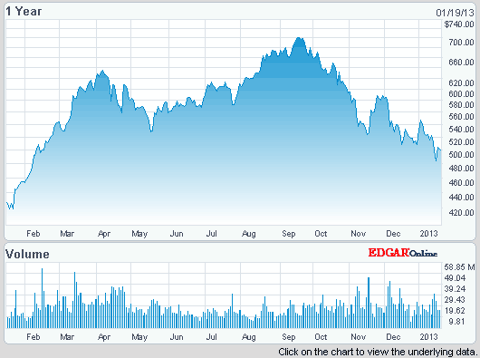 After hitting a 52 week high of $705 back in September, Apple's stock has since headed in the wrong direction. With Tuesday's closing price of $504.77 Apple's stock is down almost 30%. Will Apple's Q1 earnings be the catalyst it needs to launch Apple back on top?
Earnings Guide:
Everyone likes looking at year-over-year comparisons to determine if the company is still growing and which direction the company is headed. However, sometimes doing comparisons can be very misleading. Last year Apple's holiday quarter was 14 weeks. This year Apple has only 13 weeks. While many people were freaking out that Apple lowered its Q1 guidance even with the holiday sales quarter, we must remember that Apple likes to lowball its guidance. This is nothing new to Wall Street. We must also realize that because Apple has a week less of sales on its books, doing a year over year comparison from last years quarter would be silly.
Since last quarter Apple has launched a bunch of new products. Apple released two new iPads, new iMacs, new iPods, new MacBook Pro and not to mention the iPhone 5 was still new. The iPhone 5 was already on the market a week before the quarter even started, so it will be interesting to see how it all plays out.
Apple's Highlights:
App Store Tops 40 Billion Downloads
Apple announced that customers have downloaded over 40 billion apps, with nearly 20 billion in 2012 alone. Apple's App Store which now has over 500 million active accounts had a record-breaking December with over two billion downloads during the month. So what records hasn't Apple already broken? With all of their new products out now Apple looks to be in good shape to break even more records this upcoming year.
iPhone 5 First Weekend Sales in China Top Two Million
Apple announced it has sold over two million of its new iPhone 5 in China, just three days after its launch on December 14. iPhone 5 will be available in more than 100 countries by the end of December, making it the fastest iPhone rollout ever.
"Customer response to iPhone 5 in China has been incredible, setting a new record with the best first weekend sales ever in China," said Tim Cook, Apple's CEO. "China is a very important market for us and customers there cannot wait to get their hands on Apple products."
Apple Lowlights:
Apple iPhone Component Orders Shrink
Apple reportedly has cut orders for iPhone components by as much as 50 percent. Does this mean that demand for the iPhone may be dropping? According to the Wall Street Journal, Apple's orders for iPhone screens have fallen to half of its previous order for the first quarter, and orders were cut on other components as well. Reports say that the reason for the cut was part orders and manufacturers having problems making the iPhone 5.
Apple Products Are Fighting Each Other
Apple's iPad Mini is cutting into demand for the company's full-sized tablets, raising concerns about Apple's profit margins. Sharp has nearly halted production of 9.7-inch screens for Apple's iPad as demand shifts to the 7.9-inch iPad Mini. Even though demand for the iPad is great for Apple, the iPad Mini carries a lower profit margin for them. A number of analysts and research firms have even expressed concerns about the iPad Mini cannibalizing sales of regular iPads.
Cheaper iPhone?
Investors eyes and ears will be waiting on the next big Apple announcement. Will they announce iTV? Will there be a cheaper iPhone coming out? Now remember Apple has an image to uphold. They are known for their high end gadgets, not their cheap products. However, Apple is always looking to expand into emerging markets, and China is a big key for them mobile wise. China has hundreds of millions of people and Apple is looking to capture that. It will be interesting to see if Apple decides to go that route. Experts say the cheaper iPhone would shrink Apple's margins a lot faster than everyone thinks. Also Apple's image could be lowered with their "cheaper" products. We will soon find out this week when earnings are announced.
So after two straight earnings misses, will the third time be the charm for Apple? I believe it is in the cards. My projections is that Apple will beat analyst estimates with $13.85 EPS on revenue of $54.8 Billion.
Analyst Recommendations: Of Wall Street recommendations tracked by S&P Capital IQ, the average opinion on Apple is outperform, with a price target average of $786.90.
Buy (41), Outperform (5), Hold (7), Sell (1)
Disclosure: I have no positions in any stocks mentioned, and no plans to initiate any positions within the next 72 hours.