One month ago, on March 15th, I departed from my normal milieu of dividend income investment equities and oil & gas stocks and wrote an article about my belief in Amazon's momentum and growth possibilities. As part of that article, I took a swing at Apple which had lagged Amazon for years in total return except for the 2012 AAPL bubble. As expected, the Apple fans piled on me with lots of personal comments and little substance to counter the simple momentum observations I made comparing the 2 companies.
Although I don't usually review the performance of my picks less than quarterly, having accepted the vitriol of APPL fans and their concurrent hatred of AMZN, I feel I deserve to take a 30 day review to say "Hey, how's that AAPL working out for all you that insisted it had taken its dive and was time to jump on the Apple cart again. Since my March 15th call to dump AAPL and buy Amzn, the Apple shares are down 14% and Amazon up 1%.
Time sorts the wheat from the chaff.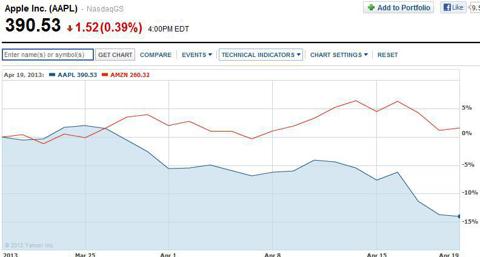 Disclosure: I have no positions in any stocks mentioned, and no plans to initiate any positions within the next 72 hours.