The first completed results are in for one of my Income From Covered Option Writing presentations to subscribers.
I am sharing these with public readers so they may learn from the Research, Access transparent results on my Subscription work, and understand the new SA Research Program better.
My Premium Research focuses on generating a 4-12% income and yield boost annually on income portfolios of $200,000 or larger.
Income From Covered Option Writing was launched as a Premium Research feature with Seeking Alpha on April 4, 2015. In the 9 weeks since that time, I have presented 18 articles on 17 tickers. Each of these includes a brief review of the company, a fair value analysis and appraisal, identifying specific current fair value prices, a technical chart with discussion of momentum, pattern development, and support/resistance levels, and one or more option strategies and specific option writes available based on real-time current trade prices for immediate cash income, yield boost, and lowering of market risk.
To date, 1 of these articles has a completed full cycle trade where the covered option write has run its course and I can now present the original research article in its entirety along with revealing the results of the trade described.
The subject company was Consolidated Edison (NYSE:ED). The price at the time of subscription publication on April 16, 2015 was $60.95. The shares were judged to be slightly over the fair value price of $59.09 and exhibiting a weak technical chart. After a review of the option chains available, a short term Cash Covered Put was identified as an appropriate and attractive strategy for these shares at the time.
First Result Reported:
The short term, 39 day, 5/15/2015 $60.00 Put @ $1.45 premium for immediate $145.00 cash per contract with an absolute yield of 2.39% (23.36% annualized yield rate) was identified as a target trade. This option expired un-exercised out of the money with the described income and boost banked by investors. Minimum size portfolios should have written 2 to 4 contracts, reaping $290 to $580 in net cash returns from the trade. This one trade then more than covered the $50 monthly ($400 annual) subscription. Seven (7) additional tickers were presented in Research Articles for April. These are still playing out, all in favorable positions to date.
I will report more results as the trades reach completion.
Below is the complete Premium Research Article as presented originally.
Note: My premium research subscribers received an advanced view of this article, along with real-time actionable covered option income boost analysis.
An Ultra-Safe 23.36% Yield Rate Today.
Apr 06 2:39 AM•ED•2 Comments
Disclosure: The author is long ED. (More...)
Company: Consolidated Edison
Current Share Price: $60.95
Fair Value Price: $61.36 (high value) / $50.47 (low value)
Option Write Available:
FOR THOSE THAT DO NOT CURRENTLY HOLD ED SHARES
Sell to open the May 15, 2015 $60 Cash Covered Put @ $1.45 premium.
Alternative: Sell to open the August 21, 2015 $60 Cash Covered Put @ 2.80 premium.
FOR CURRENT ED OWNERS WITH A BASIS BELOW $65.00
Write to open the August 21, 2015 $65.00 Covered Call @ 1.00 premium.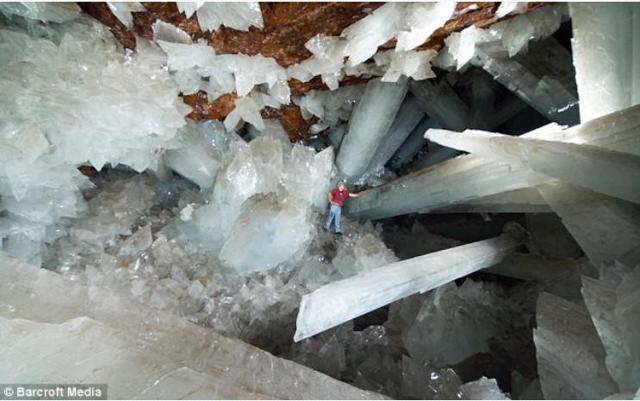 For those with the patience to wait, amazing results are possible, whether it is the time for nature to produce magnificent crystals such as these or the oversized yields you can safely obtain from a dividend zombie stock by being paid to wait for it to come down to your value price.
Brief Discussion:
I introduced Dividend Zombie Consolidated Edison back on October 31, 2014, an appropriate day to feature the best of the zombies. At that time ED appraised with a fair value price of $57.27 with its $2.52 dividend. Shares were trading at $63.20, more than 10% above fair value. I therefore suggested that although all of the zombies belong as a core portion of any dividend income portfolio, the over-priced shares would best generate returns by selling a cash covered put at the time. If you took my advice and sold to open the 2/20/2015 $62.50 Cash Covered Put with $2.25 premium, you immediately received $225.00 per contract in cash and locked in a 12.17% annualized rate using the 112 day contract. It expired out of the money and you were ready by the end of February to consider your next position for ED. If the shares had fallen below $62.50 at the end of the contract and were presented to you, your adjusted basis of $60.25 remained somewhat above the fair value computed in October but I suggested a likely dividend increase would occur soon and raise that fair value target. An $0.08 dividend hike did occur and raised the fair value appraisal to its current $59.09. The trade I identified for readers in October provided instant cash income, cut market risk, and generated far more income than holding the shares would have. This is the power of knowing the fair value price, having the patience to wait for that price, and using covered options.
While generally I do not like to settle for the potential of establishing an entry basis above or near fair value, the zombies are so important as core holdings and have well established records of dividend reliability and growth, that I made a minor exception in the February ED Put option write. With my current suggestion, any presenting of shares, if it should happen, will establish an entry solidly below fair value price. Thus, this pick is even better than the successful one of last October.
After adjusting fair value for the dividend increase (see the YDP appraisal below), not much has changed. The shares are currently at $60.95 and still trading at a slight premium to fair value. The general increase in market volatility and interest rate forecasts has resulted in unusually attractive option premiums in general and specifically in some of the ED Put Options in particular (as identified here).
YDP Analysis & Appraisal of Fair Value Price:
The YDP chart for ED remains unchanged since October. Established yield trends continue as identified. The only change is the fair value calculated on the basis of that established 4.4% yield trend given the $0.08 hike in distribution. Y= D/P (Y= yield, D = distribution, P = price (with P being calculated for fair value since we know Y and D now) by simple substitution becomes 4.4% = $2.60/P. Re-arranging the terms to solve for P, we have P = 2.60/.044 = $59.09 fair value Price.
For a more complete discussion of the theory and use of YDP charts see my blog article on the subject, articles of my Zombie Series and Tortoise Series, along with the vast majority of my other body or work for SeekingAlpha.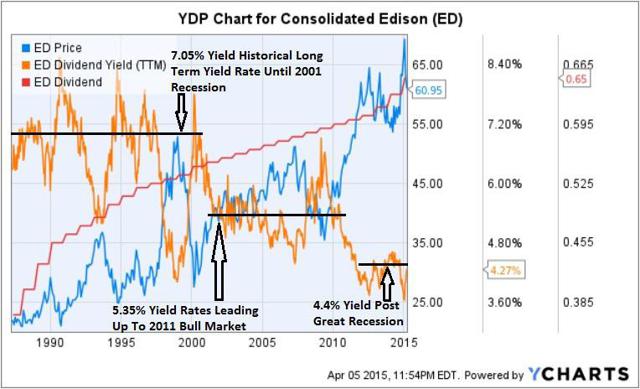 Technical Chart Review:
The technical chart developments since October show some new features but are within the expected momentum framework. The early October breakout led to a strong advance as I had suggested likely at the time. My take on things as I reported it in October has come to pass with no surprises regarding my forecast ...
The potential for significant advance on these currently over-priced shares rests on a significant earnings beat in the results due out on November 6th and more importantly the next dividend distribution increase announcement. With the prospects likely for both these milestones to be fulfilled before year end, shares are likely to be trading at $67.50 in the first quarter of 2015.
Share price indeed rose from its $63.20 October price to peak at $72.25 on January 28, 2015 and have fallen back in the unsustained breakout to the current $60.95. The current sideways drift can be expected to continue until significant news pushes momentum one direction or the other. I expect to see resistance in the $65.00 range to any new breakout and support present near the $59.09 fair value price.
The generous premiums offered on the $60.00 Puts for both short term and intermediate term contracts are very attractive. I would only consider writing covered calls at this time for the $65.00 strike out to the medium term (August). The returns are not great, but if you are already holding shares, they are not likely to be called away and you will still have opportunity to buy to cover, buy-write to open again, or switch to cash covered puts should you contract shares be called. Of course, you want to have a basis value below $65.00 if you write this covered call.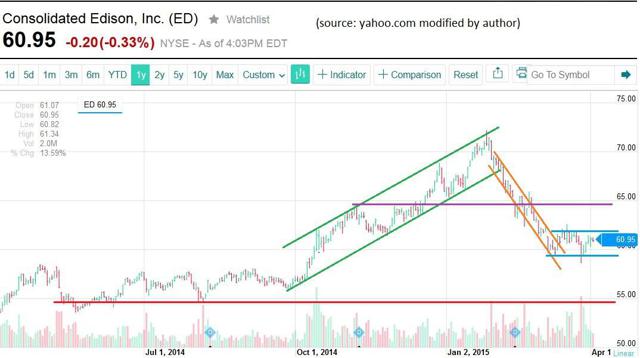 Current Covered Option Strategy:
At $60.95, ED shares are $1.86 (3.15%) over valued. There are no buy-write combinations available at this time which establish an adjusted basis below the $59.09 fair value.
Investors who do not own ED shares should focus on extremely attractive cash covered Put strategies. The short term, 39 day, 5/15/2015 $60.00 Put @ $1.45 premium gives you immediate $145.00 cash per contract with an absolute yield of 2.39% (23.36% annualized yield rate).
Alternatively, the longer term, 137 day, 8/21/2015 $60.00 Put @ $2.80 premium pays you $280.00/contract now for an absolute yield on your covering cash of 4.9% (13.04% annualized yield rate). The tradeoff is clear, you lock in good yields for a longer term, thus raising your absolute yield but you sacrifice the annualized rate. The choice of which is appropriate for you depends on your outlook for more future trades in ED options or any other quality income equity options along with your desire for the higher cash collected today or your outlook for falling option premium rates later in the year and the desire to lock in a solid double digit rate for over 4 months. Personally, for myself, I chose the 5/5/2015 $60.00 Put for the high annualized rate and my experience making me comfortable I likely can meet or beat the longer contract 13.04% yield rate through later ED contracts or other opportunities during the year. Also, if the shares are presented, I will begin receiving my $2.60 annual dividends which will have been boosted by the $1.15 premium I have already pocketed (a 44.23% boost to the annual dividend which I have not had to wait for).
If you do already own ED shares and your adjusted basis is below $65.00 then you might consider the 8/25/2015 $65.00 covered call @ $1.00 premium. This 137 day contract is a 1.67% absolute boost (4.44% annualized yield rate boost). The premium collected represents a 38.46% annualized basis boost to the dividend. converting the conservative and moderate $2.60 (4.3%) annual dividend yield to a $5.26 ( annual 8.63% yield rate). Once again, even modest yield boosting using covered option writing magnifies your income and yield rates considerably.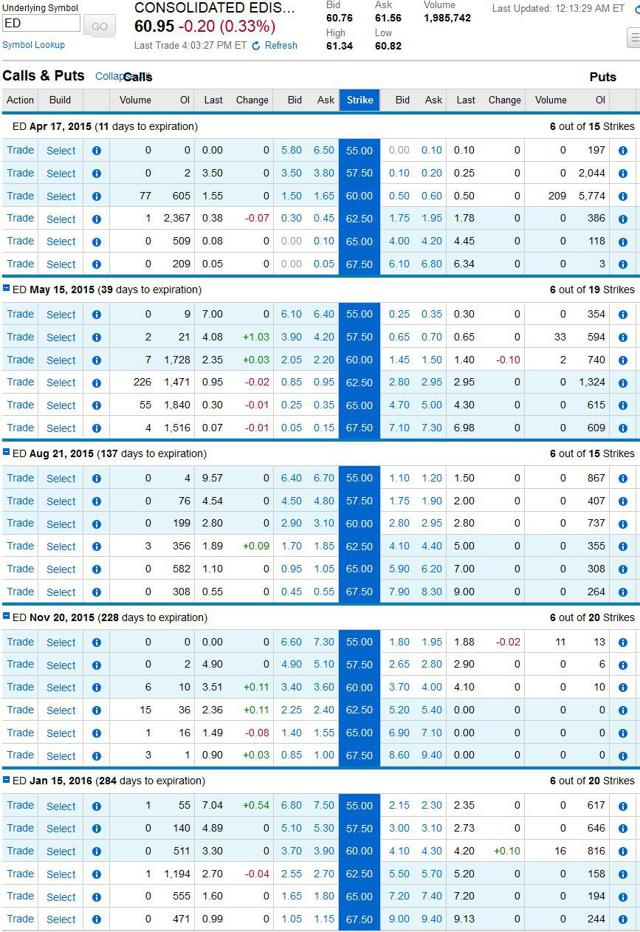 Keep in mind that options are always best traded in tax deferred accounts both to avoid potential adverse tax consequences and possible capital gains issues in the event of a call-away of your shares.
I am not a licensed securities dealer nor advisor. My work presented here is specific and actionable but should be considered as analysis only and not taken as investment advice. As always, each investor should weigh the suitability of each analysis presented and do your own due diligence as you feel appropriate.
Disclosure: The author has no positions in any stocks mentioned, but may initiate a long position in ED over the next 72 hours.
Additional disclosure: I currently have written cash covered puts on ED.