IBM: The Test Of Time
Feb. 18, 2016 11:33 AM ET•IBM •Comment!
Summary
My 8/13/15 research suggested entry to IBM using a buy-write strategy with the calls for 1/15/16 $160.00@$5.45 for a net basis of $150.91.
Results have been disappointing but within expected range since that time, with shares down to $125.67 and option premiums modest at this time.
IBM provides a true example of riding out hard times with a quality dividend boosted modestly with conservative covered call income.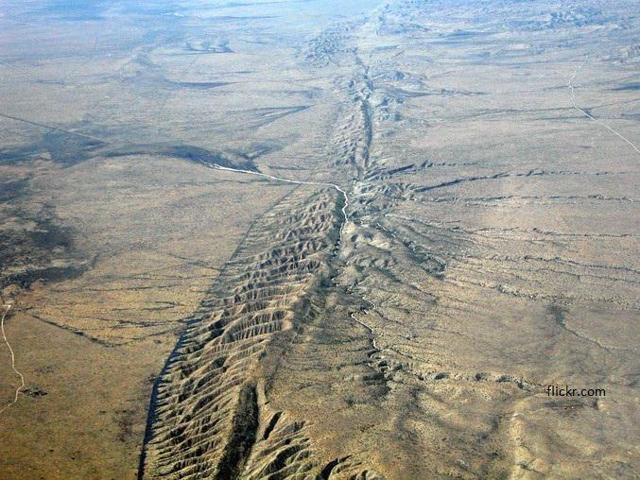 Time, it is the most powerful tool in the universe. As a geologist, I am trained to think in deep time, millions and billions of years are the hands that sweep my watch. Time wears away the greatest mountain ranges into dessert flats, turning stone to sand and clay. In just 20 million years, the San Andreas Fault (seen above) will transport Los Angeles (on the west side of the fault) to San Francisco (sited east of the fault. In finance and investing, time is an important tool. Given a quality investment, time will smooth out the bumps in the road forward and heal most all wounds. One penny, doubled each day will become $2 Billion Dollars in just 39 days. At first, that doubling is easy. You can double your penny by digging in your pockets or purse for the past week. You can double the 2 cents by checking under a seat cushion or two. You can double that 4 cents by a more protracted cleaning up of loose chain, probably reaching 8, 16, and maybe even 32 cents or more by this method. At some point within the first 15 doublings, things we start to get hard and then very hard. So it is with investing. The road ahead is rarely straight and smooth.
Company: International Business Machines Corporation (NYSE:IBM)
Current Price: $133.55
Dividend: $5.20 (3.94%)
Fair Value: YDP (2.0% elevated "fear" yield ) $266.67
(Peter Lynch Fair value): $204.40
(Free Cash Flow/share metric -- Fair Value): $200.00
Gurufocus.com DCF model Fair Value: $271.64
Prior Research:
Current Situation & Outlook:
The stock markets do trend up over time. This is one of the cornerstones of our value focused dividend income program boosted by covered option writing. When our choices go against us in near term performance, the quality of the company coupled with the continuing dividend income allows us to ride out the hard times and remain focused on income, being less concerned with price so long as value remains true. IBM is performing exactly as we are prepared for, even if not anywhere as we hope for. For the time being, I suggest that hunkering down and staying with the basics of harvesting dividends along with modest option premium boosts is the strategy which fits best.
Fair value analysis and appraisal remain as discussed in my August 13, 2015 research report. YDP fair value is $266.67. Other Fair value methods suggest a range of $200 to $271.64.

The wide range of fair value estimates which are all significantly above (around double) current market price continues to suggest an irrational market. This is especially true given that the future revenues can be forecast with high confidence due to the nature of IBMs contracts and customer base along with the long history of these. Interestingly, the DCF model provides the highest of all the fair value estimates.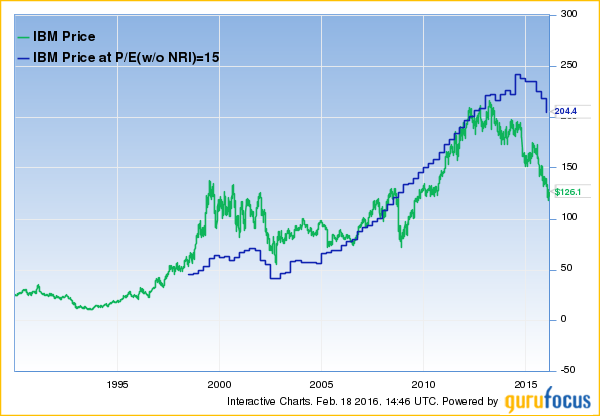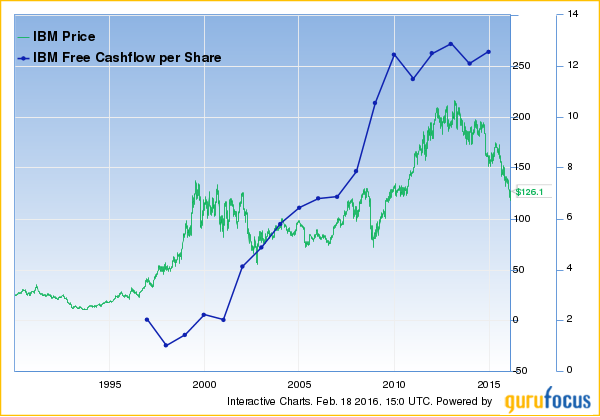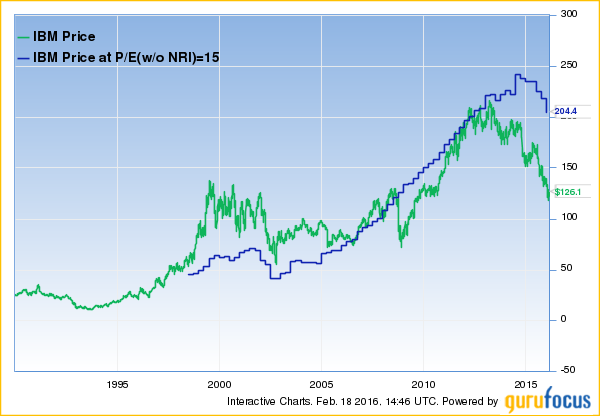 Technical Chart Trends:
The technical chart shows a bit of excitment finally after a very weak down-trend channel for more than a year. For the past 4 days, shares have been rising sharply off a 5 year low of $116.90 set 1 week ago, on 2/11/16. Shares are up $7.25 from yesterday's close, having risen over $16.65 (14.24%) in the past week. I think it is likely the bottom is in for IBM and a strong recovery has begun. $140.70 should be the next potential resistance level. I expect shares to power through that level fairly easily and then perhaps spend some time consolidating above that base (which will convert than to a support level).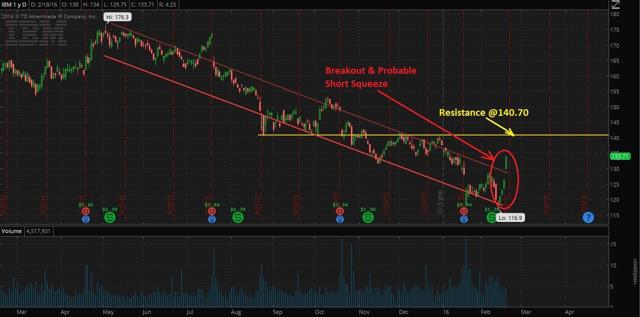 Option Boost Opportunity:
With the current share breakout and 15% advance in the past week, we are beginning to see modest premiums available for long term strike prices near our cost basis. Those that want to continue to pump modest income boosts might take this opportunity to write new covered calls on the 337 day contracts for the 1/20/17 $150.00 @ $4.50 premium. This is an absolute gain of 3.49% (3.78% annualized yield rate). A boost that about doubles the current 3.9% dividend yield.
Those willing to take a little bit greater risk, potentially missing a short term rally with its favorable premiums, should be patient and wait a few more days to watch developments of the current up-surge. This may allow you to write shorter term contracts at higher strike premiums for even larger premiums.
Those who do not currently hold shares and wish to enter should consider doing a buy-write with the covered call leg described above. Waiting a few days to enter is not suggested since you could leave a lot of money on the table as you watch shares rise sharply from current price. If you need to discuss a possible entry, let me know and I will review some potential covered put strategies for entry too.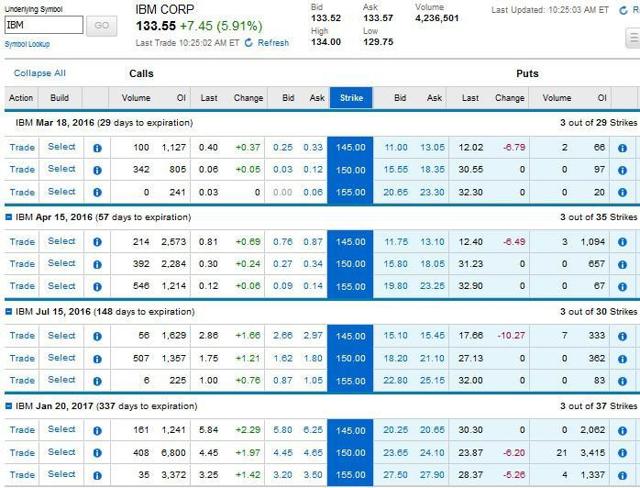 Closing Thoughts:
As always, I remain available to you for any questions or other things you would like to discuss.
I am not a licensed securities dealer nor advisor. My work presented here is specific and actionable but should be considered as analysis only and not taken as investment advice. As always, each investor should weigh the suitability of each analysis presented and do your own due diligence as you feel appropriate.
Richard
Disclosure: I am/we are long IBM.
I wrote this article myself, and it expresses my own opinions. I am not receiving compensation for it. I have no business relationship with any company whose stock is mentioned in this article.
Disclosure: I/we have no positions in any stocks mentioned, and no plans to initiate any positions within the next 72 hours.