The following screen capture is a simple and very typical example of the annualized yield rates (see the "Cov Return" columns) in the capture).  The distance out of the money (away from the current market price) and the time duration of the contracts will combine at any given moment to determine the covered return yield rate.  Value based option strategies such as I target in the Engineered Income Investing subscription service here on Seeking Alpha generally will generate 4% to 30% annual yield rates from the covered option premiums.  When done on  covered calls for shares held long, this is additive on top of the dividend yield itself.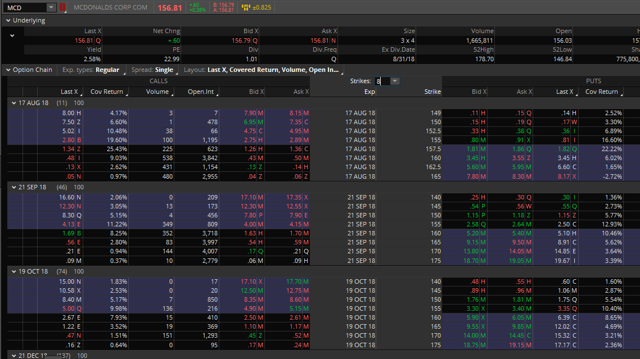 Learn to Thrive, Not Merely Survive In Retirement. Engineered Income Investing provides you with the tools and knowledge to go from working to living without the need to work. True wealth is only measured in time and the freedom to spend it how we desire.


In E.I.I., I share with you the lessons and techniques I have learned that allowed me to retire early to a fully paid for lakeside home & enjoy traveling the world 6 months of each year.

You get:
A minimum of 5 analysis reports/month on high quality dividend income equities, including an analysis of fair value, technical chart review, and specific strategies to enter/hold/exit shares using covered option writing to generate instant income and boost yields, while reducing (but never fully eliminating) market risk.
Direct access to discuss with me - recipient of Seeking Alpha's prestigious Outstanding Performance Award and current ranked as #3 most read on Dividend Strategy - anything on your mind.
Monthly Saturday Live Chat online, an open forum chat among the E.I.I. investor community and myself.