Article text goes here...
DEC-2014 Newsletter

Market View update (as of 12/18)
Our latest article on market trends was "A Unique Way To Use The Shiller PE As A Market Indicator" on November 13. As far as valuation not much has changed. The market still appears pricey and will continue to be so given low rates. The following graph is produced from an Excel template using the SMF add-in: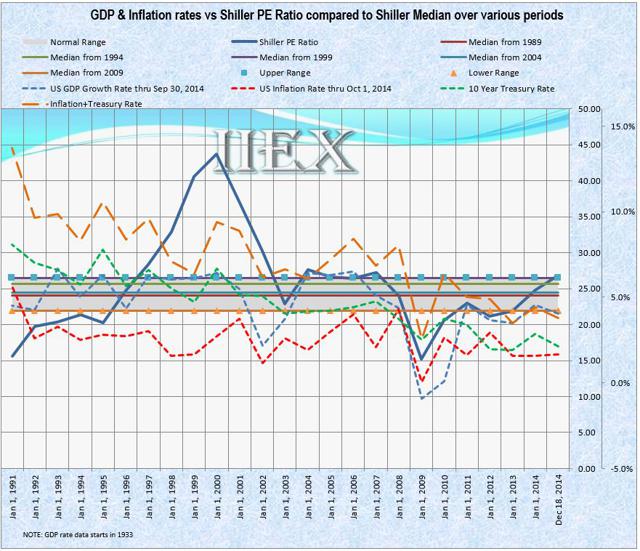 Pricey but not crazy when viewed in terms of past market excesses. For a historical perspective including 1929 click here.
It should be no surprise it's harder to find bargains as the Shiller PE level remains at or rises above current levels, especially above the area highlighted in grey. At this point I'm neutral on the market and accumulating cash when individual holdings become overvalued to take advantage of any bargains that may appear on the radar; although it would probably take a small correction to generate the types of bargains that fit my criteria. Some stocks I'm tracking that are trading at a discount to FV (given my input) greater than 13% are (Prices were as of 12/18/14 2:16pm):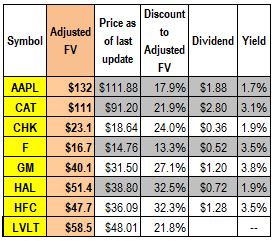 A complete list and data can be found here.
Focus Stock (NASDAQ:LVLT)
Level 3 Communications was made the IIEX focus (replacing Telular) in July 2013 after a change in leadership and direction was announced and is trading at a discount to our latest fair value calculations as of this writing. One new article was added since the last newsletter:
Level 3 Communications: A Long Idea At An Attractive Value
Although the rights for the above article are owned by Seeking Alpha and they designated it as a pro article only available to their pro subscribers however you can click on the subtitle link above to get more information or visit our website links below:
Previous article (available to all):
What Is The New Level 3 Communications Worth?
Our current fair value as of this writing is $59. The stock has more than doubled since last July (2013 price approx. $21). Our fair value is based on recent results and the acquisition of TWTC. Data for LVLT can be found here. The LVLT Excel spreadsheet is available to supporters of the website.
Price summary by month (source Yahoo)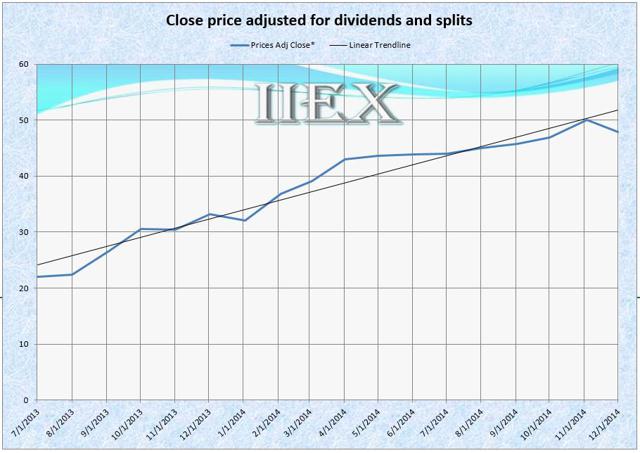 Expect the short term price to be volatile until there is better visibility on how the integration of tw telecom is going.
Template updates during the quarter (for website supporters only)
The latest updated Excel (Web Query) templates can be found here. The flagship template (IIEX_FairValue Analysis) includes updates not shown in the original video or the second video which highlights some updates added to the original found here. The major update not yet on video is the ability to generate pro-forma financials for a pending acquisition. For example if you call up HAL and list BHI as the target with a share exchange of 1.12 produces pro-forma annual financials for HAL_BHI adding 1.12 shares of HAL for each share of BHI. There are also links that will take you to specific information on other sites if needed.
The latest updated templates for the SMF add-in can be found here.
This templates collect data from free websites, i.e., they work for as long as 3rd party websites continue to provide data that can be grabbed by Excel's web query.
Any feedback on the site, articles or if you have access to the templates is always welcome.
Dave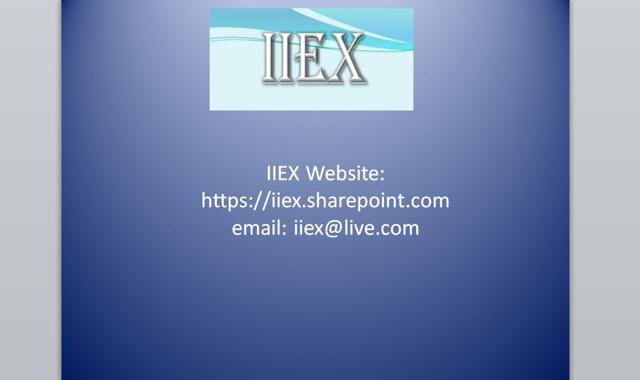 Disclosure: The author is long LVLT.