$ORCL had good results and many houses were lifting price targets in the morning. Its not expensive , the SP500 was stable enough so I gave it around three minutes at the open, liked what I saw and bought at 26.69. Soon after I sold at 26.99 and it could be argued I should have held on longer with a stop 10 cents below my entry. Either way it was a good trade.

The problem is what happened afterwards. I started shorting around 26.85 and throughout all the area shown by the rectangle in the graph. What was I thinking!! Well I was thinking it would range trade and I would make a few pips...but then it crossed 27.00 and never broke it again. On the re-test at 12:10 I should have covered...Basic Trading 101.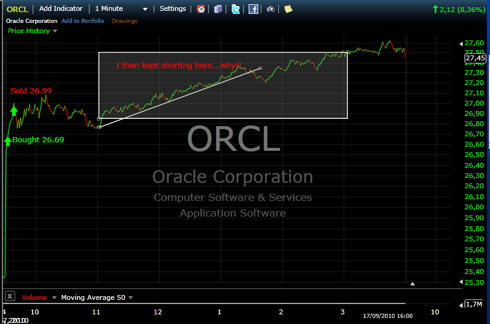 So what have I learnt ?(and I should know this by now!!!). Follow the logic (cover at 27.10ish after support did not brake) and more importantly do not throw logic out of the window (what was the basis for keeping shorting at 27.20 27.20 27.35 ? None!! It was just stupid...failure to acknowledge a small loss led to a big loss. Ended up covering at the end of day for a nice loss.