We decided to celebrate the holiday by seeking out Mexican stocks that look undervalued based on cash flows.
Cinco de Mayo is not, as many Americans believe, the Mexican equivalent of America's 4th of July. Though today's margarita drinkers erroneously believe they will be celebrating Mexican independence, that day actually falls in mid-September.
Instead, Cinco de Mayo commemorates the Battle of Puebla. In 1862 the Mexican President Benito Juárez halted payments on Mexico's foreign debt, prompting the French to invade at the city of Puebla. Despite winning the battle, Mexican independence wouldn't be realized for several more years; however, the moral victory prompted Juarez to declare a national holiday.
Interestingly, it's still not a Federal holiday in Mexico, which means Cinco de Mayo is more of a celebration of Mexican culture for expats and foreigners.
With that in mind, we decided to run a screen on Mexican stocks to see if any of the companies that trade on US exchanges looked undervalued.
Read more by this Kapitallist on stocks from emerging economies.
There's good reason to be excited about the Mexican economy anyway: falling commodity prices have stregthened Mexico's attractiveness relative to Latin American economies like Brazil, who profited heavily by selling raw goods to China. Mexico, on the other hand, had to rely on low taxes and partnerships with American businesses to make itself attractive to foreign investment.
That strategy has started to pay off. Cheap labor and growing, stable suburbs have led to the rise of Mexican industrial parks that are attracting the likes of General Motors (GM), Honda (HMC), and American Airlines (AAL). Mexican manufacturing now accounts for a quarter of the country's exports.
The Pacific Trade Alliance, which includes Mexico, Peru, Chile, and Columbia have a projected growth rate that's almost double the figures for the rest of the country.
To build this list of stocks we looked at all the Mexican stocks that list on major American exchanges. We screened those 20 companies for companies that look undervalued based on levered-free cash flow to enterprise value (LFCF/EV), which is to say that they have lots of cash on hand relative to their size.
That left us with two companies on our list.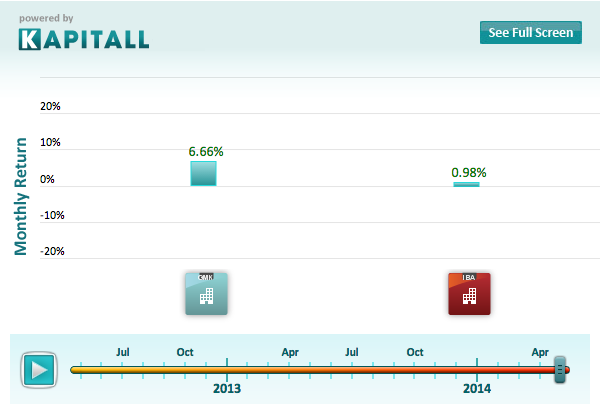 1. Gruma S.A.B. de CV (GMK, Earnings, Analysts, Financials): Engages in the production, marketing, distribution, and sale of tortillas, corn flour, wheat flour, and related products. Market cap at $3.92B, most recent closing price at $36.06.
Levered free cash flow at $509.88M vs. enterprise value at $4.75B (implies a LFCF/EV ratio at 10.73%).

2. Industrias Bachoco S.A.B. de C.V. (IBA, Earnings, Analysts, Financials): Operates as a poultry producer in Mexico. Market cap at $2.19B, most recent closing price at $43.70.
Levered free cash flow at $360.10M vs. enterprise value at $1.76B (implies a LFCF/EV ratio at 20.46%).
(List compiled by James Dennin. Monthly returns sourced from Zacks Investment Research. LFCF/EV data sourced from Google Finance.)
Analyze These Ideas: Getting Started
Dig Deeper: Access Company Snapshots, Charts, Filings
ABOUT US
© Kapitall, Inc. All rights reserved. Kapitall Wire is a division of Kapitall, Inc. Kapitall Generation, LLC is a wholly owned subsidiary of Kapitall, Inc.
Kapitall Wire offers free cutting edge investing ideas, intended for educational information purposes only. It should not be construed as an offer to buy or sell securities, or any other product or service provided by Kapitall Inc., and its affiliate companies.
Open a free account today get access to virtual cash portfolios, cutting-edge tools, stock market insights, and a live brokerage platform through our affiliated company, Kapitall Generation, LLC.
Securities products and services are offered by Kapitall Generation, LLC - a FINRA/SIPC member.
Disclosure: I have no positions in any stocks mentioned, and no plans to initiate any positions within the next 72 hours.