Apple (AAPL) doesn't acquire a lot. It's got one of the biggest cash reserves in corporate America, which it frequently gets criticized for not spending. That changed this morning.
Unlike Facebook (FB), which has a reputation for frequent and intriguing blockbuster acquisitions (like its purchase of Occulus Rift earlier this year), Apple's acquisition strategy is to target small companies that can easily be incorporated into the company.
Apple's biggest acquisition of 2013 was an Israeli chipmaker called Primesense. Can't imagine how you could have missed that one.
The Beats deal is worth at least $3 billion, and it seems to have to two major components. On one hand, Apple has always marketed itself as the hardware of choice for the affluent and stylish. It's no surprise they might want to bring the stylish, high-end headphones, which sell for as much as $400 for a single pair, in house.
On the other hand, there is the content play: Beats subscription service would beef up Apple's music catalogue at a time when the individual downloads championed by the iTunes store are waning and subscription services likes Beats and Spotify appear to be on the rise.
What do you think of the deal? Will Beats bring enough to the Apple team to be worth such a big departure from business as usual in Cupertino? Let us know what you think in the comments.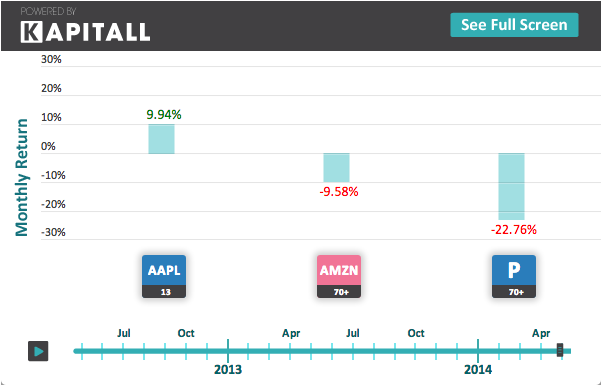 1. Apple Inc. (AAPL, Earnings, Analysts, Financials): Designs, manufactures, and markets personal computers, mobile communication and media devices, and portable digital music players, as well as sells related software, services, peripherals, networking solutions, and third-party digital content and applications worldwide. Market cap at $472.72B, most recent closing price at $527.55.

2. Amazon.com Inc. (AMZN, Earnings, Analysts, Financials): Operates as an online retailer in North America and internationally. Market cap at $161.82B, most recent closing price at $351.78.

3. Pandora Media, Inc. (P, Earnings, Analysts, Financials): Operates as an Internet radio company in the United States. Market cap at $6.88B, most recent closing price at $37.26.
(List compiled by James Dennin. Monthly returns sourced from Zacks Investment Research.)
Analyze These Ideas: Getting Started
Dig Deeper: Access Company Snapshots, Charts, Filings
ABOUT US
© Kapitall, Inc. All rights reserved. Kapitall Wire is a division of Kapitall, Inc. Kapitall Generation, LLC is a wholly owned subsidiary of Kapitall, Inc.
Kapitall Wire offers free cutting edge investing ideas, intended for educational information purposes only. It should not be construed as an offer to buy or sell securities, or any other product or service provided by Kapitall Inc., and its affiliate companies.
Open a free account today get access to virtual cash portfolios, cutting-edge tools, stock market insights, and a live brokerage platform through our affiliated company, Kapitall Generation, LLC.
Securities products and services are offered by Kapitall Generation, LLC - a FINRA/SIPC member.
Disclosure: I have no positions in any stocks mentioned, and no plans to initiate any positions within the next 72 hours.