Imagine Your Life in 2020: Investing Ideas
Please Note: Blog posts are not selected, edited or screened by Seeking Alpha editors.
Value, Growth, Long-Term Horizon, Medium-Term Horizon
Seeking Alpha Analyst Since 2010
Kapitall is the online finance platform for the next generation, where investing is as easy as drag, drop and trade. With an intuitive and playful user experience, Kapitall offers tools that make it easy to build virtual and real brokerage portfolios, share ideas and research stocks and funds.
How will human-computer interaction, mobile technology, data storage and bioscience change over the next decade? Given the ever-increasing rate at which technology advances, the answer is anyone's guess. But if Frog Design's new prototypes are any indication, we're looking at a future with 3-D holographic data visualizations, body sensor networks and tradable social networking currency.

Global innovation firm Frog Design recently completed a project called Life in 2020 that predicts that data will one day flow alongside the physical world. Which means that in the future, computers won't look or feel like computers as we know them, and massive amounts of data will always be accessible, no matter where in the world you may be.

We've compiled a few lists of investing ideas exposed to three of Frog Design's predicted trends. (Note: Article was originally published on June 7, 2010)

Our Second Brain or "ThingBook"

"In the future nearly every visible thing will be cataloged and indexed, ready to be instantly identified and described to us," according to Frog Design. "Want to go shopping? In the future we won't need big retail stores with aisles of objects on display. We'll be able to shop out in the world (see image, below). Do you like that new car you saw drive by? Or those cool shoes on the woman sitting across the room? All you'll have to do is look at it and your mobile handset or AR-equipped eyeglasses will identify the object and look up the best price and retailer."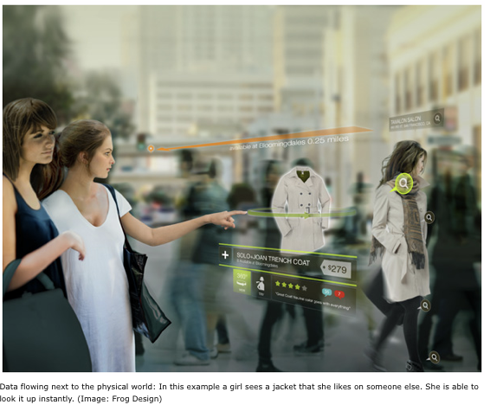 Companies that profit from the mobile internet may be affected by this predicted trend. Here are a few ideas:


Apple (AAPL): Mobile internet device maker (iPhone and iPad). The company's stock has gained almost 80% over the last year, and Wall Street analysts expect the company's earnings to continue to grow by 18% over the next 5 years.
Research in Motion (RIMM): Mobile internet device maker (Blackberry). The stock has had a rough year, declining by almost 30%. Investors will be keeping a close eye on the company's earnings report due out June 24.
Palm (PALM): Mobile internet device maker. The stock has declined by 60% over the last year, with earnings growth declining by 8.36% over the last 5 years.
STM Micro (STM): This company produces the orientation sensor that detects whether you are holding your iPhone vertically or horizontally and automatically changes the display to portrait or landscape. The company's profit margins have declined by 9.00% over the last year.
Cisco (CSCO): Mobile internet component maker. Cisco's annual earnings have grown by 8.27% over the last 5 years, but analysts expect earnings to accelerate to a 12.45% growth over the next 5 year.
Ciena (CIEN): Cisco's smaller rival. Institutional investors have been loading up on the stock over the last 3 months, increasing their holdings of the stock by almost 20%.
Tellabs (TLAB): Another mobile internet component maker. The company currently offers a dividend yield of 1.15%, and has a low level of debt relative to shareholder equity (14%).
Tekelec (TKLC): The company's EAGLE 5 signaling platform can be used to transfer large amounts of data over a mobile network. The company has no debt, and Wall Street analysts expect earnings to grow by 5.00% over the next 5 years.
Commscope (CTV): Provides infrastructure solutions for communication networks worldwide. The company operates in four segments: Antenna, Cable and Cabinet Group; Enterprise; Broadband; and Wireless Network Solutions. The company's sales have grown by 21.3% over the last 5 years.
RF Micro Devices (RFMD): Designs and manufactures radio frequency components. Wall Street analysts expect the company's earnings to grow by 17.5% over the next 5 years.
Skyworks Solutions (SWKS): Offers analog and mixed signal semiconductors worldwide. Institutional investors, who currently own 92.77% of the company, increased their holdings in the stock by 3.63% over the last 3 months.
Bodynet
"Like Google for our bodies, future technologies will allow us to monitor our body's vital conditions and compute the outcome of our actions on-the-fly," predicts Frog Design. "So you'll know right away what it's going to take to work off that Burger and Coke."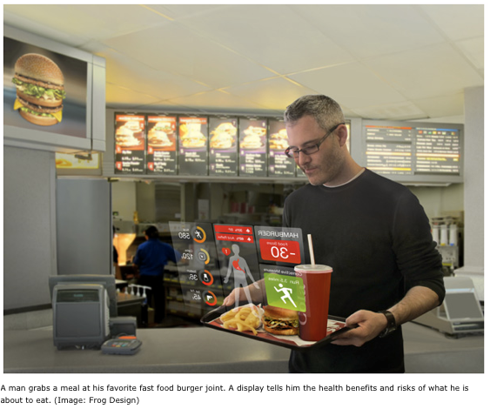 Here are three companies currently working on body sensor networks:
General Electric (GE): GE Healthcare is developing a Body Sensor Network (BSN) whereby sensor devices collect and store patient-specific data. Note that GE Healthcare contributes a very small percentage of GE's revenues.
Medtronic (MDT): Develops, manufactures, and sells device-based medical therapies worldwide. The stock has gained 13.47% over the last year, and currently offers a 2.16% dividend yield.
Cyberonics (CYBX): Designs, develops, manufactures, sells, and markets implantable medical devices. Wall Street analysts expect the company's earnings to grow by 31% over the next 5 years.
Social Media Currency
What about the future of social networking? Frog Design thinks that your virtual popularity on social media sites may one day be tradable for cold hard cash. Think that's far-fetched?
Whuffie, a conceptual social metric based on what others think of you, has already taken the first step towards making it a reality: "In the future this metric might actually be usable as real money," predicts Frog Design. "Why not? Celebrities are used to getting things for free based on their popularity. This is the same idea taken to its democratic extreme.
Socializing will take on completely new dimensions when we can see everything public about a person right as we are talking with them. Think dating is difficult today? Imagine the hoops we'll have to jump through when everyone in the bar can see your complete dating history the minute you walk into the room."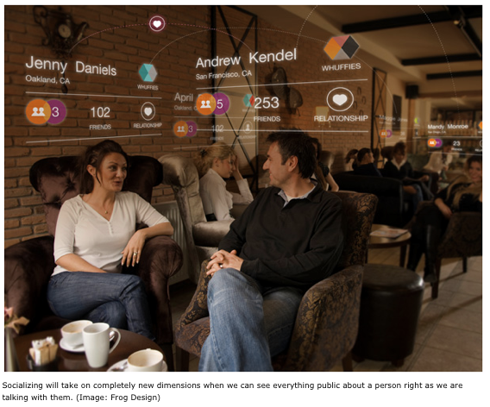 Although there are no pure-play social networking stocks to invest in, the following stocks can be used to gain indirect exposure to this rapidly growing industry.
Microsoft (MSFT): Owns a small stake in Facebook. Microsoft's stock currently offers a dividend yield of 2.02%, and the company's debt as a percentage of shareholder equity is only 13%.
Google (GOOG): Owns several social networking services, including Orkut. Wall Street analysts expect Google's earnings to grow by 20.57% over the next 5 years.
Newscorp (NWSA): Owns Myspace. The stock has gained about 25% over the last year, and currently offers a dividend yield of 1.20%
Yahoo (YHOO): Owns several social networking services. The company has seen declining earnings growth over the last 5 years, and the stock has declined by about 10% over the last year.
Disclosure:
No positions
Seeking Alpha's Disclosure: Past performance is no guarantee of future results. No recommendation or advice is being given as to whether any investment is suitable for a particular investor. Any views or opinions expressed above may not reflect those of Seeking Alpha as a whole. Seeking Alpha is not a licensed securities dealer, broker or US investment adviser or investment bank. Our analysts are third party authors that include both professional investors and individual investors who may not be licensed or certified by any institute or regulatory body.