The following is a list of stocks in an uptrend that have very high Put/Call ratios, i.e. bearish option market sentiment. For each stock, we'll discuss options activity and moving average trends.

That said, many of these stocks have very low options volume. Due to these low option volumes, it's probably not very accurate to use it as a sentiment indicator. But feel free to use this list as a starting point.

Options data sourced from OptioNetics. Full details below.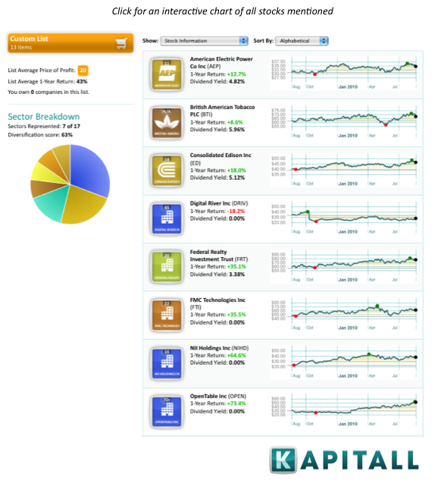 1. FMC Technologies, Inc. (NYSE:FTI): Oil & Gas Equipment & Services Industry. Market cap of $7.48B. Put/Call ratio at 104.17 (put volume of 3,125 contracts vs. call volume at 30 contracts). The stock is currently 3.38% above its 50-day SMA, and 3.58% above its 200-day SMA. The stock has gained 37.93% over the last year.

2. Federal Realty Investment Trust (NYSE:FRT): REIT. Market cap of $4.79B. Put/Call ratio at 58 (put volume of 116 contracts vs. call volume at 2 contracts). The stock is currently 2.05% above its 50-day SMA, and 9.57% above its 200-day SMA. The stock has gained 42.43% over the last year.

3. American Electric Power Co., Inc. (NYSE:AEP): Electric Utilities Industry. Market cap of $16.70B. Put/Call ratio at 17.74 (put volume of 603 contracts vs. call volume at 34 contracts). The stock is currently 0.92% above its 50-day SMA, and 4.57% above its 200-day SMA. The stock has gained 19.11% over the last year.

4. Parker Hannifin Corporation (NYSE:PH): Industrial Equipment & Components Industry. Market cap of $10.27B. Put/Call ratio at 17.46 (put volume of 1,327 contracts vs. call volume at 76 contracts). The stock is currently 4.51% above its 50-day SMA, and 5% above its 200-day SMA. The stock has gained 34.83% over the last year.

5. British American Tobacco plc (NYSEMKT:BTI): Cigarettes Industry. Market cap of $67.92B. Put/Call ratio at 16.9 (put volume of 169 contracts vs. call volume at 10 contracts). The stock is currently 1.12% above its 50-day SMA, and 5.38% above its 200-day SMA. The stock has gained 14.92% over the last year.

6. Digital River Inc. (NASDAQ:DRIV): Internet Software & Services Industry. Market cap of $1.08B. Put/Call ratio at 13.89 (put volume of 500 contracts vs. call volume at 36 contracts). The stock is currently 6.68% above its 50-day SMA, and 3.14% above its 200-day SMA. The stock has lost -20.35% over the last year.

7. OpenTable, Inc. (NASDAQ:OPEN): Business Services Industry. Market cap of $1.19B. Put/Call ratio at 10.17 (put volume of 122 contracts vs. call volume at 12 contracts). The stock is currently 14.9% above its 50-day SMA, and 45.94% above its 200-day SMA. The stock has gained 72.81% over the last year.

8. Radware Ltd. (NASDAQ:RDWR): Information Technology Services Industry. Market cap of $442.19M. Put/Call ratio at 8.93 (put volume of 500 contracts vs. call volume at 56 contracts). The stock is currently 5.63% above its 50-day SMA, and 23.95% above its 200-day SMA. The stock has gained 130.16% over the last year.

9. CurrencyShares Japanese Yen Trust (NYSEARCA:FXY): ETF. Put/Call ratio at 6.86 (put volume of 384 contracts vs. call volume at 56 contracts). The fund is currently 2.5% above its 50-day SMA, and 5.07% above its 200-day SMA. The fund has gained 9.77% over the last year.

10. NII Holdings Inc. (NASDAQ:NIHD): Wireless Communications Industry. Market cap of $6.40B. Put/Call ratio at 6.69 (put volume of 823 contracts vs. call volume at 123 contracts). The stock is currently 1.03% above its 50-day SMA, and 2.91% above its 200-day SMA. The stock has gained 66.68% over the last year.

11. Consolidated Edison Inc. (NYSE:ED): Diversified Utilities Industry. Market cap of $13.14B. Put/Call ratio at 5.6 (put volume of 112 contracts vs. call volume at 20 contracts). The stock is currently 3.29% above its 50-day SMA, and 7.55% above its 200-day SMA. The stock has gained 24.66% over the last year.

12. Timken Co. (NYSE:TKR): Machine Tools & Accessories Industry. Market cap of $3.30B. Put/Call ratio at 5.17 (put volume of 93 contracts vs. call volume at 18 contracts). The stock is currently 10.43% above its 50-day SMA, and 20.11% above its 200-day SMA. The stock has gained 70.93% over the last year.

13. Virgin Media, Inc. (NASDAQ:VMED): CATV Systems Industry. Market cap of $6.79B. Put/Call ratio at 4.65 (put volume of 935 contracts vs. call volume at 201 contracts). The stock is currently 8.32% above its 50-day SMA, and 19.71% above its 200-day SMA. The stock has gained 100.29% over the last year.

14. PG & E Corp. (NYSE:PCG): Diversified Utilities Industry. Market cap of $17.62B. Put/Call ratio at 4.45 (put volume of 89 contracts vs. call volume at 20 contracts). The stock is currently 4.95% above its 50-day SMA, and 7.32% above its 200-day SMA. The stock has gained 17.48% over the last year.


Disclosure: No positions