This is a follow-up to a previous article we wrote, discussing various screens around the ratings developed by forensic accounting firm Audit Integrity.

Audit Integrity was founded in 2002 to develop risk management tools based on a statistical analysis of corporate integrity. The Accounting and Governance Risk (NYSE:AGR) rating is a forensic measure of the transparency and reliability of a corporation's financial reporting and governance practices. The focus of AGR analysis is on identifying the measures most highly associated with fraud, and quantifying those risks for interested stakeholders in relation to company.

All the companies in this list have high AGR scores, i.e. more conservative accounting practices than most other firms. In addition, all of these companies are in an uptrend, i.e. trading above their 20-day, 50-day and 200-day moving averages. Full details below.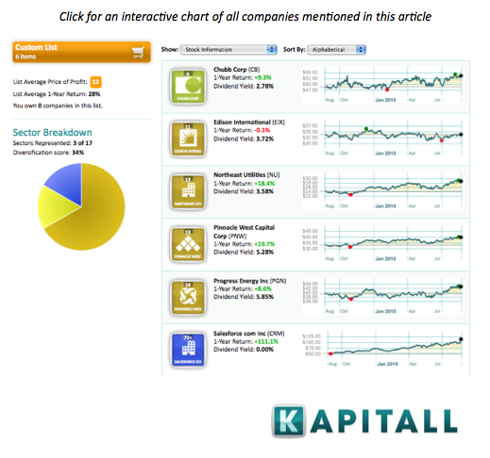 1. Edison International (NYSE:EIX): Electric Utilities Industry. Market cap of $11.06B. The stock's AGR score is Conservative (92), meaning that its accounting practices are more risky than 8% of companies. Audit Integrity is most concerned with the trends in the company's Cost of Goods Sold/Revenue ratio. The stock is currently 0.64% above its 20-day SMA, 2.36% above its 50-day SMA and 2.05% above its 200-day SMA.

2. Salesforce.com (NYSE:CRM): Application Software Industry. Market cap of $14.58B. The stock's AGR score is Conservative (91), meaning that its accounting practices are more risky than 9% of companies. Audit Integrity is most concerned with the company's classification of "other" expenses. The stock is currently 12.19% above its 20-day SMA, 17.99% above its 50-day SMA and 42.5% above its 200-day SMA.

3. Pinnacle West Capital Corp. (NYSE:PNW): Electric Utilities Industry. Market cap of $4.34B. The stock's AGR score is Conservative (87), meaning that its accounting practices are more risky than 13% of companies. Audit Integrity is most concerned with the company's Asset Turnover ratios. The stock is currently 1.72% above its 20-day SMA, 5.45% above its 50-day SMA and 10.84% above its 200-day SMA.

4. Progress Energy Inc. (PGN): Electric Utilities Industry. Market cap of $12.54B. The stock's AGR score is Conservative (86), meaning that its accounting practices are more risky than 14% of companies. Audit Integrity is most concerned with trends in the company's Goodwill/Total Assets ratio. The stock is currently 0.64% above its 20-day SMA, 4.58% above its 50-day SMA and 10.32% above its 200-day SMA.

5. Northeast Utilities (NU): Diversified Utilities Industry. Market cap of $5.07B. The stock's AGR score is Average (83), meaning that its accounting practices are more risky than 17% of companies. Audit Integrity is most concerned with the company's Pension Liability Discount Rate assumptions. The stock is currently 0.27% above its 20-day SMA, 4.73% above its 50-day SMA and 10.25% above its 200-day SMA.

6. The Chubb Corporation (NYSE:CB): Property & Casualty Insurance Industry. Market cap of $16.86B. The stock's AGR score is Average (80), meaning that its accounting practices are more risky than 20% of companies. Audit Integrity is most concerned with the company's Deferred Income Tax Assets /Operating Expense ratio. The stock is currently 0.59% above its 20-day SMA, 2.43% above its 50-day SMA and 6.3% above its 200-day SMA.


Disclosure: No positions