Restaurant Research LLC
RR Thermometer - August 2012 Wrap-Uo
Restaurant stocks continued to underperform the S&P 500 during August (albeit less dramatically relative to July) with the NRN index +1.3% vs. +2.0% for the overall market. Investors can't help but stare into a headwind of drought induced commodity price inflation during 2013 which is aggravated by a general lack of pricing power enforced by a weakening employment and rising gas prices. Add-in scary, unknown health care costs to the mix and we can understand why CKE had to recently pull its IPO. The largest fast food chains were hit hardest in August and MCD could only hold its ground as investors seemed to prefer the more domestically oriented casual and family dining stocks - as if sit-down eateries are more immune to cyclical forces... Company developments (outlined on next page) were mostly positive with many concepts making moves in the right direction (in our opinion) strengthening the industry's secular fundamentals. In conclusion, if not for the proactive management of many of the leading brands, we believe restaurant stocks could perform much worse in this economic environment.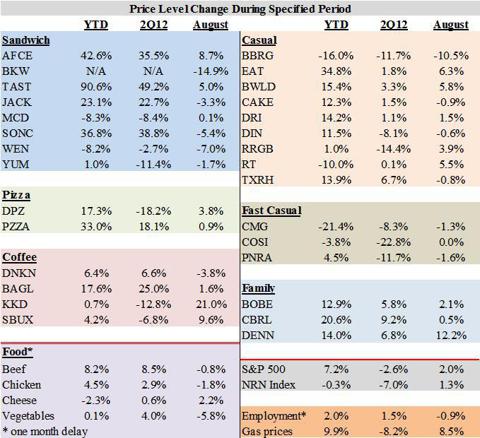 Company & Industry Developments During August 2012
Burger King, which seeks to become 100% franchised within 12 months, launched its largest menu expansion during 2Q12 supported by a "meaningful" investment in marketing. 13 new menus items were designed to broaden appeal and close day part gaps with evidence of success in the form of 18MM smoothies and 10.5MM frappés sold in April and May and a 20% q/q increase in chicken sales driven by chicken strip and wrap offerings. BK's new strategy is to launch LTOs with a common theme while utilizing new product platforms.
T.G.I. Friday's new kitchen and bar design provides guests with a view of the cooks while making the bar (which includes community tables) a centerpiece of the restaurant. The new design incorporates new technologies and cooking platforms that maximize through-put/menu capabilities while reducing the kitchen footprint (by 25%). New equipment includes: a gas-fired pizza oven; plancha grill which cooks burgers quicker at higher temps; a combi oven; a high-speed Panini machine; and induction cooktops which replace gas ranges.
In an effort to introduce new menu items at a faster rate, Arby's launched: an Angus product line which features items like the Ultimate Angus Beef sandwich and the Angus Three Cheese and Bacon sandwich; and a return of the Market Fresh Pecan Chicken Salad and Reuben sandwiches LTO. A new "big and fun" and turkey-related menu platform will launch in September. Also, Arby's seeks to simplify its menu while refreshing, rebranding, and revitalizing its restaurant design in a remodel program that will be accelerated by its refranchising efforts (30% of the chain's 3,500 stores are company-owned).
Popeyes seeks to expand beyond its urban market concentration (40% of the chain's customers are African American) by courting suburban white diners with a new menu and national ads. A broader customer base should help with plans to double the number of U.S. Popeyes stores to 3,200 vs. 4,780 U.S. KFC locations. Quality improvements include: (1) new headsets and timers which have cut the system's average drive-through time by 40% to 180 seconds; (2) efforts by corporate to score and rank every store quarterly; (3) help for 305 U.S. franchisees to track their costs weekly.
A test of a "Breakfast After Midnight" menu seeks to extend breakfast into a 10-hour period (12PM to 10AM. The "Nocturnivore" campaign promotes late-night dining with offers of both breakfast and burgers. McDonald's also reported that its promotions (which included the new lower-calorie menu and Olympic branding efforts) failed to drive growth with revenues at restaurants open at least 13 months dipping 0.1% in July.
Outback added lighter, more female-friendly entrees (40% of entrees are now under 600 calories) while adding new price points in order to improve value scores. Food price inflation of 3% to 5% is expected during each of the next three years and beef represents 30% of the purchasing basket (the cost of beef is expected to increase 10% in each of the next three years). 3% remodel traffic bumps are sticking after 18 months of experience.
CKE postponed its plan to raise $200MM in an IPO - called-off because of "market conditions". 2 days before CKE's IPO was scheduled, Outback Steakhouse parent Bloomin' Brands Inc. priced its IPO at $11/share which was below the previous target of $13 to $15 while the offering was reduced to 16MM shares from 21MM million. 2012 restaurant IPOs included Chuy's Holdings Inc., Del Frisco's Restaurant Group and Ignite Restaurant Group in addition to Bloomin' Brands.
Domino's unveiled a new "store of the future" design and a reworked logo which incorporates a "Pizza Theater" format that will feature "pizza-making artists" hand tossing dough and creating custom-made pies in front of guests (similar to build-your-own fast-casual pizza concepts) as a growing number of the brand's customers come to stores to pick-up pies (currently 30%) driven by attractive pick-up prices ($7.99). Some units may also offer in-store dining space and big-screen TVs. The new logo doesn't include any mention of pizza, just the simple red-white- and-blue, single-tile domino. By 2014, all existing restaurants that don't carry the décor package will be remodeled.
Jack in the Box Inc. sold 18 stores in the Houston area for $7.3MM to franchisee MZK Enterprise LLC as part of an ongoing refranchising initiative. During 2012, the company expects to sell about 100 units as part of a plan to become a mostly franchised brand (with 37 Seattle area units sold in April for $20MM). The company seeks experienced, multi-unit operators to refranchise company-owned units in the Southeast and Midwest, including Tulsa, Okla.; Kansas City, Mo.; Indianapolis; and Cincinnati. Other markets approved for franchise development for the brand include Louisville, Ky.; Cleveland; Wichita, Kansas; Little Rock, Ark.; Omaha, Neb.; Fayetteville, N.C.; and Champaign, Ill.
Popeyes' cloud-based software (in nearly 300 locations) help operators to better track and manage their inventory resulting in a 1% food cost savings. The company plans to use the software in 400 locations by the end of the fiscal year and to add it in another 400 locations annually until it is in all domestic units. Software will also be used to manage labor during peak and slow periods. The cloud-based solution reduced software implementation costs to around $150/month without an initial upfront cost of a $25,000 point-of-sale system.
Chipotle spends just 1.75% of sales on marketing (lower than the industry average of 3%-5%) which helps offset higher food costs (32% COGs) reflecting the use of fresh ingredients. The brand, which doesn't have new product launches and rarely offers discount coupons, uses social media and loyalty programs to promote its support of farmers and fresh food. The company plans a mobile payment system that will shave a few seconds off the checkout process.
The 155-unit On the Border Mexican Grill & Cantina chain will test a 10-unit "Border Evolution" reimage program in September which incorporates a quieter color palate, a large screened-in patio, and a more open kitchen. The brand will also evaluate music and uniforms, plateware, glassware, and the menu look, feel and design. Culinary enhancements to core items and the addition of new menu items (including expanded beer and tequila offerings) are also planned. The concept does very well in the Northeast where there is less competition in the Mexican casual-dining segment (with 15% to 20% higher average unit sales in those markets).
Papa John incentives for new U.S. development agreements signed through Nov. 30, 2013 (for new restaurant openings on or before Dec. 29, 2013) and opened at least 30 days prior to the scheduled opening date include: (1) No franchise fee - $25,000 value; (2) $50,000 in equipment, including two Middleby-Marshall ovens which may be purchased by the franchisee for $50 after operating for three years; (3) a royalty waiver for up to 18 months; and (4) a $3,000 food credit with PJ Food Service.
New flavors in test for Taco Bell's popular Doritos Locos Taco line include: chile-lime flavor from its Flamas chips; and a Cool Ranch flavor. Taco Bell launched the Doritos line in March and attributed its 13% 2Q comp increase to the new product. The chain is also testing a Variety Taco Twelve Pack which would allow customers to include combinations of Locos Tacos flavors for $12.99. The Flamas Doritos Locos Tacos are being tested in stores in Toledo, Ohio at a price point of $1.29 or $1.69 for the Supreme version with sour cream and diced tomatoes - the same recommended price as the original Doritos Locos Tacos.
Taco Bell added a new signature item at more than ~815 stores that offer breakfast: the portable $2.49 A.M. Crunchwrap which features scrambled eggs, cheese and a choice of bacon or sausage (instead of beef) wrapped and grilled in a flour tortilla. Also, the concept is offering Mountain Dew A.M. (a mix of Mountain Dew soda and Tropicana orange juice) for $1.69 for regular and $1.99 for large. The brand's "First Meal" early daypart (introduced in January with plans to expand nationwide) requires an 8 or 9AM open with breakfast ending at 11 a.m. local time.
Contact Phil Mangieri at (203) 938-4703 or pmangieri@ChainRestaurantData.com with questions or comments.
Copyright 2012 Restaurant Research® LLC. All rights reserved.
Disclaimer of Liability: Although the information in this report has been obtained from sources Restaurant Research® LLC believes to be reliable, RR does not guarantee its accuracy. The views expressed herein are subject to change without notice and in no case can be considered as an offer or solicitation with regard to the purchase or sales of any securities. Restaurant Research's analyses and opinions are not a guarantee of the future performance of any company or individual franchisee. RR disclaims all liability for any misstatements or omissions that occur in the publication of this report. In making this report available, no client, advisory, fiduciary or professional relationship is implied or established. This report is intended to provide an overview of the restaurant industry, but cannot be used as a substitute for independent investigations and sound business judgment.