RR Monthly Reports Announcements
BurgerKing, KFC, Hardee's, Unit Level Valuations, State Unit Database
Burger King
US System Sales: $8.1B
2011 Growth: -4.4%
Burger King (NYSE:BK) continues on its monumental turnaround plan which is intended to kick the brand into the 21st century where the line between QSR and fast casual continues to blur. Traditional heavy QSR users of yesteryear are no longer capable of floating the boat as a broader set of consumers have become spoiled with better food, facilities and environment (energy). So far, so good, as BK has picked the low-hanging fruit by making obvious menu improvements while also approaching marketing with common sense. Facilities are also coming around as operators get on board with a new and affordable 20/20 image upgrade. Operational improvements also mean that bottom basement consumer satisfaction scores have nowhere to go but up. In conclusion, it is a good start but the turnaround needs a long run before unit level profitability gets to where it should.
 
KFC
US System Sales: $4.6B
2011 Growth: -2.1%
The world's largest chicken chain is implementing a turnaround that is just beginning to show signs of traction after years of sales underperformance. While buckets of bone-in still represent the brand's mainstay, KFC is managing to drive sales with new sandwiches and bites that are designed to broaden the brand's appeal into other target markets and we expect a strong new product pipeline will continue this momentum. Fortunately, menu efforts are supported by a material shift from local to national ads this year which will provide KFC with far greater marketing efficiencies now that franchisees are comfortable once again with letting brand leadership steer the ship. The franchisor was able to negotiate the implementation of a new equipment package from a financially stressed franchisee base which will help improve quality. However, this came at a price in the form of deferred remodel requirements at a time when the system could use an overhaul. While the franchisor may have been lucky to get the new equipment, the system cannot realistically wait very long on facility actions and, unfortunately, development will have to wait until after that at a time when the mighty KFC system continues to shrink in unit size and market share. In conclusion, KFC's nascent turnaround efforts require improving unit level profitability in order to keep cooking.
| | | |
| --- | --- | --- |
| Hardee's | US System Sales: $1.9B | 2011 Growth: +4.4% |
Hardee's has evolved from its roots as a breakfast biscuit chain that also offered fried chicken and burgers to a more modern QSR burger/chicken chain with a still strong breakfast platform. This evolution has been built upon a move upscale with unique offerings like Thickburgers/Six Dollar Burgers, Hand-Breaded Chicken and Hand-Scooped ice cream to complement its continued strength in made-from-scratch breakfast biscuits. The remarkable part of this turnaround is that Hardee's has not needed to compete with low price points in a punk economy. While advertising efficiencies with sister brand Carl's Jr. could be better, menu synergies are helping CKE to patch together 2 regional chains into a national brand. In conclusion, while more remodeling is necessary and Hardee's must increase AUV to drive development (something with specialty beverages like everyone else?), things are on track.
Unit Level Valuation Report
Restaurant Research's
Restaurant Unit Valuation Overview
Semi-annual survey of valuation experts provides national chain EBITDA multiple and cap rate estimates plus a 6 month outlook.
Mid-year restaurant finance update looks at current year budgeted restaurant loan originations versus actual results, borrower financial condition, next year loan origination expectations, and changes to underwriting standards.

Source: RR
State Unit Database
State Unit Database - 40 Concepts: Database allows users to sort by multiple data points: 1) 5 years of unit data by state including new, closed, transferred and total units; (2) 5 year aggregate summary of state unit activity by chain; (3) Chain unit market share by state; (4) Total unit activity by state; (5) Key economic data by state including income, unemployment and population.
Clients use market share data by concept and by state in order to analyze capital allocations related to new construction, underwriting and investing decisions.
Provides clients with huge savings in FDD/UFOC acquisition costs.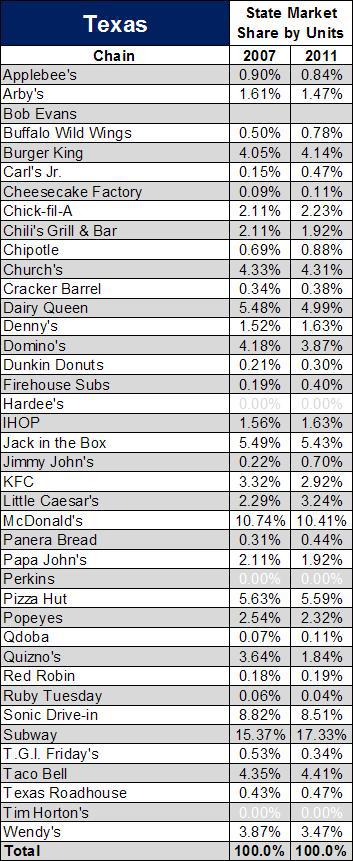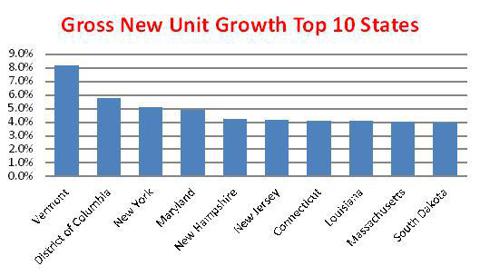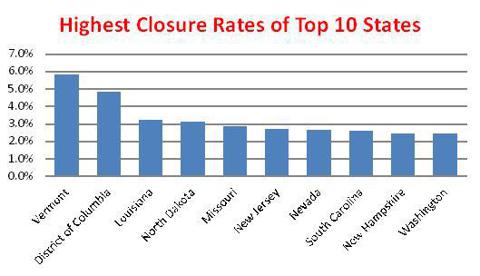 Make Restaurant Research your outsourced research department. Leverage our extensive network and expertise at a fraction of what it would cost for you to do your own due diligence/business intelligence/benchmarking the right way. For more information, please contact us at (203) 938-4703 or pmangieri@chainrestaurantdata.com.
Disclaimer of Liability: Although the information in this report has been obtained from sources Restaurant Research® LLC believes to be reliable, RR does not guarantee its accuracy. The views expressed herein are subject to change without notice and in no case can be considered as an offer or solicitation with regard to the purchase or sales of any securities. Restaurant Research's analyses and opinions are not a guarantee of the future performance of any company or individual franchisee. RR disclaims all liability for any misstatements or omissions that occur in the publication of this report. In making this report available, no client, advisory, fiduciary or professional relationship is implied or established. This report is intended to provide an overview of the restaurant industry, but cannot be used as a substitute for independent investigations and sound business judgment. Copyright 2012.