Restaurant Research LLC

The RR Thermometer
September 2012 Wrap-Up
Last month was a good one for the restaurant industry with the NRN index outperforming the S&P 500 by 90 basis points while 27 out of the 30 restaurant stocks (outlined below) posted positive price growth during September. The casual segment generally enjoyed strong results during the month as did the larger fast casual names suggesting that investors are rotating into higher-end names - possibly in the hope that QE3 can jump-start spending among the affluent. Bell weather McDonald's stock slightly underperformed the average which is consistent with its recent comp performance. The Golden Arches' QSR competitors (BK & Wendy's) enjoyed the benefit of McDonald's short comings as their stocks handily outperformed during the month. Notably, Jack in the Box shares also easily beat the average as more evidence points to a rebounding California economy. The industry also seems to benefit from a breather in commodity prices (at least for now) with beef prices down but not for long. In conclusion, we all better hope that QE3 proves to be effective as advertised as McDonald's gears-up to promote value at a time when job growth continues to elude, gas prices continue to inflate and the impact of drought continues to threaten. Please refer to key company announcements listed below.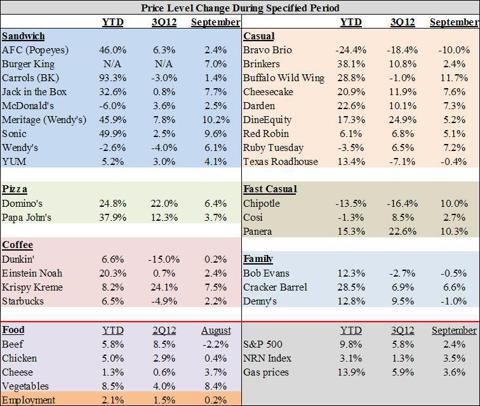 Company & Industry Developments During September 2012
Buffalo Wild Wings introduced a new ad campaign and ticket sweepstakes with the kickoff of the 2012 NFL season. Ad agency Fallon's idea is to emphasize the ability of Wild Wings customers to watch football in the right place with the right people (as opposed to being stuck with haggard neighbors, etc.) The brand also will host a photo-sharing contest on its Facebook page carrying the same "protect the football" theme in which fans can post pictures of themselves demonstrating how to protect the football inside a Buffalo Wild Wings unit. Each week, the brand will vote on its favorite photo and show the winning entries in the restaurants and on TV commercials.
Papa John's, the Official Pizza Sponsor of the NFL, is kicking off the 2012 season with a campaign in which Papa John's Founder dialogues with Bronco's Peyton Manning about giving away 2MM large one-topping pizzas to members of its Papa Rewards online customer loyalty program (with a chance for members to be randomly selected to receive one of the 120,000 free large one-topping pizzas each week of the regular season) - double the number of pizzas Papa John's gave away last regular season.
Dunkin' introduced Quaker Oatmeal (Original and Brown Sugar - both of which are served with dried fruit) as a permanent $1.99 addition to the brand's DDSMART menu of better-for-you food and beverages).
IHOP, America's favorite breakfast place, announced a new partnership with The Quaker Oats Company resulting in the creation of a proprietary blend of oatmeal (blending 3 different types of oats to offer unique flavors and textures), including :Super Fruit & Nut Oatmeal; Super Fruit Oatmeal; and Banana & Brown Sugar Oatmeal. These new oatmeals, along with IHOP's new whole wheat menu items, are part of the brand's efforts to introduce new, low-calorie dining options.
The USDA forecasts a 2.5% increase in food-at-home costs and a 3.5% increase in food-away-from-home during 2012. For 2013, prices for food-at-home could increase 4% with food-away-from-home prices projected to rise as much as 3.5%.
Wendy's is unlikely to expand its breakfast test rollout because of weak demand according to a press release. However, Wendy's says consumers have given its breakfast products high ratings and continues to make refinements to this menu daypart. Last November the company said it would take the same approach to breakfast as it does to its other meals by offering higher-quality items than other fast-food chains.
Jack in the Box has been focusing on 3 major areas of operational improvement: increased alignment of people and functions throughout the organization; a steady focus on growing the "right" capabilities; and enhanced employee engagement. To this end, the company has been assessing and tracking alignment, capabilities, and engagement in an effort to improve guest ratings, visits, and spend. In Jack in the Box's case, capabilities turned out to be the largest driver of turnover (a point which can be addressed via training and teamwork building).
American Dairy Queen reported that it was ending its 15-year relationship with advertising agency Grey New York and will conduct an agency review.
McDonald's reported that it will post calorie information on restaurant and drive-thru menus nationwide this month. The move comes ahead of a regulation that could require major chains to post the information as early as next year (with certain cities like New York and Philadelphia already requiring this). Posting this information has not changed what customers choose to order according to the company.
Strategic Restaurants reported that Burger King's digital menu boards cost $10k fully installed ($8.5k hardware package) & helps save labor hours otherwise needed to put out merchandising materials (as an example, the new chicken sandwiches rollout was automated systemwide with an automatic digital push over this platform). While content creation is overseen by Burger King's marketing group, franchisees can pick specific promotions and animations by selecting menu content for an entire market with a mouse click.
While McRibs are usually rolled-out from late October through early November each year, McDonald's will wait until late December this year in hopes the product will drive sufficient sales to comp over December 2011 which was up +9.8% (reflecting one of the mildest winters in years). McDonald's seeks to bring in a broader consumer base with McRib (a restructured pork product molded into the shape of ribs) with messaging focused on "high-quality pork" and its "unique taste". In place of the McRib this fall, the chain will market two new products: the Cheddar Bacon Onion Angus burger and a similarly dressed chicken sandwich, positioned as premium items with higher prices. The McRib is likely to be phased out in January and followed by LTO Fish McBites in February.
McDonald's told analysts that its underperformance in US comps (+4.8% YTD) was caused by: limited Dollar Menu advertising (reflecting concens about the impact of food inflation on restaurant margins); an emphasis on beverages rather than the core menu; a decision not to introduce the Pub Burger LTO due to unfavorable consumer feedback. McDonald's also plans to place a greater emphasis on everyday value while also focusing on premium LTOs and a return of the Monopoly promotion.
Darden plans to spend $150MM to develop better digital platform.
Chili's Grill & Bar is testing 4 pizzas and a "Create Your Own" option marking the development of a new menu platform. The "Create Your Own" option starts at $10.28 with one of 11 available toppings for $1.49 each. Pizza value will come in the form of the Five-Cheese and Taco Pizzas on Chili's "2 for $20" dinner menu.
Cracker Barrel reported that menu additions such as a salad promotion and six new sides available for breakfast and dinner, helped spur sales and foot traffic. The company is also adding a "Wholesome Fixin's" section to the menu, which will feature breakfasts under 450 calories, and lunches and dinners with 600 calories or fewer.
Domino's introduced its new Handmade Pan Pizza (using fresh, never-frozen dough) with a campaign offering medium two-topping Handmade Pan Pizzas for $7.99 each. Pizza Hut is believed to be the market share leader in pan pizza (capturing 1 in every 5 pizzas sold in the U.S.) while Papa John's does not offer pan pizza. Domino's would like an opportunity to promote a higher price point for a core product as Pizza Hut's $10 any-size pizza deal and $10 Dinner Box is pressuring Domino's to maintain its $5.99 price point for medium, two-topping pizzas.
Taco Bueno joins a growing list of chains offering customizable bowls (Bueno Bowls start at $3.99 for the veggie bowl and $4.99 for chicken or taco meat) which includes Boston Market which recently began offering a $6.99 limited-time Market Bowls item. Concepts including Chipotle, Freshii, KFC, Pollo Tropical and Taco Bell have one-bowl meals on their menus.
Arby's gave away almost a million hot turkey sandwiches in two hours in a national promotion introducing the addition to its menu. Arby's also brought back popular items such as the Reuben and seasonal Market Fresh Pecan Chicken Salad sandwiches and launched a new advertising campaign while it plans to redesign stores nationwide (the franchisor is planning a $12MM renovation of company-owned stores that will start in test markets at the end of the year but won't require franchisees to renovate). A new ad campaign seeks to draw customers away from Subway while emphasizing Arby's as a destination for fresh food (slicing its meat in the store). The campaign targets the 20% of customers who account for two-thirds of Arby's total transactions (these customers dine out about 50 times a month with Arby's capturing just 6 of those visits). Arby's also plans to add as many as 12 new products to target this group. The brand overhaul also will include a new logo, packaging and menu boards that will be in place by February.
Taco Bell begins a search for a new media agency while it plans to launch new menu items such as a chicken Caesar burrito, fresh roasted salsa and a new quesadilla. Also, Taco Bell is revamping its steak (with plans to roll out the new version nationwide next January) and reports that it is "very pleased" with the results of its new Cantina Menu.

Make Restaurant Research your outsourced research department. Leverage our extensive network and expertise at a fraction of what it would cost for you to do your own due diligence/business intelligence/benchmarking the right way. For more information, please contact us at (203) 938-4703 or pmangieri@chainrestaurantdata.com.
Disclaimer of Liability: Although the information in this report has been obtained from sources Restaurant Research® LLC believes to be reliable, RR does not guarantee its accuracy. The views expressed herein are subject to change without notice and in no case can be considered as an offer or solicitation with regard to the purchase or sales of any securities. Restaurant Research's analyses and opinions are not a guarantee of the future performance of any company or individual franchisee. RR disclaims all liability for any misstatements or omissions that occur in the publication of this report. In making this report available, no client, advisory, fiduciary or professional relationship is implied or established. This report is intended to provide an overview of the restaurant industry, but cannot be used as a substitute for independent investigations and sound business judgment. Copyright 2012.