Restaurant Research LLC

October 2012 Wrap-Up
Last month was a difficult one for the restaurant industry with the NRN index underperforming the S&P 500 by 280 basis points (with both in negative territory) while 21 out of the 30 restaurant stocks (outlined below) posted price declines during October. Investor concern seems to center on a weakening economy (punk employment) which is prompting increased discounting from industry price leaders. Leading brands seem to believe they lack pricing power against a back-drop of continued food cost inflation. The possibility of a consumer move towards trade-down seems to have hit the higher-end casual and fast casual dining stocks harder than the fast food companies which are busy strengthening their overall value proposition with stronger menus, operations and facilities. Generally speaking, many major QSR brands seem intent on eliminating the distinction with fast casual (with Taco Bell's Cantina menu vs. Chipotle providing a move in that direction). Investors do seem happy with refranchising (i.e. DineEquity) which would seem to offer an antidote to prospects for a unit level profit squeeze (at least in the short run). It is perhaps too early to clearly determine Sandy's negative impact on industry sales but this may ultimately prove less important than the election outcome & Obamacare. Please refer to key company announcements on next page which are summarized to reflect the most pertinent information.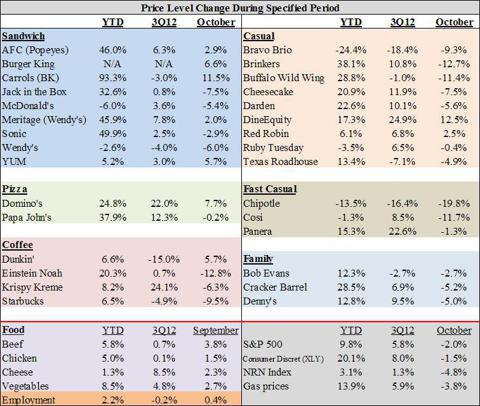 Company & Industry Developments During October 2012
Applebee's - DineEquity, Inc. announced that it completed its refranchising program initiated in 2008, with the sale of 39 Applebee's company-operated stores in Virginia to Potomac Family Dining Group, LLC. Since its acquisition of Applebee's in 2007, DineEquity has refranchised a total of 479 restaurants.
Applebee's - The largest Applebee's franchisee, Apple American Group, acquired an additional 99 stores from a Poland-based franchise group, AmRest Holdings, for a total of $94.8 million (just under $1MM/store). As a result of the deal, Apple American could become the nation's largest franchise operator with a unit count of 436 Applebee's and $1.1B+ in annual sales. Apple American credits its success to a decentralized business model in which each geographic region is led by a market president who is given local autonomy with administrative and financial support from the central franchise organization. About 1/3 of the AmRest restaurants have been remodeled and Apple American plans to reimage the remaining locations by the end of 2014. In addition, Apple American is on track to complete remodels for about 100 units left within its own portfolio by that time. The reimaging has given Apple American locations a sales lift of about 5% on average.
Burger King - The following changes at Burger King are designed to better align brand culture: the capture of real-time data across the entire system; a new field support structure (at a ratio of 1 new field manager to every 30 franchise units); refranchising stores to strongest franchisees; reimaging efforts: ~11% of the system has been remodeled with additional commitments for 30%-40% in a year (generating 10%-15% sales lift); a 15 month pipeline of new product news which help fill menu gaps; a broader marketing target with the elimination of the "King".
Burger King - Burger King reportedly is inviting ad agencies to improve its "Taste is King" marketing platform with a new one that better resonates with U.S. consumers (along the lines of its earlier "Have it Your Way" positioning or rival McDonald's "I'm Loving It").
Burger King - Burger King announced the refranchising of 42 company-owned stores in the metro-Atlanta area to GPS Hospitality which is operated by Tom Garrett, former president and CEO of Arby's Restaurant Group, Inc. GPS will remodel 29 stores over the next three years.
Burger King - Burger King is expanding the test of its BK Delivers program from 6 Miami stores to 35 locations in Miami-Dade and Broward counties by the end of the year. The program started about a year ago in the Washington, D.C. area, where it grew to 12+ outlets in the capital, Maryland and Virginia. Burger King has determined that delivery does best in areas with high population density and where people already have the habit to ask for delivery. To be eligible for service, the customer must live within a 10-minute drive time of one of the participating locations. Delivery orders require a $10 minimum and a service fee, typically $2 (delivery is typically available from 11 a.m. to 10 p.m.).
Checkers - Checkers Drive-In Restaurants is testing a new store layout (the first in the company's 25-year history). In one case, a re-designed test unit went from $750k in sales to $1.2MM. 10 new locations are now in test and the company plans to redesign seven more company-owned locations during 2013. The new layout includes a single drive thru (a departure from Checkers' signature double drive thru) as well as a larger outdoor seating area and an updated checkerboard pattern. While the redesigned elements will be available for existing locations to add on as franchisees desire, the new design is mainly intended for newly built freestanding Checkers and Rally's locations (new units cost about $500,000 to build).
Chipotle - The press reported that a consumer survey commissioned by a hedge fund concluded that Taco Bell's Cantina menu is gaining share at the expense of Chipotle. This is consistent with research from YouGov BrandIndex which found that Taco Bell's "quality scores" rose steadily since the launch of Cantina Bell thus significantly narrowing its gap with Chipotle. Taco Bell recently said line extensions of Cantina Bell are coming, including a new quesadilla this November and upgraded steak options early next year.
Chipotle - Maturing growth is prompting Chipotle Mexican Grill to consider strategies more in-line with QSR than fast casual, including ads that are designed to drive traffic rather than celebrate the brand, the possibility of adding breakfast items and installing drive-through windows.
Cousin Subs - Cousins Subs, a deli sandwich chain with 150 stores in 6 states, has created a program that provides financial incentives for franchisees who invest in three to five-store development deals. While the chain is primarily located in Wisconsin, it hopes to expand into the Midwest, Southwest and Southeast. The program's main draw is the fact that it reinvests all franchise fees ($25k for the first store and $17.5k for each additional store) into local store marketing.
Darden - Darden announced that it will put more workers on part-time status (with less than 30 hours) in a test aimed at limiting costs from President Barack Obama's health care law (testing this initiative in 4 markets across the country). The company says about 75% of its employees are currently part-timers. Darden has made cutting labor costs a priority in recent years with labor costs at the company's restaurant down to 31% of sales from 33% three years ago, driven by: offering lower pay rates to new hires; bonus cuts for general managers; increasing table coverage for servers at Red Lobster to 4 tables instead of 3; placing workers on a "tip sharing" program (in which waiters and waitresses share their tips with other employees such as busboys and bartenders) allowing Darden to pay more workers a far lower "tip credit wage" of $2.13 rather than the federal minimum wage of $7.25 an hour.
Domino's - Domino's advertisements for its new fresh dough pan pizza calls out competitors for using frozen dough (Pizza Hut in all but name & grocery stores). Notably, Papa John's does not offer pan pizza. Domino's tried pan pizza in 1986 but discontinued the product line which takes longer to make than standard pies (in an effort to maintain its 30-minutes-or-less delivery guarantee).
Einstein - Einstein Noah Restaurant Group, Inc. announced that, in addition to continuing to explore a possible business combination or sale of the company, it will consider a possible recapitalization which may include payment of a special dividend. Also, the company indicated expectations of about 5.5% wheat inflation next year while coffee costs are expected to drop about 22%.
Food prices - This summer's drought drove corn (+65%) and soybean (+35%) costs above historical averages while raising concerns about supply shortages. This year's expected US corn harvest (10B bushels) is significantly less than average yield of 14B while the liquidation of some beef and dairy cattle herds are producing a short-term beef glut with the prospect of material 2013 market tightness.
Jimmy John's - The Jimmy's John's sandwich chain of about 1,500 restaurants has grown its store base by nearly 55% in less than three years (with an estimated U.S. systemwide sales of more than $1 billion in 2011). Menu simplicity is based upon a platform of 6 meats, 1 cheese, 2 breads and 23 different sandwiches. Operational quality benefits from a business coach visit of every single restaurant every 30 business days for a full day. Each store is graded and if a store's score is less than 85%, JJ's chief compliance officer, the unit manager and the active owner have a corrective action plan in place by 8 o'clock that night.
KFC - KFC continues its strategy to introduce snack products (Original Recipe Bites in July and Chicken Littles in September) with the launch of Dip'ems - a repackaging of its Extra Crispy chicken tenders with a sauce lineup featuring three new varieties. Dip'ems will be sold in buckets of $20 with all six sauces or in a combo of three tenders, a choice of two sauces, a side item, a biscuit and a medium drink for $5. KFC seeks to differentiate Dip'ems from other chicken tender offerings by emphasizing the dipping sauce flavor.
LongHorn - Darden's LongHorn Steakhouse debuted a new menu (designed to stand out as unique casual offerings) and advertising campaign (communicating more attitude). 2 TV spots feature auto racers and new menu offerings. The brand's new tagline in each of the 30- and 15-second spots is: "You Can't Fake Steak." The core menu revamp (the most extensive in the brand's history) includes: a 30-ounce Porterhouse for two, which comes with two salads, two sides and steak sauce prepared tableside for $39.99, and the Rancher's Sirloin, which comes topped with a sunny-side-up egg and bacon (priced between $13.49 and $18.99); a Flavorful Under 500 (calories) section.
McDonald's - McDonald's push of the dollar menu is designed to combat sales weakness but concerns some franchisees and possibly sets the stage for industry price competition. McDonald's disclosed that same-store sales for the month of October were trending negative and plans to combat that with a faster and more prolific pipeline of new products than it did in 2012 while changing the way it talks about its value proposition (putting more media weight behind it). The company plans to keep its value sales mix at around 10% to 15% of the total and a move earlier this year to the Extra Value Menu (as opposed to the Dollar Menu) didn't resonate with consumers such that McDonald's is returning to advertising the Dollar Menu. However, McDonald's will balance that message with support for premium products which include the Chicken Bacon Onion sandwich in restaurants now (the first sandwich option presented to customers as a flavor that can be applied to either chicken or beef on the Angus Third Pounder platform). In addition, the chain will continue emphasizing growth categories like breakfast and beverages and refining operations initiatives like extended hours and double drive-thrus. Through the first nine months of the year, McDonald's had reimaged nearly 1,500 restaurants around the world and is on pace to remodel more than 2,400 for the year, including 800 in the United States. Notably, press reports dissatisfaction among some McDonald's franchisees about the cost of remodeling their landlord's (McDonald's) building given a high level of discounting and commodity cost increases. Further, higher menu prices have increased the gap between high- and low-end offerings, driving more consumers down to Extra Value Menu items.
Olive Garden - Parent company Darden is focused on improving Olive Garden's affordability and variety, while stressing that customers can come at any time of day, not just for a family dinner - replacing its image of providing a long, lingering family meal (consistent with its "When You're Here, You're Family" slogan) to cater to a more modern, hectic lifestyle. To this end, Olive Garden announced its first new national advertising campaign in nearly 10 years and the initial phase of significant menu innovations that include lighter Italian entrees, new Porta Vita signature wines and a unique "Dinner Today & Dinner Tomorrow" LTO. The new TV ads introduce a "Go Olive Garden" tagline and illustrate how the restaurant provides a place (and many reasons like family time, date night or a wine tasting) for families and friends to connect while highlighting how the brand is evolving its food, wine, atmosphere and service to provide greater value, choice and variety. In an effort to increase frequency and to become more price competitive with fast casual, Olive Garden rolled out its "Dinner Today & Dinner Tomorrow" promotion (Oct. 8 through Nov. 18) in which guests can choose one of five favorite entrees for dinner today (served with unlimited soup or salad and breadsticks) and take a second entree home for dinner tomorrow - all for only $12.95. Finally, the company says it will keep price hikes to less than 2% this year because Darden's costs for food ingredients has stabilized - the average check per person is currently about $16, not including tax or tip.
Outback - Outback Steakhouse will open for lunchtime on weekends, with new menu items including 10 entrees for less than $10, and a $7.99 combo deal that includes a soup or salad and an entrée. As a complement to the lunchtime menu offerings, Outback is also promoting its Curbside Take-Away and online ordering for to-go lunches. According to the company, lunchtime diners tend to be more price and time sensitive relative to dinner diner counterparts.
Papa John's - Papa John's announced Denver Broncos quarterback Peyton Manning as its newest franchisee. Manning, in partnership with Papa John's, will own 21 restaurants in the Denver area.
Popeyes - AFC Enterprises announced that it entered into an agreement to acquire 28 KFC restaurants in Minnesota and Northern California at a price of $13.8 Million ($493k each) with the intension of converting them to the Popeyes brand for a cost of approximately $11.5 Million ($411k each) representing a total investment of $904k/store. Following the conversion, the restaurants will be leased to Popeyes franchisees to operate.
Quizno's - Quiznos' CEO pledges to refocus on franchisee profitability by driving the top-line with a better job of promoting the quality of its food. Earlier this year, Avenue Capital Group took a majority stake in the company, injecting about $150 million in capital and eliminating about one-third of the company's debt. The chain's operations will benefit from: an investment in more field resources which includes the addition of a 4th regional vice president; the addition of more franchise business consultants (reducing their span of control to about 30 stores each); a rebate program that allows franchisees to earn up to 4% back on their food bill based on achieving certain operational metrics. Going forward, Quiznos plans to do more limited-time offerings while generally seeking to simplify its menu. In terms of marketing, Quiznos corporate will invest around $20MM in addition to what the franchisees contribute to the advertising fund and will work closely with its ad counsel (comprised of franchisees) to make sure the brand promotes products at profitable price points that are also attractive enough to drive traffic. The entire focus of advertising in the future will be about "romancing its food".
Red Lobster - As part of a goal to create more "destination items" outside of Red Lobster's traditional lobster tail or crab legs dinners (that will also eliminate the veto vote), the chain rolled out a new menu that includes; more non-seafood meal options; more pieces of fresh fish; and more value items that cost less than $15 (15 of the menus items will be called Maine Stays - permanent menu additions that cost $15 or less). 60% of total menu items are now priced lower than $15 which is expected to increase frequency.
Sbarro - Sbarro rolled out its newly reformulated thin-crust Neapolitan-style pizza nationwide - while ingredients for the new pizza are higher quality, the price will remain the same. The 1,013-unit brand (with average check of about $8.20) continues its migration toward becoming a fast-casual chain by testing new pasta dishes, salads, desserts and "handheld" options while soon introducing a next generation unit design (tentatively called "the Sbarro of Tomorrow"). The chain also plans to shift its new-unit development focus from its traditional mall-based outlets to more urban, street-front locations that will allow for more robust foot traffic.
Starbucks - Starbucks is testing smaller drive-through/walk-up shops as it seeks to address diminishing returns from its larger store-front coffeehouses (particularly in markets that are not sufficiently large or affluent to support a traditional Starbucks).
Starbucks - Starbucks Corp. is testing toasty croissants and baked goods in 9 San Francisco stores with plans to eventually expand distribution nationally (many of the items are served warmed, unlike its current lineup of baked goods). The new baked goods result from Starbucks' $100 million purchase this summer of La Boulange, a small San Francisco bakery chain which is intended to serve as a platform of popularizing the French bakery experience in the U.S. (in the same way Starbucks popularized the experience of the Italian espresso bar).
Taco Bell - Taco Bell is introducing 3 new prototypes of varying sizes with an objective of developing a design which will be more easily adapted to future image changes. To this end, the units will incorporate a simple shell with an exterior façade that will be easier to manipulate in the event of future changes with interiors offering a variety of seating configurations (a lounge area with softer seating; round "Bell booths" that seat seven; counter seating for those waiting to pick up food). The prototypes also offer more electrical outlets to accommodate customers with smartphones or laptops and offer free WiFi. The vibrant color scheme is more neutral.Taco Bell's last major image upgrade (Bold Choice) was rolled out to the majority of units in 2004. The final decision of when to rollout the new image and which elements to include are forthcoming. Taco Bell also announced that it is looking for a new media agency.
Wendy's - Wendy's is updating its logo and its facilities in a move intended to signal its ongoing transformation into a higher-end hamburger chain as the brand known for its square burgers and chocolate Frosty shakes struggles to redefine itself in the face of intensifying fast casual competition. Instead of the boxy, old-fashioned lettering against a red-and-yellow backdrop, the pared down new look features the chain's name in a casual red font against a clean white backdrop. An image of the smiling, cartoon girl in red pigtails floats above. In addition to raising food perceptions, the brand seeks to renovate outdated stores with its "image activation" update featuring a bold, sleek, ultra-modern design that includes lounge seating, fireplaces, flat-screen TVs, WiFi, digital menuboards, natural lighting, different types of cues to help with customer service and self-serve drinks with the Coca-Cola Freestyle. The idea is to create a more inviting atmosphere where consumers feel they can relax. The $750k renovations, which also include new uniforms, are driving a 25% - 30% sales bump and Wendy's plans to have 50% of its 1,425 company-owned locations updated by 2015 (with 75 finished by year-end). Wendy's corporate is providing a $100,000 incentive to the first 100 franchise restaurants that are remodeled to this design. Also, Wendy's is incorporating a 2-pronged ad approach featuring brand namesake Wendy Thomas talking about the brand's values and a character known as "Red" who focuses on specific product offerings and demonstrates Wendy's superior taste. Ultimately, the company wants to be seen as a "top-end" fast-food chain - better quality than McDonald's, but perhaps not at the same level as Panera. To this end, the company will rollout whole wheat buns and flatbreads to build on this year's introduction of sweet baked potatos and Bacon Portabella Melt cheeseburgers.

Make Restaurant Research (ChainRestaurantData.com) your outsourced research department. Leverage our extensive network and expertise at a fraction of what it would cost for you to do your own due diligence/business intelligence/benchmarking the right way. For more information, please contact us at (203) 938-4703 or pmangieri@chainrestaurantdata.com.
Disclaimer of Liability: Although the information in this report has been obtained from sources Restaurant Research® LLC believes to be reliable, RR does not guarantee its accuracy. The views expressed herein are subject to change without notice and in no case can be considered as an offer or solicitation with regard to the purchase or sales of any securities. Restaurant Research's analyses and opinions are not a guarantee of the future performance of any company or individual franchisee. RR disclaims all liability for any misstatements or omissions that occur in the publication of this report. In making this report available, no client, advisory, fiduciary or professional relationship is implied or established. This report is intended to provide an overview of the restaurant industry, but cannot be used as a substitute for independent investigations and sound business judgment. Copyright 2012.