Restaurant Research LLC

Universal healthcare is a noble endeavor, but not without a price
While the restaurant industry is slowly beginning to calculate the cost for small business owners, what is perhaps less understood is the economic impact on consumers who fuel the restaurant industry.
According to most recent government data, households already spend $708B on healthcare - a staggering number which exceeds expenditures by private businesses to provide healthcare coverage ($518B).
As the country gets ready to cover the 49MM uninsured (16% of the population) in 2014, we must prepare for the impact from aggregate additional healthcare expenditures by small business providers, consumers and the government who will use tax financing to provide subsidized insurance for the uninsured poor (~19MM).
We estimate the aggregate cost to add 49MM to the healthcare rolls at around $84B annually (0.5% of GDP). This is based on the assumption that the government can figure out how to reduce the cost of healthcare by 10% per person because of scale and the addition of the very young to the pool. This number could be smaller depending on the number of individuals that will opt to pay lesser penalties rather than pay-up for their share of health insurance coverage (but those penalties still represent a reduction in spending power).
What is debatable is the composition of the $84B - i.e. how much of the incremental spend will be funded by business owners, consumers and the government. However, consumers are currently on the hook for 58% of total spending and let's say for argument sake that 40% of the incremental healthcare costs in 2014 fall to consumers.
That's $34B in lost consumer spending!! Less money for fast food, cell phones and cars. It is a big number.
Yes, we understand that the remaining $50B also comes out of the economy through higher taxes for business owners and individuals earning enough to pay income taxes - a further indirect reduction in aggregate spending.
Our conclusion? It may not be so easy for operators to think about passing along higher pricing to many of their customers who will be squeezed rather dramatically with the requirement to pay-up for health insurance for the first time. All the more reason to move your target market to the affluent and away from the young, hungry male.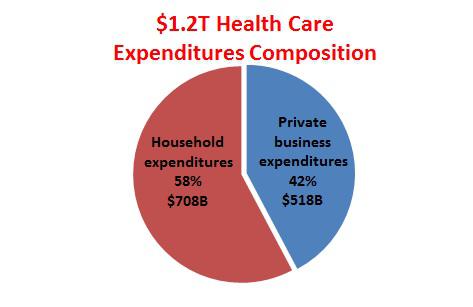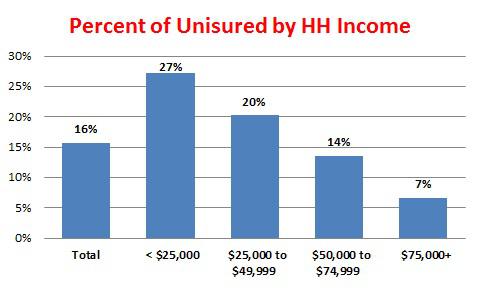 Source: US Census Bureau; RR
For information on how to order the complete report, please contact us at (203) 938-4703 or pmangieri@ChainRestaurantData.com.
RR Clients
Includes major lenders, investors, major US restaurant chains, operators and industry consultants. Please check www.ChainRestaurantData.com for a partial client list and customer testimonials.
More About Us
Restaurant Research LLC leverages an extensive network of industry players as part of its annual Concept Benchmark Analysis due diligence process for 22 large US restaurant chains. Also, RR tracks store level data for all major chains with system-wide sales in excess of $1B across all major restaurant segments in order to produce 11 key Industry Data Topic reports.
Copyright 2012 Restaurant Research® LLC. All rights reserved.
Disclaimer of Liability: Although the information in this report has been obtained from sources Restaurant Research® LLC believes to be reliable, RR does not guarantee its accuracy. The views expressed herein are subject to change without notice and in no case can be considered as an offer or solicitation with regard to the purchase or sales of any securities. Restaurant Research's analyses and opinions are not a guarantee of the future performance of any company or individual franchisee. RR disclaims all liability for any misstatements or omissions that occur in the publication of this report. In making this report available, no client, advisory, fiduciary or professional relationship is implied or established. This report is intended to provide an overview of the restaurant industry, but cannot be used as a substitute for independent investigations and sound business judgment.