Restaurant Research LLC

Training Consumers to Value Brands
The economic rollercoaster (OK mostly down, little up) over the last decade has had a profound impact on shaping consumer behavior.
Everyone understands the idea of trade-down during times of economic stress. Private brand grocery food sales as charted below clearly illustrate this point.
However, we believe the more important point based on the chart below is that private brand food sales have steadily outperformed branded food sales every year between 1998 - 2011 (14 years) except during 2000 when they tied. Further, we would point out that the outperformance has been rather dramatic during this period with private brand sales besting branded sales by multiples of their respective annual growth rates on several occasions (particularly during periods of economic strength).
The takeaway from this data? Grocery shoppers have become more desensitized to the notion that brands deserve a significant price premium. This is easy math as private brand foods can save consumers 30% while increasing retailers' gross profit 20% compared to branded goods.
How does this apply to the restaurant industry? We believe restaurant consumers are also being trained to reassess value not only by the growing popularity of private brand foods but also by dollar menus at their favorite restaurants. Is the gourmet burger really worth 3x as much as the discount burger? It is a matter of economic comparisons.
Long-term implications? The Restaurant industry must learn from the mistakes of the grocery food business. This requires restaurant brand managers to work harder at distinguishing their concepts from commodity dining alternatives by increasing the quality and innovation of their core menu items. Also, it seems that industry players should carefully consider the role of their dollar menus in making premium comparisons so difficult.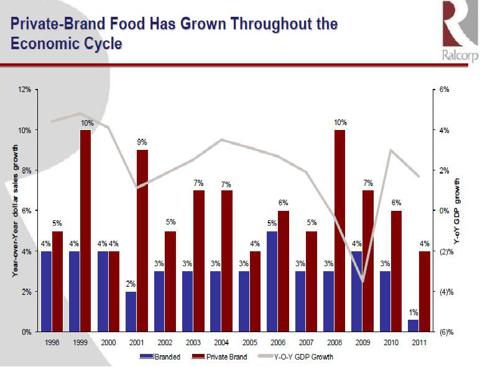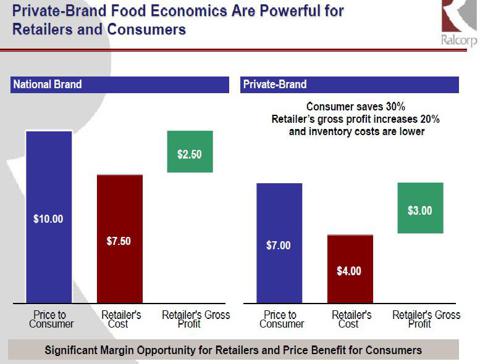 Source: Ralcorp; A.C. Nielsen; Broker reports
For information on how to order the complete report, please contact us at (203) 938-4703 or pmangieri@ChainRestaurantData.com.
RR Clients
Includes major lenders, investors, major US restaurant chains, operators and industry consultants. Please check www.ChainRestaurantData.com for a partial client list and customer testimonials.
More About Us
Restaurant Research LLC leverages an extensive network of industry players as part of its annual Concept Benchmark Analysis due diligence process for 22 large US restaurant chains. Also, RR tracks store level data for all major chains with system-wide sales in excess of $1B across all major restaurant segments in order to produce 11 key Industry Data Topic reports.
Copyright 2012 Restaurant Research® LLC. All rights reserved.
Disclaimer of Liability: Although the information in this report has been obtained from sources Restaurant Research® LLC believes to be reliable, RR does not guarantee its accuracy. The views expressed herein are subject to change without notice and in no case can be considered as an offer or solicitation with regard to the purchase or sales of any securities. Restaurant Research's analyses and opinions are not a guarantee of the future performance of any company or individual franchisee. RR disclaims all liability for any misstatements or omissions that occur in the publication of this report. In making this report available, no client, advisory, fiduciary or professional relationship is implied or established. This report is intended to provide an overview of the restaurant industry, but cannot be used as a substitute for independent investigations and sound business judgment.