Restaurant Research LLC

December 2012 Wrap-Up
During December the NRN index (restaurant stocks) was up +1.6% slightly outperforming the overall market (S&P 500) +0.7%. Restaurant stock performance was largely a mixed bag with no clear sector trends (other than general strength for the family players) and no major corporate developments (other than Darden's confession that it needs to be stronger with value). McDonald's surprised everyone with a strong comp performance in November as it rotated into a stronger value message which allowed its stock performance to approximate the industry average. This surprise likely took some of the wind out of the stock prices of Burger King and Wendy's (which announced that it too will do more with value). While value remains the topic du jour (highlighted by Subway offering two 6" subs for $2 during December), macro indicators for the industry were generally positive as gasoline prices continue to decline while employment numbers reversed to positive growth somewhat offset by ramping commodity prices (including a pick-up in beef and vegetables). Having said that, we note that DelaGet's transaction data shows a decline in December's y/y traffic for both QSR and sit-down (with QSR's numbers down -6% vs. historical average). Notable corporate announcements on the next page include 7-Eleven's push into fresher foods which is reinforced by the move of casual segment leaders into a greater 2013 emphasis on healthier menu items. Another point for consideration: Starbuck's push into tea, fruit juice and bakery items could have a long-term impact on the restaurant industry's direction.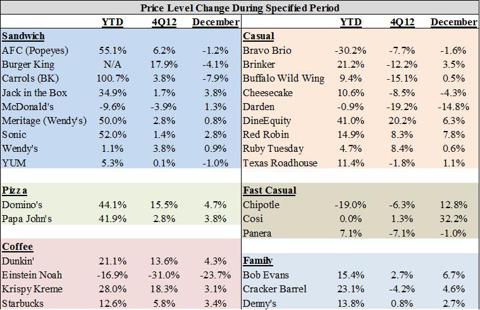 Source: RR
Company & Industry Developments During December 2012
7-Eleven is pushing into healthier foods including yogurt parfaits, crudité and lean turkey on whole wheat bread. By 2015, 20% of sales will come from fresh foods in NA up from about 10% currently. One new menu item example is a Bistro Snack Protein Pack (including mini pita rounds, cheddar cheese cubes, grapes, celery, baby carrots and hummus). The company is also taking existing products and retooling them for single portions (i.e. jelly doughnuts and tacos in mini sizes). More recently, the brand introduced refrigerated dairy cases for milk, eggs and cheese.
Cosi (129 unit chain) is testing a new "Pop-Up" 4,000 s.f. reimage which will emphasize flatbread and the hearth oven as a focal point. The brand's menu will continue to focus on sandwiches, salads and flatbread pizzas.
California Pizza Kitchen is introducing a "reimagined brand vision" which it is testing in a new prototype. By midyear 2013, all restaurants within the 266-unit chain will return to hand-tossing dough for pizza rather than using a dough press and the system has already started embracing a shift toward more innovative, seasonal and healthful dishes.
Darden - after new ad campaigns touting the quality of its food failed to spark sales, the parent company of Olive Garden and Red Lobster is retooling its strategy to attract diners with more promotional deals. This shift comes after updating the image of its chains in an effort to appeal to diners in their 20s and 30s who increasingly prize fresh, high-quality ingredients. Darden subsequently discovered that this demo also seek cheaper prices and convenience. Also, Olive Garden noted that its "Dinner Today, Dinner Tomorrow" promotion didn't clearly communicate the nature of the deal (providing customers who ate at the restaurant a free second meal to take home).
Einstein Noah Restaurant Group announced that after the completion of its strategic review, the company would recapitalize and declare a one-time special dividend of $4.00 per share.
Famous Dave's (189-unit chain) future growth will rely more heavily on its fast-casual concept Famous Dave's BBQ Shack which appeals better to its target customer (the female head of household meal decision makers) in order to make the brand's food more relevant on an everyday basis and less dependent on special-occasions.
Chili's "Eat Lighter This Year" campaign highlights its Mango-Chile Tilapia (620 calories) and its Mango-Chile Chicken (580 calories). Also, Applebee's is planning to highlight its lower-calorie menu items in 2013 with the addition of 2 new menu items to its Unbelievably Great Tasting Under 550 Calories Menu on Jan. 1 (Zesty Roma Chicken and Shrimp and Lemon Parmesan Shrimp).
Huddle House (a 400+ unit family restaurant chain) signed a multiunit franchise agreement with CEFCO Convenience Stores (a 254-unit convenience store chain) with plans to add 100+ locations in the next five years.
McDonald's US comps increased +2.5% during November (on top of a +6.5% in November 2011) which reflects increased marketing spend around value messaging and strong sales from its Cheddar Bacon Onion LTO & breakfast.
Papa Murphy's take-and-bake pizza announced a $7.5MM franchise lending program created by Franchise America Finance and The Bancorp Bank. The average cost to open a Papa Murphy's is approximately $209,330-$396,710.
The largest Pizza Hut franchisee in California (Southern California Pizza Company operating 224 units) was acquired by private-equity firm Sterling Investment Partners from Sentinel Capital Partners. The new owners plan to invest in restaurant remodels and are looking for opportunities for further growth.
Starbucks plans to open 1,500 new coffeehouse locations in the U.S. and renovate thousands more over the next five years and also reiterated plans to "do for tea what it did for coffee" through its acquisition of the 300-unit Teavana tea chain. Leveraging newly acquired brands, La Boulange bakery goods will be served in more than 2,500 U.S. Starbucks locations by the end of next year, and Evolution Fresh juices will be available in more than 5,000 coffeehouse locations. In what is said to be a first in cross-channel loyalty development, U.S. customers next year will be able to earn My Starbucks Reward points toward free food or drinks for buying Starbucks-branded packaged goods (such as the bagged coffee or bottled drinks) in grocery stores. Starbucks said its loyalty cards are used in about 25% of U.S. transactions and projects that mobile payments will drive ~10% of US transactions by the end of the next fiscal year.
Subway offered its Cold Cut Combo and Meatball Marinara in 6-inch form for $2 each throughout December (Customer Appreciation Month).
Wendy's said it will focus more on low-priced menu items next year to compete with McDonald's and other fast-food chains that are attracting more cost-conscious consumers. The brand's planned focus on a national menu of 99-cent items reflects the difficulties of moving certain customers off of that price point. Wendy's will continue efforts to revitalize its image and menu in an effort to establish its perception as "a cut above" traditional fast food.
Industry Traffic Barometer
DelaGet transaction data for large brands (aggregated from 4,000+ QSR and 1,700+ sit-down locations) reveals a decline in y/y traffic during December for both QSR (-0.9%) and sit-down (-1.3%) as indicated below (although sit-down improved +6.4% on a sequential basis last month). During December, QSR traffic was -5.7% below historical average (since 11/09) while sit-down was about +0.4% above average.


Source: DelaGet
DelaGet helps multi-unit restaurant operators put more money on their top and bottom lines by providing low-cost, cloud-based information services such as loss prevention, payroll, and operational and financial reporting. DelaGet serves a client base of more than 8,500 restaurants and processes data associated with over 1 billion transactions annually. Learn more at www.DelaGet.com.
Contact Phil Mangieri at (203) 938-4703 or pmangieri@ChainRestaurantData.com with questions or comments.
Copyright 2013 Restaurant Research® LLC. All rights reserved.
Disclaimer of Liability: Although the information in this report has been obtained from sources Restaurant Research® LLC believes to be reliable, RR does not guarantee its accuracy. The views expressed herein are subject to change without notice and in no case can be considered as an offer or solicitation with regard to the purchase or sales of any securities. Restaurant Research's analyses and opinions are not a guarantee of the future performance of any company or individual franchisee. RR disclaims all liability for any misstatements or omissions that occur in the publication of this report. In making this report available, no client, advisory, fiduciary or professional relationship is implied or established. This report is intended to provide an overview of the restaurant industry, but cannot be used as a substitute for independent investigations and sound business judgment.