Download Report for Free
February 2013 Wrap-Up
Stock performance: Restaurant industry stocks continue to perform well with the RR average up +2.5% in February and +8.8% YTD vs. +0.8% and +6.2%, respectively, for the S&P 500. Surprisingly, sit-down restaurant stocks (casual and family) performed the best despite Darden's (segment leader) reported sales weakness. We believe this reflects a knee-jerk rotation out of QSR with heavy exposure to China (given all the bad press there) into domestic brands (primarily casual and family).
Macro: The economic backdrop for the restaurant industry remains unfavorable as represented by higher gas prices, y/y decline in consumer confidence and continued commodity cost pressures. Longer-term pressure represented by healthcare and mention of a national minimum wage hike also threatens profits.
Sales Trends for $1B+ Chains: 2012 comp growth of +3.1% y/y (the strongest performance since 2005) suggests to us that the recession has sharpened the industry's focus. Many companies reporting 4Q12 financial results mentioned a very difficult sales environment during January and February because of an increase in payroll taxes and delayed tax refund checks. Fortunately, most expect a sales rebound from these pressures as the year progresses.
Industry Traffic: DelaGet's data reveals sit-down outperformed QSR during February (mirroring stock performance), although traffic for both segments remain under pressure due to payroll tax headwinds.
Real Estate: According to Marcus & Millichap's Nisbet Group, compressing cap rates prompt chain restaurant real estate investors to broaden their search of triple net inventory beyond core markets.
Strategy: John Gordon of Pacific Management Consulting Group suggests that chain restaurants will benefit from exploring more granular menu pricing strategies.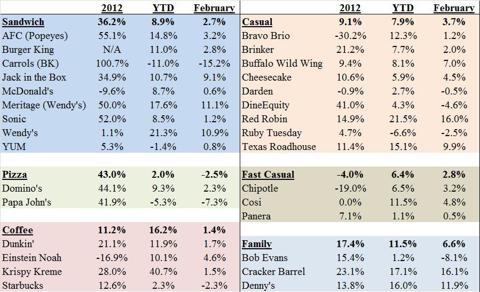 Contact Phil Mangieri at (203) 938-4703 or pmangieri@ChainRestaurantData.com with questions or comments.
Copyright 2013 Restaurant Research® LLC. All rights reserved.
Disclaimer of Liability: Although the information in this report has been obtained from sources Restaurant Research® LLC believes to be reliable, RR does not guarantee its accuracy. The views expressed herein are subject to change without notice and in no case can be considered as an offer or solicitation with regard to the purchase or sales of any securities. Restaurant Research's analyses and opinions are not a guarantee of the future performance of any company or individual franchisee. RR disclaims all liability for any misstatements or omissions that occur in the publication of this report. In making this report available, no client, advisory, fiduciary or professional relationship is implied or established. This report is intended to provide an overview of the restaurant industry, but cannot be used as a substitute for independent investigations and sound business judgment.