Chain Restaurant Margins vs. Commodity Retailers
As pricing power goes to companies, and industries, perceived by their customers as providing more value, COGs represents a good proxy of perceived value.
Warehouse club gross margins, which have generally trended upward as consumers chase value, are steadily closing the margin gap with grocery stores. Not surprisingly, gas station margins have trended steadily lower given sharp gas price increases which has prompted consumers to reduce consumption.
$1B+ restaurant chain gross margins (total sales - COGs) declined by 1% from a high of 71% in 2009 (when commodity costs skyrocketed) to a low of 70% in 2011. However, we can see from the right chart that large restaurant chains have held their own in terms of pricing power compared to grocery stores and gas stations when comparing the percent change in gross margin from 2008-2011.
In conclusion, we believe that large chain restaurants capable of innovating and improving products and services enjoy greater pricing power relative to retailers of pure commodity goods which must resort to pure price competition during difficult economic times.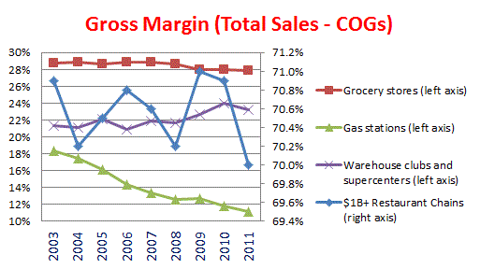 Source: RR estimates & US Census (latest available data)
RR Clients
Includes major lenders, investors, major US restaurant chains, operators and industry consultants. Please check www.ChainRestaurantData.com for a partial client list and customer testimonials.
More About Us
Restaurant Research LLC leverages an extensive network of industry players as part of its annual Concept Benchmark Analysis due diligence process for 22 large US restaurant chains. Also, RR tracks store level data for all major chains with system-wide sales in excess of $1B across all major restaurant segments in order to produce 11 key Industry Data Topic reports.
Disclaimer of Liability: Although the information in this report has been obtained from sources Restaurant Research® LLC believes to be reliable, RR does not guarantee its accuracy. The views expressed herein are subject to change without notice and in no case can be considered as an offer or solicitation with regard to the purchase or sales of any securities. Restaurant Research's analyses and opinions are not a guarantee of the future performance of any company or individual franchisee. RR disclaims all liability for any misstatements or omissions that occur in the publication of this report. In making this report available, no client, advisory, fiduciary or professional relationship is implied or established. This report is intended to provide an overview of the restaurant industry, but cannot be used as a substitute for independent investigations and sound business judgment. Copyright 2013 Restaurant Research® LLC. All rights reserved.