The RR Thermometer
June 2012 Wrap-Up
June was a difficult month for all things consumer discretionary including restaurant stocks which underperformed the S&P 500 with the NRN Index up +1.7% vs. +2.8% for the market. Fortunately, economic weakness was partially offset by lower gas prices and a break in food prices. YUM! and McDonald's relative weakness reflects that global exposure is a double-edged sword when the US starts to look stronger than the rest of the world. However, restaurant companies that are executing on their turn-arounds or those that simply improve their operations were rewarded in June with higher stock prices (perhaps as investors rotate out of the global names) that defies a slowing economy. For instance, investors seemed particularly impressed with Sonic's new ads and Popeye's continued share gains in the chicken segment. The family segment also continues to benefit from improvements which narrow the quality gap with casual. On the other hand, investors punished fast casual during June as many fast food brands continue to take-back ground lost to their upscale cousins. Our conclusion? A focus on operational improvements and branding refinements is the best antidote to a slowing economy.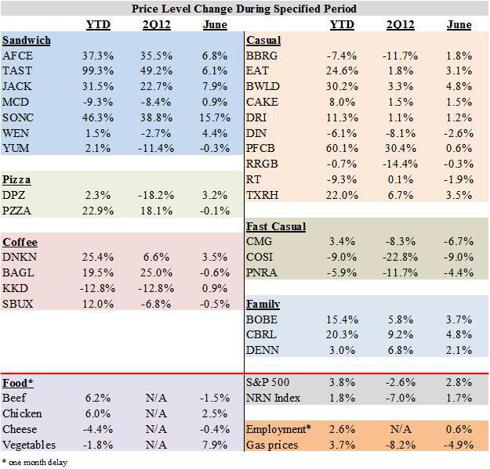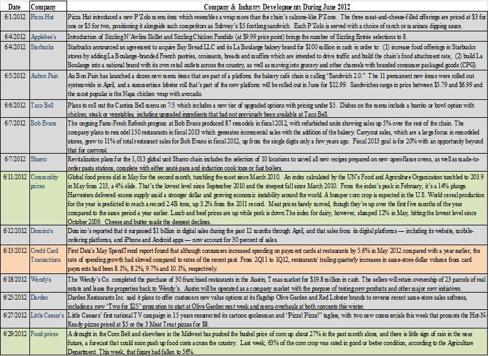 Contact Phil Mangieri at (203) 938-4703 or pmangieri@ChainRestaurantData.com with questions or comments.
Copyright 2012 Restaurant Research® LLC. All rights reserved.
Disclaimer of Liability: Although the information in this report has been obtained from sources Restaurant Research® LLC believes to be reliable, RR does not guarantee its accuracy. The views expressed herein are subject to change without notice and in no case can be considered as an offer or solicitation with regard to the purchase or sales of any securities. Restaurant Research's analyses and opinions are not a guarantee of the future performance of any company or individual franchisee. RR disclaims all liability for any misstatements or omissions that occur in the publication of this report. In making this report available, no client, advisory, fiduciary or professional relationship is implied or established. This report is intended to provide an overview of the restaurant industry, but cannot be used as a substitute for independent investigations and sound business judgment.