Restaurant Research LLC
The RR Thermometer
July 2012 Wrap-Up
July continued to represent a challenging month for restaurant stocks as all indications point to a weakening consumer. NRN's index was down -3% for the month which contrasted with a +1% performance for the broader S&P 500. In many ways, the market is zigging as operators are zagging (as you can see from the company notes below) now that many brands are beginning to move upscale - likely a function of a strengthening economy at the beginning of the year. As value may become headline news again before long, it is not surprising to us that premium players like Chipotle and Starbucks suffered so dramatically in their stock price during July. The pizza chains represented a clear exception to the rule helped by declining cheese and gas (delivery) prices. This comes as a slight surprise to us as the privately owned low cost player (Little Caesar's) makes a big push with national advertising. In summary, we believe the industry must navigate carefully as consumer weakness and ramping drought induced food costs make for a very difficult operating environment.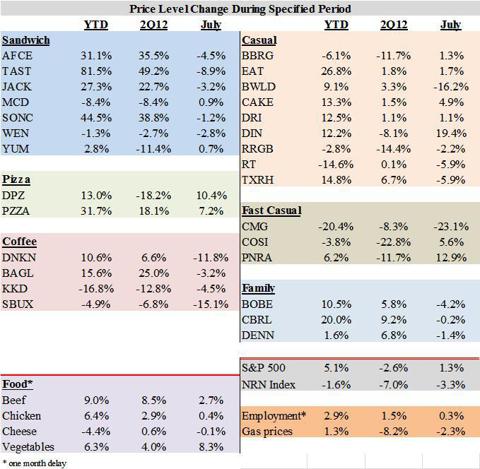 Company & Industry Developments During July 2012
in date order
Wendy's
Wendy's will present 3 different remodeling options to franchisees: (1) Tier 1 - $650,000 to $700,000 & 25% sales lift; (2) Tier 2 - $500,000 & 15% sales lift; (3) Tier 3 - $300,000 & 5% sales lift. The chain plans to alter its 99-cent menu (to reflect commodity pressures) and rebrand it later after current test marketing is completed. To this end, Wendy's is testing the removal of a few 99-cent value menu items (retaining a core of 6 items) and adding a second tier of value items will be priced between $1 and $2. Future products for Wendy's will have to be "compelling, distinctive and ownable" and the chain has started to test Grilled Chicken Flatbread Sandwiches and a Pub Club sandwich on a pretzel roll. The Black Label burger line, also in test, includes a cheddar-jalapeno bun and includes premium ingredients. Wendy's will continue to test fresh fruit in its popular seasonal salads while making them more portable as wraps or with to-go packaging that's more convenient for the drive-thru.
Applebee's
Applebee's new ad campaign is intended to highlight its new-and-improved, food-focused brand along with its "Fresh Flavors of Summer" menu. This campaign is Crispin Porter + Bogusky's first after being retained in March and ads feature a new tagline: "See You Tomorrow" - a message that Applebee's Neighborhood Grill & Bar is a place for every day, not just for special occasions.
KFC
KFC introduced Original Recipe Bites which combine its Original Recipe blend with big bite-sized pieces of 100% breast meat chicken. The new item was launched with national advertising and an LTO promotional price of $3.99 for a six-piece combo with a side and a drink.
Quizno's
Quizno's announced that it is replacing $3 Sammies and $4 Torpedoes with a new upscale line featuring prime rib and all-natural chicken at prices up to $7.99 for a large sandwich or $6.69 for a medium. To support costlier ingredients, the brand plans to consistently peg prices 10% higher than Subway.
Arby's
Arby's reported that refranchising is part of its strategic plan as it seeks to sell-off a handful of select markets around the country. Also, Arby's new CMO from BK will introduce a new ad campaign in the fall. The brand also quadrupled its new-product pipeline. Brand management is also working on operational improvements and is beginning to work on a remodeling program.
Food prices
Corn surged to the highest price since September and soybeans reached a four-year high after the U.S. cut its production forecasts because of the worst drought since 1988.
Buffalo Wild Wings
Buffalo Wild Wings unveiled an updated logo (the words "grill and bar" have been dropped in order to indicate that the chain is not just a sports bar but rather a gathering place for sports fans and a neighborhood destination) and provided details on its upcoming redesign. The interior upgrade includes a new audiovisual package that will enable Buffalo Wild Wings' goal of emulating the atmosphere of a sports stadium on game day. Most of the new builds Buffalo Wild Wings has planned for 2013, as well as many remodels, will feature the new design. Apart from making sports viewing an even more focal part of the guest experience, the redesigned restaurants will also include operational changes to maximize efficiency.
Whataburger
Whataburger's updated menuboard is classified into simplified categories like Burgers, Chicken, and Breakfast. 2 new salads and a new 550 calories or less menu was introduced as part of the refreshed menu which is designed to meet the demands of a wider variety of customers.
Darden
Darden agreed to buy a 39-unit casual-dining chain, Yard House, for $585 million. Yard House reported fiscal 2011 systemwide sales of $262MM +23% y/y.
Buffets Inc.
Buffets Inc. completed its financial restructuring as it emerged from Chapter 11 (six months after its pre-negotiated filing on January 18). The reorganization eliminated all outstanding pre-petition term debt, totaling approximately $255 million as well as annual interest expenses of more than $35MM.
McDonald's
McDonald's USA introduced "Favorites Under 400 Calories" - a new menu platform featuring existing popular food and beverage choices.
Food prices
Because of drought conditions, month-to-date, commodity futures prices for wheat increased 46%, corn is up 43%, soybeans climbed 26%, coffee rose 16%, and milk rose 15%.
Applebee's
DineEquity entered into an asset purchase agreement with TSFR Apple Venture for the sale of 65 Applebee's company-operated stores located in Michigan. Upon closure of 3 pending refranchising transactions, DineEquity will have completed its transition to a 99% franchised restaurant system.
McDonald's
Several McDonald's restaurants in Atlanta are testing Mighty Wings (deep-fried chicken wings). According to the company, there are no plans to roll these out nationally with this test reflecting an effort to customize to local demand.
Starbucks
Starbucks is in the process of rolling out French-baked food to U.S. stores. The new bakery selections will debut in the San Francisco Bay area and more locations will soon offer the expanded menu. Roughly 1/3 of U.S. company-owned store transactions now have a food component.
IHOP
DineEquity announced that IHOP's president will step down effective 8/27 while the company cuts about 100 jobs as it moves to a more efficient franchising model. IHOP's menu will be streamlined over the next 18 to 24 months (seeking to add more cravable menu additions that will send a clearer message of value). Earlier this year, IHOP launched a new ad campaign with the tagline "IHOP: Everything you love about breakfast". While internal research has shown that while this campaign is effective in catching guests' interest, it hasn't been enough to turn interest into visits because the menu still needs work.
Contact Phil Mangieri at (203) 938-4703 or pmangieri@ChainRestaurantData.com with questions or comments.
Copyright: This publication may not be reproduced, retransmitted electronically, including via email, intranet or internet or copied in any form, in whole or part, without prior written permission, whether for internal business use or otherwise. Violators risk criminal penalties and civil damages of up to $150,000 per offense. We vigorously prosecute copyright infringers. Copyright 2012 Restaurant Research® LLC. All rights reserved.
Disclaimer of Liability: Although the information in this report has been obtained from sources Restaurant Research® LLC believes to be reliable, RR does not guarantee its accuracy. The views expressed herein are subject to change without notice and in no case can be considered as an offer or solicitation with regard to the purchase or sales of any securities. Restaurant Research's analyses and opinions are not a guarantee of the future performance of any company or individual franchisee. RR disclaims all liability for any misstatements or omissions that occur in the publication of this report. In making this report available, no client, advisory, fiduciary or professional relationship is implied or established. This report is intended to provide an overview of the restaurant industry, but cannot be used as a substitute for independent investigations and sound business judgment.