Lithium and graphite are two of the most important materials for lithium ion batteries which have seen a huge increase in consumption over the past decade. Annual growth is around 20% which means demand doubles every five years at this point. The main driver is the increase in use of smartphones, laptops and tablets in addition to the increasing popularity of Tesla's electric cars.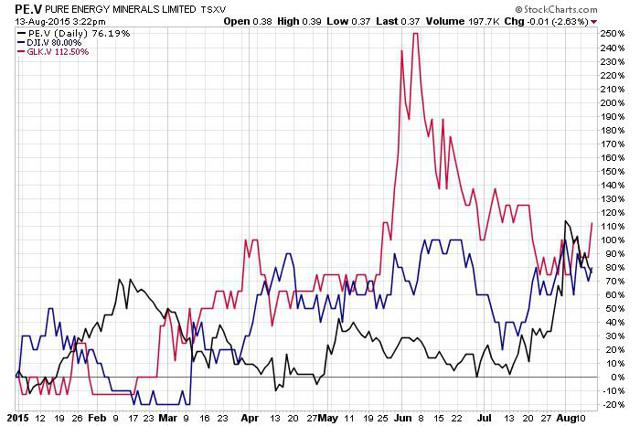 While the TSX Venture has been crushed in 2015. Our positions in graphite and lithium continue to outperform as shown by the chart above.
Increasing volume and price rises have recently come into some of our featured companies…
1)News today out of Dajin Resources (OTCPK:DJIFF) from their Alkali Lake Property are results from a gravity survey which showed a deep closed basin of 4000 ft. This means the property has the potential to be an additional source of lithium brine. What is important about Alkali Lake is that it is just 12km from Albemarle (NYSE:ALB) Lithium Mine…North America's only producing brine based mine.
2)Dajin is trying to follow in the footsteps of the more advanced Pure Energy Minerals (HMGLF) which has seen a huge boost of interest after the NI 43-101 Inferred Resource. Pure Energy and Dajin are located in the same prospective Clayton Valley area near Albemarle's Silver Peak Lithium Mine. This area should become the source of large amounts of cheap lithium to Tesla's Gigafactory. Pure Energy's project has nice size of 816k metric tonnes of Lithium Carbonate Equivalent (LCE) in the inferred category. I am now quite excited for Pure Energy to report on some of the economics of converting brine to lithium for batteries. I know management is working with major technological partners such as Tenova Bateman and South Korea's POSCO.
3)Great Lakes Graphite (OTCQB:GLKIF) is recommissioning a Micronization Facility in Ontario and may have some near term opportunities to sell micronized graphite. Graphite needs to be ground into a fine powder to a standard microscopic level for end users in many different industries from lubricants to batteries. Great Lakes is already sourcing flake graphite material not from its own properties and is ready to start recommissioning the Matheson Micronization Facility as they have already closed on the major financing. The plant is adjacent to a major highway and rail. Now with the financing in place I hope to hear news that the plant could restart operations in the near term. There are still many obstacles and risks in any startup, but it is quite positive that this little company has advanced this far building a technical and marketing team ready to supply a market growing in demand. Great Lakes is different that the average graphite company in that they are focused on near term profitability and cash flow through graphite processing, which then can give it the financial strength to develop their own graphite deposits.
See my recent interview with Great Lakes CEO Paul Gorman by clicking here…
Disclosure: I own HMGLF, DJIFF and GLKIF. They are all website sponsors. Please do your own due diligence.
Disclosure: I am/we are long HMGLF, DJIFF AND GLKIF.
Additional disclosure: In addition to being a shareholder they are all current website sponsors on my website.