Only in America can you report a +1.0% comp in Q1 2010 versus -18.4% in Q1 2009 and -19.0% in Q1 2008 and position it as a positive trend.  But, that's what the management team at CWTR wanted you to believe last week.
Back in November 2009, CWTR management warned of the foolishly high inventory levels that would burden the company in 1H 2010.  At the time, we wondered why the company's head merchant (Georgia Shonk-Simmons) did not lose her job along with the CEO.  Here she was in November 2009 at least partly responsible for the ludicrous decision to build insane levels of inventory when essentially every other retailer was paring back.  But, she was also responsible for a business model that is sitting at a -2.0% EBIT margin level in the trailing 12-month period as of Q1 2010 (ex-charges).
Why was she not fired long ago?
Of course, investors were supposed to be excited in November 2009 that one of the founders (Dennis Pence) was returning.  Yet, he was the person largely responsible for the ill advised decision to build stores that were too big (there's a reason CHS has been much more successful… smaller store size).  In addition, he also opened the Spa concept stores and left the company at a time when profitability was on a sharp downward spiral towards disastrous levels.  
All of the above gets us to our main topic today.  The lack of inventory control is not a new phenomenon at CWTR.  This has been a sore spot for the company over the past 4-5 years (see chart below).  That makes today's bloated levels of inventory even that much more disappointing.
So, what does management do?  They play the inventory "shell game" with investors on its conference call last week.  Inventory was +36% higher over the past 2 years at the end of Q1 2010 versus a -10% revenue decline in Q1 2010 versus Q1 2008.  Yet, here's how they try to sugar-coat the issue in an exchange with an analyst:
Richard Jaffe  – Stifel Nicolaus – Analyst
GOT IT. THAT'S VERY HELPFUL, THANK YOU. JUST TO CLARIFY THE INVENTORY, TOTAL INVENTORY VERSUS INVENTORY PER SQUARE FOOT, THE DIFFERENCE ABOUT 16 PERCENTAGE POINTS, WOULD THAT BE GOODS IN TRANSIT THAT HAVEN'T MADE IT TO STORES YET?
Jim Bell  – Coldwater Creek – SVP & CFO
NO, THAT'S REALLY THE GOODS THAT ARE NOW POSITIONED TO NOT BE SOLD IN THE PREMIUM RETAIL STORES, RICHARD, BUT REALLY THROUGH OUR CLEARANCE VEHICLES.
Richard Jaffe  – Stifel Nicolaus – Analyst
SO THE 16% IS NOT IN THE PREMIUM STORES BUT NOW MOVED TO OUTLET?
Dennis Pence  – Coldwater Creek – Chairman of the Board & CEO
THAT'S RIGHT.
Richard Jaffe  – Stifel Nicolaus – Analyst
OKAY, GOT IT. THANK YOU.
 
The above exchange simply makes CWTR management appear to be evasive and less than honest in their communications with investors.  Look, given the foolish decision to build large stores and an underwhelming management team, we believe that CWTR may never make money again.  But the inventory shell game that management decided to try and play with investors last week only further damaged the credibility of the management team and turns off many current and potential investors.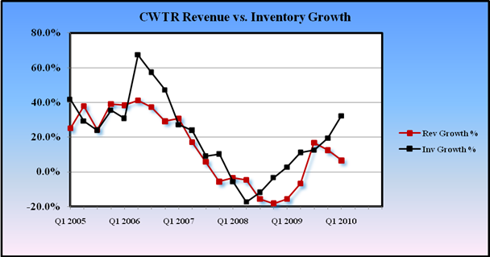 Disclosure:
No positions