Introduction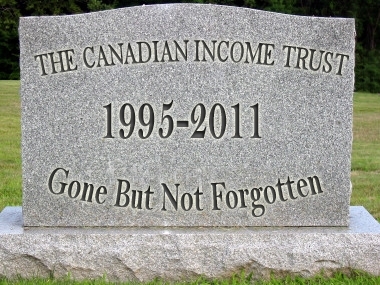 The income trust is waiting to die and I hope to help you figure out how to profit from this death. Canadians and those that invest in Canada will know that for a number of years our country embraced an investment vehicle known as the Income Trust.
In short, the income trust was structured to minimize tax. Investors provided capital to trusts which in turn lent money to the corporation and collected interest equal to nearly 100% of the company's profits. The company would therefore earn almost no income, the trust, as a flow through entity, would not need to pay taxes and therefore taxes (especially for tax exempt entities like pension funds) were reduced.
Without being too hard on our Conservative government, in 2006 the government (for some reason) announced the SIFT rules. These rules, for the most part undid the tax advantages that the income trust structure offered. The rules will come into force on January 1, 2011.
With the implementation of this rule fast approaching, now is a good time to review what the likely effect of the change. 

The Effect
Since the announcement
The SIFT rule was announced in October 2006. In the firsts weeks after the announcement, income trusts on average (as measured by the XTR, the income trust ETF) dropped by nearly 20%, by comparison the S&P/TSX remained relatively flat over the same period.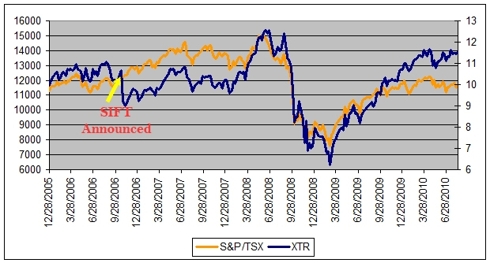 (The chart shows the price movements, adjusted for dividends, of both the broad TSX index, in orange, and income trusts, in blue.)

As seen in the above chart, although income trusts lagged for a while, by 2008 they again began to mirror the TSX, and from lower lows, they have been a better investment since 2009.
In response to the announced change in the tax rules a number of income trusts have converted back to a corporate structure. This conversion has typically affected the share price of the now converted company.
Already Converted
A number of observations can be made upon examining 23* companies which have already converted out of the income trust structure:
The average dividend typically decreases at or just prior to conversion.

On average the unit price of the income trust typically decreases during the 12 month prior to conversion. However, the price typically rebounds in the 6 months following the conversion.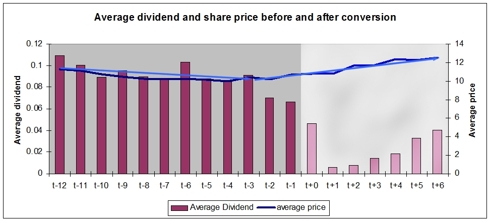 (Chart showing the average dividend and share/unit price before and after conversion of 23 companies)
The first observation should not be surprising, income trusts are designed to maximize yield and are tax advantageous because the structure requires nearly all of a company's earnings to be paid out. At conversion, the company will face additional charges (e.g. tax) and will no longer be required to payout all of its earnings. Therefore the cut in dividend should be expected.
The second observation is somewhat more surprising. There may be many factors that lead to the price increase after conversion. For example, investors may initially overreact to the announced conversion, or the conversion may increase growth potential. However, the most compelling explanation seems to be that some corporations do not cut their dividend after the conversion, and therefore remain high yielding stocks.
In the sample of 23, 9 companies held their dividend fairly constant before and after the conversion. Although these trusts experienced a decrease in their unit price prior to the conversion, their share price increased significantly around the time of conversion, when the market realized that the dividend would not be cut.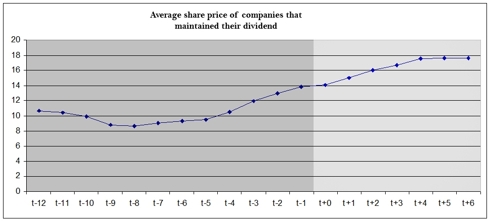 (Price chart of companies that have converted and maintained their dividend)
Conversely, 14 companies cut their dividend around the time of the conversion. As with the larger sample these companies saw their share price decrease prior to conversion. However, after the date of conversion, unlike those companies that maintained their dividend, the companies that cut their dividend saw their share price remain relatively flat.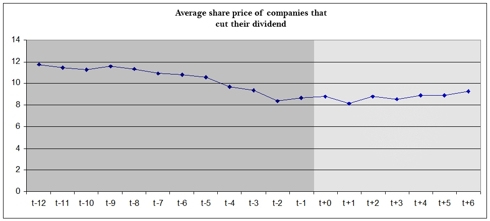 (Price chart of companies that converted and cut their dividend)

Thesis
Overview
These above noted observations lead to the conclusion that, as the share price of all income trusts tend to decrease prior the date of conversion, the decrease in share price can lead to a buying opportunity for those securities that are unlikely to cut their payout after the conversion date. Our goal is therefore to find income trusts that are unlikely to cut their dividend upon conversion.
Although the sample of 23 had a number of companies that did not cut their dividend upon conversion, Crescent Point Energy (TSX: CPG) seems to exemplify the thesis best. CPG converted into a corporation from an income trust structure midway through 2009. Because of consistently high cash flows, due in part to hedging practices, after taking a short hiatus during conversion process, CPG was able to restore and maintain its previous dividend scheme. This ability to maintain its dividend has made CPG somewhat of a media darling in Canadian newspapers and has rewarded investors with a significant yield (approximately 7.5%) and solid price performance (up nearly 15% since conversion and flat over the last year). 

Which trusts to look at
There are still 148 income trusts traded on the TSX, of those, 29 are REITs and will not be affect by the SIFT rules. Of the remaining 119 securities 73 had reliable financial information**. These trusts were ranked based on their yield and their ability to maintain their dividend; mainly by looking at the current dividend (payout) compared to the gross margin per share (the theory being that, despite the higher taxes etc., companies with a higher gross margin will be able to continue to pay a high dividend) and the CFO/share.
Based on these rankings the top ten trusts with an average volume over 7,000 shares were: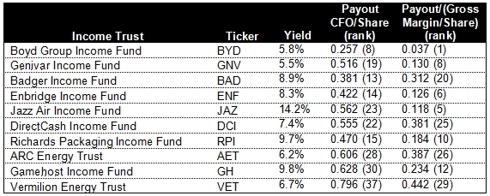 Although a detailed analysis of each of these securities is beyond the scope of this article, a few comments are in order:
Boyd Group Income Fund

in its latest quarterly release indicated that "the Fund does not intend to convert into a corporation". Until it does intend to convert, it is unclear how the unit's prices will react. Additionally, the company has slowly increased its dividend since reinstating it in 2007. However it skipped a monthly dividend payment in February of this year

Genivar Income Fund

, in April of this year, "announced that it has entered into an agreement to convert from an income trust structure to a publicly-traded corporation on or about January 1, 2011". Upon making that announcement, the unit price of GNV declined nearly 13% but has begun to rebound in the last month and a half. Like BYD, GNV has slowing been increasing its dividend, however skipped a monthly payment in February.


Badger Income Fund

,

"

announce[d] its intention to convert to a growth-oriented corporation…no later than January 2011". After making the announcement in March of this year Badger's unit price fell nearly 20% and is currently down nearly 12% since that date. Badger has consistently distributed 10.5cents/month per share since early 2006.

Enbridge Income Fund

decided in November 2009 that it will "convert the fund from a tax-advantaged income trust to a taxable Canadian". During this time ENF has maintained its dividend and has seen its unit price climb 20%. 

Jazz Air Income Fund

 recently said that it saw "no reason to cut payouts to investors when the fund becomes a corporation later this year."

 

The fund did reduce its dividend in 2009 and missed a dividend payment in February of this year

DirectCash Income Fund

 announced on August 12 that it will implement "a strategic conversion from an income trust to a growth oriented, dividend paying, publicly listed corporation". Upon the announcement the security immediacy saw a pick up in volume and has appreciated nearly 12%. The company expects the conversion to happen prior to January 1, 2011.

Richards Packaging Income Fund

, after taking a break in 2009, the fund has reinstated its dividend, although at a lower rate. It does not appear that the trust has announced an intention to convert.

ARC Energy Trust

plans on "converting to a corporation on January 1, 2011". Since cutting its dividend in 2009 ARC has maintained its dividend. The unit price of ARC has been volatile since the announcement. 

Gamehost Income Fund

"will convert from an income trust structure to a corporate structure". GH made this announcement on February 17, 2010. Where the S&P/TSX has been flat since the announcement GH initially fell 4% but is now up 10%. Of the trust listed here, GH trades with the lowest volume.

Vermilion Energy Trust

has indicated that it is "planning to convert to a corporation on September 1, 2010 and expects to maintain the current $0.19 per month distribution"
Conclusion 

This has been a fairly numeric exercise and the unique characteristics of each company have been ignored. I intend the ideas in this article to be used as screen to help you determine which of the 148 remaining income trusts to take a closer look at.
Although the tax rules change on January 1, 2011 not all trusts will convert then. Of the 10 securities mentioned above, Boyd Group has expressed an intention not to convert. Similarly, Cineplex Galaxy Income Fund (TSX:CGX.UN) has decided to delay its conversion. CGX has a large tax pool and therefore can, at least in the short term, keep its trust status.
For the last 10 years income trusts have been the go to investment vehicle for investors seeking yield. Initially the income trust was seen apt for low growth companies with reliable cash flows. Although the tax advantages are being phased out, companies with reliable cash flows, that maintain a high yield will still be demanded by investors seeking yield. The companies listed above appear to be just such companies.
_______________________________

*I examined 23 companies that have since 2007 converted out of the trust structure. Please message me if you would like that list; or the list of company that have yet to convert.
**I use a variety of internet based sources some of which seemed to have unreliable/nonexistent data on some of the smaller trusts. 
Disclosure:
I have been long AET in the past.
Disclosure:
I have had a position in AET.