We spend a great deal of time studying stock market valuations as they provide reliable insight into future returns over the long run. By nearly all of the measures that we value, stocks are richly priced at the moment, suggesting that they will perform poorly during the coming decade. One of the most reliable metrics reflecting current valuation extremes is the Q Ratio, which is essentially the ratio of the total market price to the replacement cost of all of the represented companies. The following graph from DShort.com displays the Q Ratio since 1900.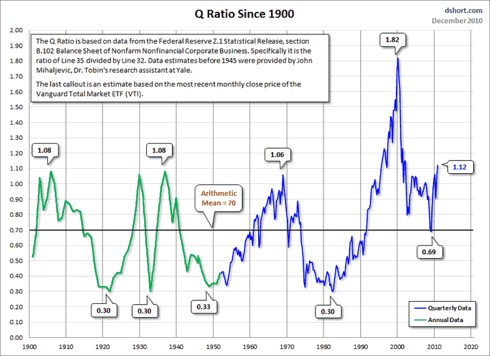 The speculative blow-off phase of the secular bull market that began in the early 1980s drove valuations to absurd highs in the late 1990s, but every other stock market overvaluation extreme during the past 100 years has occurred somewhere in the 1.0 to 1.1 range. Today, the Q Ratio is 1.12, reinforcing the view that stocks are anything but cheap at these levels. Additionally, notice how well the Q Ratio troughs and peaks correlate with the buy and sell signals generated by our Secular Trend Score (NYSEMKT:STS).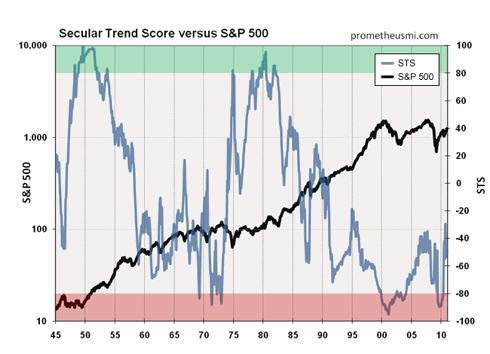 The STS issued long-term buy signals in the late 1940s and early 1980s, just as the Q Ratio was bottoming at 0.33 and 0.30, respectively, and the STS issued long-term sell signals in 1968 and 2000 at Q Ratios of 1.06 and 1.82.
As always, it is important to note that this type of analysis is focused on long-term investment merit. Overvalued markets can, and often do, become even more overvalued. Secular bear markets are characterized by volatility and violent cyclical swings lower and higher, so there will be many trading opportunities as this particular bear matures. However, there is little question that now is one of the worst possible times to buy and hold stocks for the long run as valuation metrics such as the Q Ratio indicate that equities will very likely produce poor returns during the coming decade.
Disclosure:
I have no positions in any stocks mentioned, and no plans to initiate any positions within the next 72 hours.