The S&P 500 index closed near unchanged again today, holding below the previous long-term high of the cyclical bull market from 2009. The index continues to track the scenarios that we outlined in late March, and the next short-term inflection point is imminent as the Alpha High (AH) of the current cycle is likely to occur sometime during the next three sessions.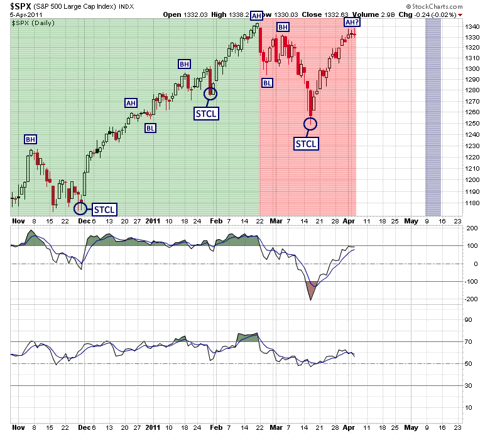 The magnitude and duration of the forthcoming alpha phase decline into the Beta Low (NASDAQ:BL) will provide our next assessment of cyclical uptrend health. A violent decline on above average volume during the next two to three weeks would support the bearish topping scenario, while a relatively weak retracement or sideways consolidation would favor the bullish continuation scenario. Our Cyclical Trend Score (NYSE:CTS) has rebounded during the stock market reaction from mid-March, although it remains well below the previous short-term high, which is a slight negative divergence that favors the bearish scenario.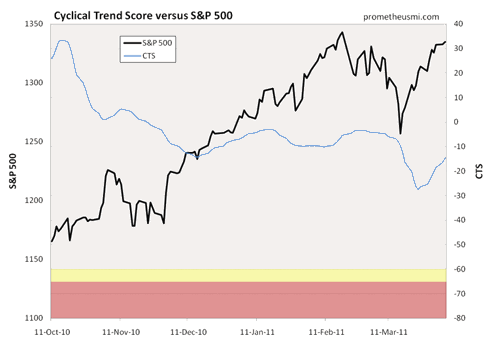 It remains possible that a double top formation is in progress, but we are still several weeks away from any definitive developments. Market behavior during and immediately following the April earnings season should provide a great deal of clarity with respect to long-term direction. A relatively weak response to earnings reports followed by a return to the March low would signal the likely development of a long-term top, while a strong response and subsequent breakout would favor a continuation of the cyclical bull market.
Disclosure:
I have no positions in any stocks mentioned, and no plans to initiate any positions within the next 72 hours.