In early January, our analysis indicated that QE2 was fully priced into the stock market and deteriorating broad market internals suggested that stocks were likely to struggle during the first half of 2011. Since then, the cyclical bull market from 2009 has formed a distribution pattern following an initial rally into February and the S&P 500 index has now retraced all of its 2011 gains for a second time.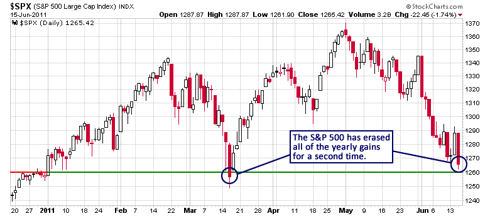 As always, there are no certainties when it comes to financial market forecasting, only possible scenarios and their associated probabilities. However, the distribution pattern from early February has developed a bearish character following the break below long-term uptrend support at the beginning of June and the likelihood of a cyclical trend reversal is increasing. Broad market internals continue to deteriorate and breadth summation has plunged after breaking below support at the bottom of the symmetrical triangle formation last week.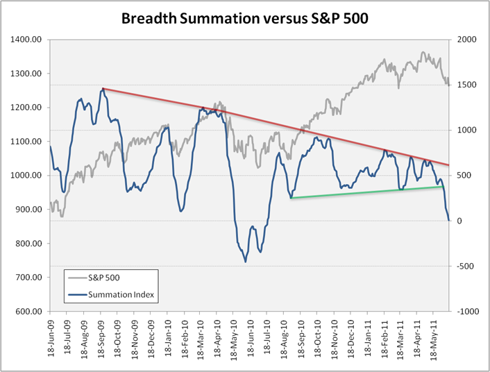 Volume summation has been plummeting since April and the decline is now approaching the 2010 lows. The downtrend from late 2010 has proceeded exactly as expected following the breakdown of the rising wedge in March.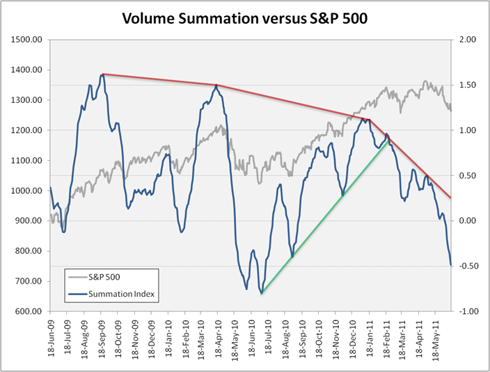 With respect to the short-term outlook, the sharp decline today has invalidated the cycle low signal that was generated yesterday, confirming that the Beta Low (NASDAQ:BL) of the current cycle has not occurred yet. However, we are now 11 sessions into the alpha phase decline, so the low will likely form sometime during the next few sessions.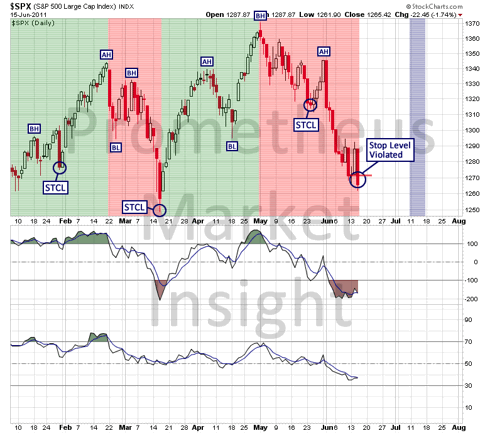 Additionally, stocks remain extremely oversold on a short-term basis, so it is likely that the BL will form near the strong congestion support at 1,260. Given the extremely bearish signal that would be generated by a close well below the 1,260 level, it is likely that a significant amount of buying support will be provided in that area by the bulls.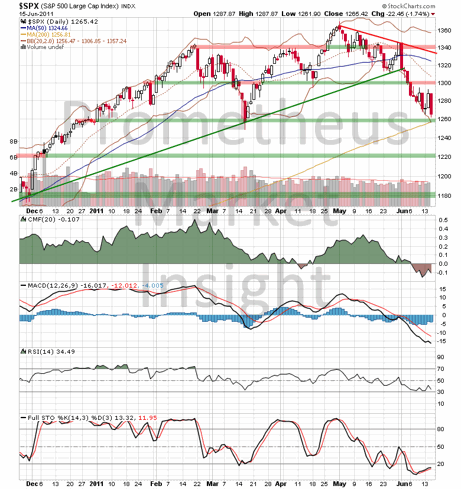 The cyclical bull market from 2009 has experienced significant technical and internal damage during the past three weeks. As we noted yesterday, the violent decline from early May has created a potential head and shoulders topping formation, so it will be important to monitor the development of the forthcoming oversold reaction closely.
Disclosure:
I have no positions in any stocks mentioned, and no plans to initiate any positions within the next 72 hours.