Last week, our analysis suggested that the beta high (NYSE:BH) of the current short-term cycle in stocks (NYSEARCA:SPY) would likely form in conjunction with the June announcement from the Federal Reserve. As expected, the stock market has declined sharply since the announcement, generating a cycle high signal that indicates the beta phase decline is likely in progress.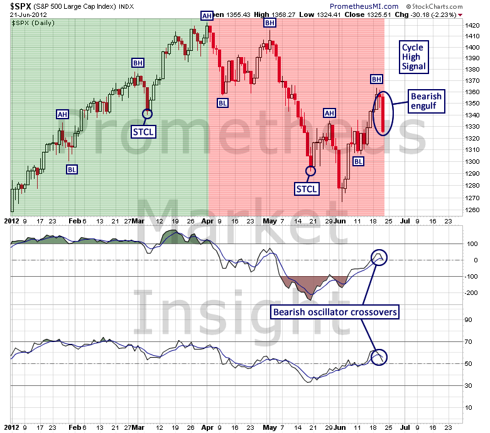 The stock market continues to exhibit behavior consistent with the formation of a cyclical top and the character of the developing beta phase decline will likely provide the next signal with respect to long-term direction, so it will be important to monitor price behavior closely during the next three weeks. We will identify the key developments as they occur in our daily market forecasts and signal notifications available to subscribers. Try our service for free.
Disclosure: I have no positions in any stocks mentioned, and no plans to initiate any positions within the next 72 hours.