During 2011 and 2012 I have been writing a series of articles on how Fortune Magazine's Top 10 stock picks have been performing. The key articles can be viewed via the links below:
Fortune Favors The Brave, Part II
Fifty Percent Down In 2011, Will You Find Your Fortune In 2012?
Fortune Top 10 2012: Q1 Update
Fortune Top 10 Share Tips For 2012 Q3 Update
I have been tracking the weekly performance of the portfolio using Seeking Alpha's portfolio application, and to remind readers the 2012 portfolio contains the following stocks recommended by Fortune Magazine (all entry prices are as at 13th December 2011):
Dangerous Territory
Following the recent sell off in Apple and the further (worsening) decline in stocks like Enbridge Energy Partners, Goodyear Tyre, Haliburton, Intel and Johnson Controls, the Fortune Top 10 portfolio is headed into dangerous territory for a potential negative total return for 2012. A copy of the portfolios performance return from 12.36% in mid August to 0.34% as at close of trade yesterday is shown below.
17 August 2012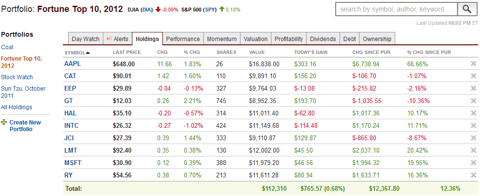 28 September 2102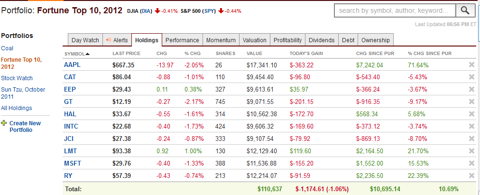 2 November 2012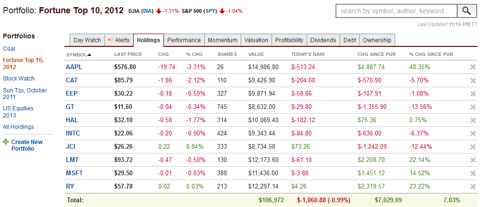 16 November 2012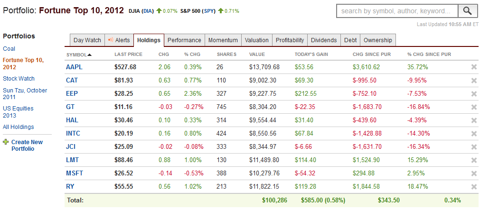 Post script: I will write a year end summary article in mid December.
Disclosure: I am long CAT.
Additional disclosure: This advice is general advice only. You should seek independent financial advice prior to making any investments of your own.