Dear partners, friends, and fellow investment professionals -
In the first quarter, CCM returned 2.5% after brokerage expenses and the stated management fee. While returns were positive returns, a primary objective, they did not exceed our benchmark. CCM's equity portfolio return compares with 5.9% for IVV, the best proxy for the S&P 500. IVE - the iShares large cap value ETF, returned 3.2% the first three months of 2017. Using these benchmarks, value investing has underperformed since January 2012 when CCM launched. Underperforming this quarter is frustrating, after getting things "back on track" and besting IVV in Q3, Q4, and the full year 2016 periods. I made one critical mistake on the short side of the portfolio, expecting a short-term negative market reaction going into the Fed interest rate meeting in March. The so-called Trump rally shrugged off the rate increase, but it negatively impacted CCM returns by approximately 1.3%. This short position was a costly mistake and one I will not soon forget. The first three months of 2017 were transformative for CCM's go forward investment strategy and performance. Our core beliefs in value investing and our investment process remain intact. However, the portfolio composition, how we identify and manage investments will be different, as well our communication of our opinions is changing.
On January 9, 2017, I published an essay describing how I saw CCM's investment strategy changing. The key highlights were to focus more on smaller caps and companies with activist involvement or going through strategic changes. I am looking for a greater sense of purpose and desire making a greater contribution to the investing and business world. One of CCM's advantages is a better understanding of business strategy than others. By focusing on smaller names, I hope to share constructive thoughts on how businesses can improve their strategy and how to create value for stakeholders. One month ago (March 24), I published an update and self-reflection on the portfolio transformation. The links to these blogs can be found through CCM's twitter account or Medium Blog site (link below).
I had an ambitious plan to shift the portfolio structure per the following weightings:
Long investments: 0-100%. Ideal weighting: 60%
Short investments: = 0-25%. Ideal weighting: 10%
Activist investments, special situations, strategic changes: 0-50% Ideal weighting: 30%
As you will see in the table below, we are below our ideal target in the special situation investments and the short side of the portfolio.
Here is a comparison of some summary statistics of the portfolio as of January 1, 2017 and March 31, 2017, as well as a short commentary on the changes.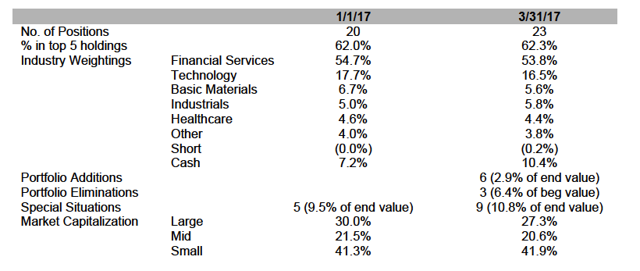 The portfolio is still concentrated in five positions, particularly in the two industries I am most confident investing in, financial services and technology. The increase in cash largely came from selling large caps. The short book is slowly increasing, but only had two positions in Q1. The six portfolio additions are what excite me most. This ties to the number of special situation investments increasing from five to nine, though only a small increase in the percentage of the portfolio. I am not done building positions in many of the new investments. The portfolio still has cash and flexibility to do so. But given the percentage of the portfolio sold and the amount invested, I could have been more aggressive. I hope to report higher percentages attributable to these six names, the small/micro cap portion, and special situation allocation in the portfolio later in 2017.
I encourage you to read my writings and contributions on the following platforms.
Medium.com/@ClarendonCapMgt
I will be attending Berkshire Hathaway's 2017 Annual Meeting in Omaha, NE. It is my first trip to "Berkyville". As a value investor and long-time admirer of Warren and Charlie Munger, it is tough to contain my excitement. If you will be in attendance, I would love to meet you during the weekend (May 5th - 7th).
CCM is no longer serving retail investors and now works with accredited investors, independent RIAs, and family offices. In conjunction with this change, CCM increased our relationship minimum and reduced our typical asset management fee to 1.00%. CCM's investment management services can be accessed directly or through Interactive Brokers' money manager platform.
Best wishes,
Carlos P. Sava, CPA, CFA
Founder and Portfolio Manager
Disclosure: I/we have no positions in any stocks mentioned, and no plans to initiate any positions within the next 72 hours.
Additional disclosure: This message is not a solicitation or offer of any security. Investments are inherently risky and appropriate caution and diligence should be taken. Please conduct appropriate due diligence and consult a financial professional, attorney, CPA, and/or similar professional before making any investment decisions. Investment decisions should be made after careful review of your individual financial situation, risk tolerance, investment objectives, and time horizon.
Past performance is no guarantee of future results. Individual account performance may differ. Investment advisory services are described and provided upon completion of an investment advisory contract. Please refer to Clarendon Capital Management's Form ADV 2 for additional information.
Information contained herein is from sources believed to be reliable, but we cannot guarantee its accuracy. CCM return results are the time-weighted return for the applicable period. Performance is shown after management fees and expenses. CCM performance and return results contained herein are unaudited.