---
Seagate (NASDAQ:STX) is a long-time holding. It is a hardware company in the IT storage space. My investment thesis on Seagate, in part borrowed from David Einhorn, has been and continues to be the following:
Storage needs are going to continue to grow. While flash is becoming more competitive, the need for spinning drives will persist. Seagate drives are in laptops (declining) but also the enterprise and data center market (growing).
The drive market is more rational with only three meaningful competitors. While competition remains, the industry is gentlemanly and less cut-throat.
The firm generates cash, buys back stock, grows its dividend, and focuses on its shareholders.
Seagate's strategy, its market and competitive landscape, capital allocation, management, and other factors contribute to my long position.
Seagate reported $1.10 in non-GAAP diluted EPS on April 26, 2017. This result exceeded expectations by $0.03, but the company fell short on revenue estimates. Full year EPS guidance was $4.50, below the $4.59 Wall St. estimate. The LTM and Fiscal 2017 (ending June 2017) result in an approximately 10x PE. This is an attractive valuation when compared to an S&P 500 in the 17x - 18x range. The drive pricing environment continues to be stable. Company gross margins remain strong. And Seagate has a strong record of exceeding EPS estimates (https://seekingalpha.com/symbol/STX/earnings). Investors were disappointed, and the stock fell 17% on the day. I think this is an overreaction and the company's current valuation is reasonable to attractive, not a value trap.
---
Since Seagate is a long-term holding and has appreciated, it is a stock I sometimes think about relative to my basis as well as the current value. I calculated a few statistics seen below. This an exercise to understand perspective and figures as well as amusement.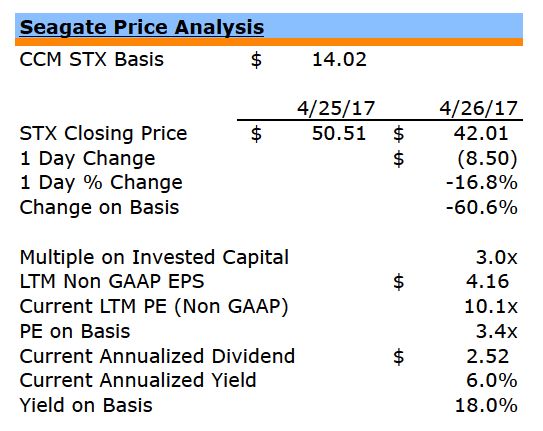 My yield on basis is high - it is tough to find 18% dividend payers. I understand how this is an unfair comparison to current dividend yields, but it does show the power of dividend increases and compounding over many years. When a stock has appreciated significantly, the price swings relative to the purchase price feel enormous. But with a PE of 10x, paying me $2.52 per year on a $14 investment, and operating in an attractive market, it looks tough to sell.
Disclosure: I am/we are long STX.
Additional disclosure: This writing is not a recommendation or solicitation of securities. Past performance may differ significantly from future results.