Berkshire performance is strong when looking at 1,3,5,10,15 year time frames. Berkshire's market price has only been negative four times since 2000, the same as the S&P 500. BRK has outperformed the S&P500 with dividends 11 times and trailed six times. Book value has only failed to grow twice, in 2001 and 2008 - the dotcom bubble and financial crisis/great recession. Performance is stronger than some realize. Market performance has been greater than book value recently and about equal over the long-term.
Berkshire Hathaway's large size makes it harder to grow by large percentages. Its size combined with Buffett's investor temperament has shown to be an advantage during times of crisis.
People who solely focus on returns often miss concepts like BRK's lower risk. What risk was borne by BRK versus the S&P500 the past few years? Berkshire has a lower Beta, currently about 0.8.
BRK holds a mountain of cash, so this will create a drag during trending up markets. Cash drag.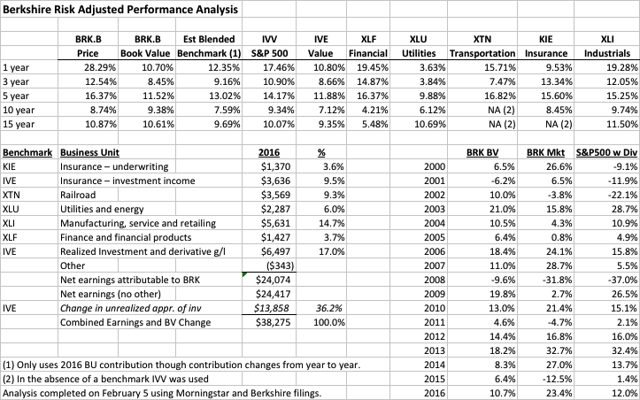 Industry concentration and exposure in slower growth industries - insurance/banks, utilities, and transportation. Using 2016's operating results and SPDR industry performance I created a blended expectation of BRK's results. I used IVE, the S&P 500 value index to approximate BRK's investment gains and performance. This analysis is not perfect as I am using a static industry exposure based on 2016 instead of the actual weightings from each year, but I think is indicative of industry factors.
Value investing has trailed in the last decade as seen when comparing IVV and IVE. But the results of BRK versus IVE is stronger, so Berkshire is a better value investor than the index.
Disclosure: I am/we are long BRK.B.