Highlights of the Prior week
Downward Pressure Continues
Many of the major indexes that we track: Bonds, Gold, Technology, Small Caps, EAFE and EM, declined last week (see Table 1). Downward pressure continued for the Emerging Markets, the Aggregate Bond market and Gold (in dollar terms) both this week and for the year as these asset classes still can't find a bid.
On Wednesday of last week Deutsche Bank launched a very innovative ETF, the db X-trackers Harvest CSI 300 China A-Shares Fund (NYSEARCA:ASHR), which tracks the CSI 300 Index, representative of 300 of the largest and most liquid securities on the Shanghai and Shenzhen exchanges. This ETF is designed to give investors direct access to China and will compete with other ETFs like FXI (an iShares product). While China as a market has been down for the year, it will be interesting to see the uptake of this new product, which appears to have been seeded with over $100M.
Domestic markets bucked the downward pressure trend with the Dow Jones Industrial Average being a top performer, followed by the S&P 500 TR Index.
Interestingly, the ProShares Ultra S&P 500 ETF raked in over $1.3B in assets as someone made a levered bet on domestic markets. Rounding out the top five ETFs with the most new assets for the week were iShares MSCI EAFE, iShares Core S&P 500, Vanguard FTSE Europe and Vanguard FTSE index ETFs. The last few weeks we've seen erratic asset flows into and out of the various EM index ETFs and with the new China A-Shares ETF mentioned above should provide continued volatility across these products assets.
On the redemption side of index ETFs we saw the SPDR S&P 500 ETF (NYSEARCA:SPY) lose over $2.5B in assets, where State Street lost, and iShares gained much of the asset swap. Additionally, iShares Russell 2000, ProShares Ultra Russell 2000, Financial Select SPDR ETF and SPDR S&P MidCap 400 were the top five losers of assets.
Table 1: Market Indicies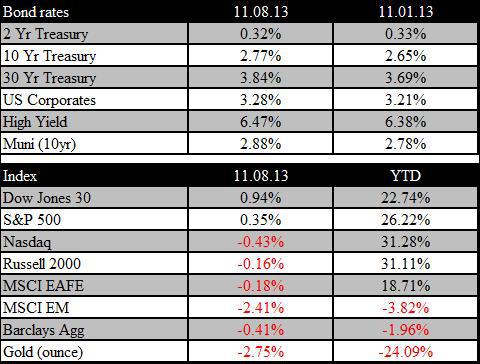 Source: AdvisorShares
Past performance is not indicative of future results.
Disclosure: I have no positions in any stocks mentioned, and no plans to initiate any positions within the next 72 hours.
Additional disclosure: To the extent that this content includes references to securities, those references do not constitute an offer or solicitation to buy, sell or hold such security. AdvisorShares is a sponsor of actively managed exchange-traded funds (ETFs) and holds positions in all of its ETFs. This document should not be considered investment advice and the information contain within should not be relied upon in assessing whether or not to invest in any products mentioned. Investment in securities carries a high degree of risk which may result in investors losing all of their invested capital. Please keep in mind that a company's past financial performance, including the performance of its share price, does not guarantee future results. To learn more about the risks with actively managed ETFs visit our website AdvisorShares.com.The article has been written by AdvisorShares, Research Analyst. We are not receiving compensation for this article, and have no business relationship with any company whose stock is mentioned in this article.