Highlights of the Prior Week
Macro
The Job Opening and Labor Turnover Survey known as JOLTS, which is a measure of job openings went above 4 million for the first time since March 2008 as reported by Barron's. This is a positive sign for the job market but of course last week's NFP number was a negative indicator
Housing stats dropped 10% month over month from December to November to an annual rate of 999,000. Despite the drop this month, housing is generally healthier in many parts of the country. It will have to continue to get healthier for GDP growth to improve and perhaps reduce the impact of the Fed.
The economic calendar this week is relatively light with jobless claims on Thursday estimated at 330,000, existing home sales estimated at 4.9 million and leading economic indicators expected to come in at 0.1%.
Foreign Markets
China reopened the window for IPOs after 14 months with the listing of Neway Valve on Friday. The Wall Street Journal reports that there are 700 more IPOs in the pipeline looking to list. Chinese equities have obviously struggled for quite a few years. Successful IPOs are often a sign of market health.
Neway popped 43% in its debut which should be encouraging to investors. The downside of IPOs is when there are too many of them. The lift in Neway shows there is demand, new issues are supply. Obviously prices can go up as long as demand exceeds supply but with 700 IPOs in waiting it makes sense to wonder at what point supply overwhelms demand and sends prices lower.
On Tuesday there were eight more IPOs in China and they all traded higher reiterating the demand for new shares.
ETF News & Data
Both iShares MSCI Emerging Markets ETF (NYSE:EEM) and Vanguard FTSE Emerging Markets ETF (NYSE:VWO) have each had more than $2 billion in outflows so far in January according to data provider XTF. Obviously emerging markets struggled in 2013 and the outflows suggest investors may not be holding out much hope for 2014.
Interesting Reads
Last week Barry Ritholtz reposted an article by Joel Gascoigne from Buffer titled 6 Simple Things You Can Do Every Day To Be Consistently Happy. It was a great list including number 4 which was regularly help others and number 2 which was exercise daily. Helping others through volunteerism or some other way is usually mutually beneficial and obviously, regular and vigorous exercise promotes healthy aging. The best part of the workout should be finishing the workout.
Sports
The Super Bowl XLVIII matchup is all set with Denver having beaten the Patriots and Seattle holding off a late surge from the Niners. Seahawks cornerback Richard Sherman stole the day with his odd rant to Erin Andrews after the game about San Francisco wide receiver Michael Crabtree. If Sherman wanted the spotlight on him; mission accomplished.
Roger Nusbaum
AdvisorShares ETF Strategist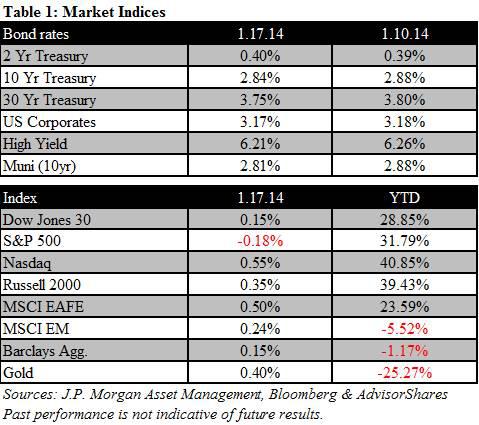 Weekly ETF Flows
For January 13, 2014 to January 17, 2014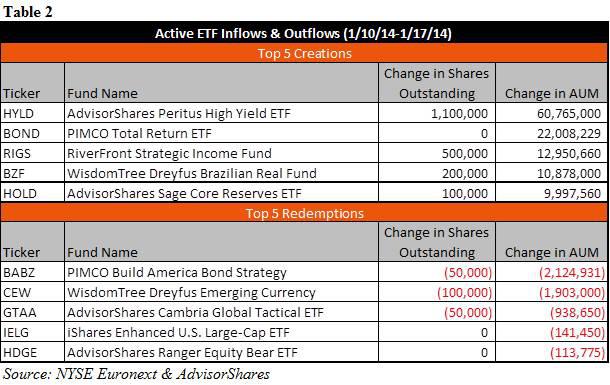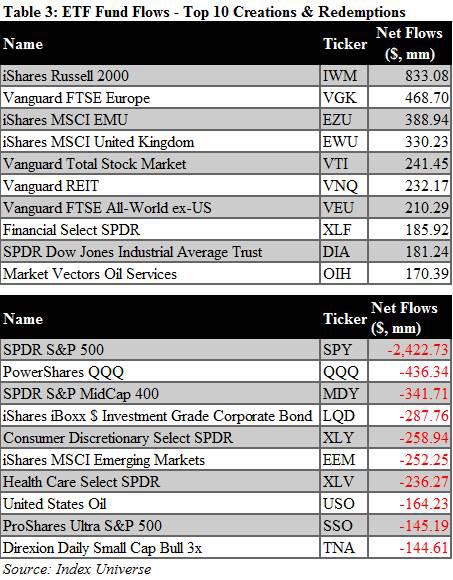 S&P Sector Analysis
As for the sectors of the S&P 500, four outperformed the broad benchmark - Technology, Telecom, Materials, and Healthcare. The others - Industrials, Utilities, Financials, Staples, Energy, and Discretionary - all underperformed. The dispersion between the top-performing and bottom-performing sectors fell slightly to 3.28% this week, with Technology outperforming all, and Discretionary coming in last.
For January 13, 2014 to January 17, 2014
Sector performances, as measured by the S&P 500 sector indices were: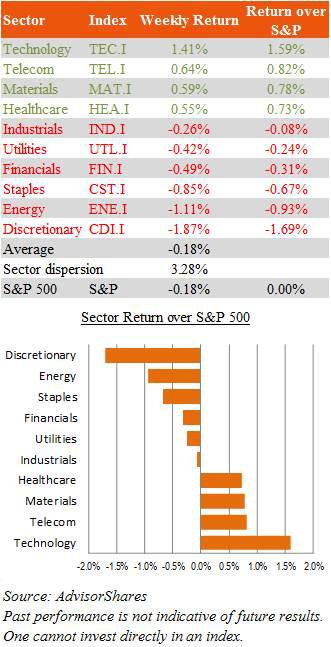 Disclosure: I have no positions in any stocks mentioned, and no plans to initiate any positions within the next 72 hours.
Additional disclosure: To the extent that this content includes references to securities, those references do not constitute an offer or solicitation to buy, sell or hold such security. AdvisorShares is a sponsor of actively managed exchange-traded funds (ETFs) and holds positions in all of its ETFs. This document should not be considered investment advice and the information contain within should not be relied upon in assessing whether or not to invest in any products mentioned. Investment in securities carries a high degree of risk which may result in investors losing all of their invested capital. Please keep in mind that a company's past financial performance, including the performance of its share price, does not guarantee future results. To learn more about the risks with actively managed ETFs visit our website AdvisorShares.com.