It was a somewhat volatile week in the preferred share market, with most shares down on the week. My best guess is that the lack of movement from the Fed is making preferred investors wary of near-term interest rate hikes in Canada, which would benefit these rate resets and floating shares.
Notably, National Bank's (OTCPK:NTIOF) Series 28 (NA.PR.Q) shares were down nearly 4% at Thursday's close before rebounding 2% on Friday to close the week down only 2%. The change was enough to increase the IRR on these shares to 8.8% (+1.7%).
Scotia's (NYSE:BNS) Series 30 (BNS.PR.Y) shares closed down 3.5% on the week, increasing the IRR on that series to 8.8% (+1.1%) and keeping this series near the top of the IRR list. (Note that the next redemption date on the Scotia series is further away than the National series; thus, a similar percentage price change in the shares of the National series will have a greater impact on the IRR than for the Scotia shares.)
A floating rate series that I continue to keep my eye on is the TD (NYSE:TD) Series T (TD.PR.T) shares, which, thanks to a 1.5% price drop during the week, now have an IRR above 10% (+1.1%).
Scotia's Series 31 (BNS.PR.D) and BMO's (NYSE:BMO) Series 17 (BMO.PR.R) are also approaching the 10% IRR mark (+0.3% and +2%, respectively).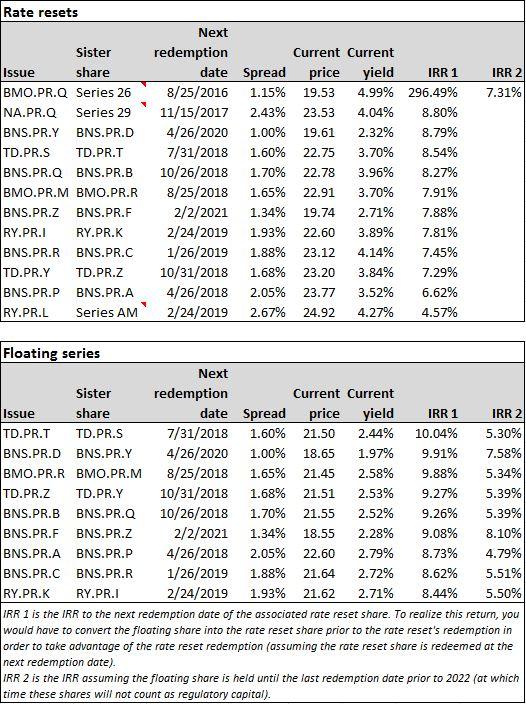 To receive notifications of my future posts, click the Follow button at the top left of the screen below my user name.
Disclosure: I am/we are long BMO.PR.Q, BNS.PR.Y, BMO.PR.R.
Additional disclosure: This article is not intended as investment advice. You are responsible for deciding whether an investment is appropriate for your portfolio and risk tolerance.