It was a less volatile week this past week, although that is not to say volatility disappeared. National Bank's (OTCPK:NTIOF) NA.PR.Q shares rallied 1.5% on Friday despite the general market volatility caused by the Brexit vote. Overall, the preferred shares tracked below shrugged off the results, with nine of 21 issues closing up on the day, another nine closing down and three unchanged.
On the week, most series were up, which reduced the IRRs. Rate reset IRRs were generally down 0.5%-1.0%, while floating rate IRRs were down ~0.3%.
There was no movement in the top three rate reset issues (ranked by IRR 1), while Scotia's (NYSE:BNS) BNS.PR.D shares end the week as the highest-IRR floating shares, just below the 10% mark.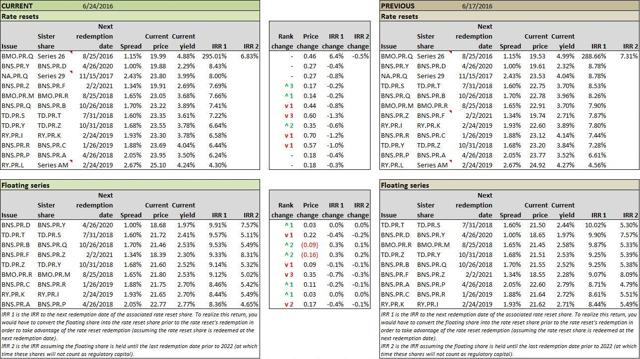 To receive a notification when I post updates, click the Follow button at the top left of the screen below my name.
Disclosure: I am/we are long BMO.PR.Q, BNS.PR.Y, BMO.PR.R.
Additional disclosure: This article is not intended as investment advice. You are responsible for determining whether an investment fits your portfolio and risk tolerance.