"Experts" (people who make it their job to understand and forecast markets or events) are usually no better at their jobs than dart-throwing monkeys. In this series of articles, we examine why these "experts" can be so wrong.
In Part 1 of our series entitled "The Myth of Expert Advice", we reviewed several bold prognostications (along with the unfortunate outcomes) by investment industry "experts". But the question remains: Why is it that experts, people who make it their job to un­der­stand and forecast markets or events, can get it so wrong?
In the April 2010 issue of McKinsey Quarterly, the authors re­ported the results of a quarter-century-long study of stock analysts' earnings forecasts. Stock analysts are paid big money to understand in detail the operations of specific com­panies and, based on that in-depth knowledge, make forecasts of how much each of those compa­nies will earn in future years. The results of the study reinforced those of a prior study con­ducted a decade before. Analysts, they found, "were typically overop­timistic, slow to revise their forecasts to reflect new eco­nomic conditions, and prone to making increasingly inaccurate fore­casts when economic growth declined." [i]
Specifically, over the time frame studied, analysts' forecasts were almost 100% off the mark. They estimated average an­nual earnings growth ranging from 10% to 12% per year. Ac­tual earnings growth came in at just 6%. The figure below tells the story.
Earnings Growth for S&P 500 (NYSEArca: SPY) Companies
5-year Rolling Average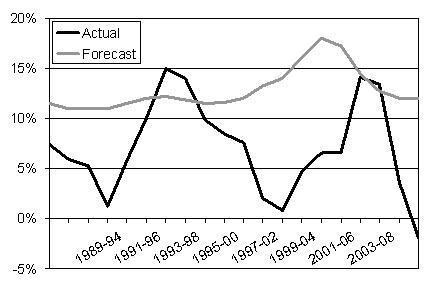 So perhaps we are still expecting too much from the ex­perts. Per­haps forecasts of corporate details, such as cash re­serves or earnings, are too difficult to predict. Perhaps the ex­perts would do better with still more limited predictions, such as the simple future viability of a company. Then again, per­haps not.
On March 11, 2008, SEC Chairman Christopher Cox, when asked about the financial stability of firms such as Bear Stearns (former NYSE ticker symbol BSC) and Lehman Brothers (former NYSE ticker symbol LEH), said "We have a good deal of comfort about the capital cushions at these firms at the mo­ment."[ii] Just three days later, drained of most of its cash, Bear Stearns was forced into a hastily arranged marriage with JP Morgan Chase (NYSEArca: JPM).
In June 2008, only three months before the demise of the now infamous Leh­man Brothers, an analyst at the Boston-based fi­nancial consult­ing firm Celent assured the media, "Lehman's survival as an independent entity should not be at stake."[iii] September of 2008 proved his analysis to be as inaccurate as a prediction can possibly be. Lehman Broth­ers went into collapse mode, forced to declare the largest bank­ruptcy in history.[iv]
Why are these "experts" so wrong? A truly telling study conducted by Philip Tetlock, a research psycholo­gist at Stanford University, helps to answer this ques­tion. The study looked at 82,361 predictions made by 284 ex­perts (pundits).[v]
Tetlock asked the pundits to rate the probability of three poten­tial outcomes for each prediction they felt qualified to make. In the case of an economic expert, he may ask, for exam­ple, whether the economy was likely to:
remain at the same level of growth
What he found was that the ex­perts could literally have been beaten by dart-throwing monkeys! The ex­perts' predic­tions were worse than if they had randomly se­lected the out­come.
But these woefully inaccurate experts are not alone. An en­tire industry of "experts" exists for the purpose of rating the credit-worthi­ness of corporations and govern­ments. Specifi­cally, they are highly paid to inform people as to the likelihood of companies and governments being able to repay their debts. It's the credit rating industry. We will review this industry in the next installment of "The Myth of Expert Advice".
This article is excerpted from Myth #13 of "Jackass Investing: Don't do it. Profit from it." by Michael Dever.
About the Authors:
Michael Dever is the CEO and Director of Research for Brandywine Asset Management, an investment firm he founded in 1982. He is also the author of "Jackass Investing: Don't do it. Profit from it.", which is the Amazon Kindle #1 best-seller in the mutual fund and futures categories. John Uebler is a Research Associate for Brandywine Asset Management. Please visit www.brandywine.com and www.jackassinvesting.com.
---
[i] Marc Goedhart, Rishi Raj and Abhishek Saxens, "Equity analysts: Still too bullish," McKinsey Quarterly (April 2010).
[ii] Stephen Labaton, "Agency's '04 Rule Let Banks Pile Up New Debt," The New York Times (October 2, 2008).
[iii] "Lehman Brothers posts $2.8 billion 2Q loss,"Associated Press (June 16, 2008).
[iv] Sam Mamudi, "Lehman folds with record $613 billion debt," MarketWatch (September 15, 2008).
[v] Philip Tetlock, Expert Political Judgment: How Good Is It? How Can We Know? (Princeton: Princeton University Press, 2005)