"What if I was to tell you that there is an investment with an inflation protective characteristic, a healthy balance sheet, good prospects, and, before I forget, noting somewhere around liquidation value, is that something you might be interested in?" - Bob Ryan, Entourage -
Allow me to introduce Altius Minerals (OTCPK:ATUSF).
Company Profile
Altius Minerals Corporation's (Ticker: ALS on Toronto Stock Exchange) principal business activities are focused on the generation and acquisition of natural resource projects, royalties, and investments. The Corporation pursues these objectives through its two complementary business segments; Exploration-Project Generation and Royalty Creation and Investment and Royalty Acquisitions. Over the years Altius has evolved into a financially strong, diversified mineral and resource-based project generation, royalty and investment business.
Exploration-Project Generation and Royalty Creation
The Corporation conducts early stage low-cost mineral exploration and prospect generation. When these are successful Altius starts looking at other exploration and mining companies to form project level partnerships which then provide the necessary means for further development. The key strength of Altius lies in the fact that it typically opts for a carrying minority and non-operating project and/or equity and royalty interests in these partnerships, limiting its risk exposure and capital outlay. As of October 31, 2012, Altius has approximately 20 projects covering prospective targets for iron ore, gold, uranium, nickel and other base metals.
Investment and Royalty Acquisition
Using the profits generated in the segment mentioned above, Altius has a second (separate) business segment, focusing on 1) Royalty-based financing opportunities and/or acquiring existing royalty interests, 2) selective investment in natural resource related and early-stage companies with the goal of long term capital appreciation.
As of October 31, 2012, Altius has one producing royalty interest, a 0.3% net smelter return royalty (NYSE:NSR) in Vale's Voisey's Bay nickel-copper-cobalt mine. This provides an annual royalty of approximately USD 3 million to Altius.
Altius operates primarily in the easternmost province of Canada, Newfoundland and Labrador. This province is very mineral rich and has mineral development (mining is also the oldest and largest industry there) covering (in order of descending total gross value): iron ore, nickel, copper, zinc, gold, aggregates, antimony, cobalt, silver, dolomite, limestone, peat and pyrophyllite.
More recently, Altius has also expanded its activities to Chile and Quebec.
Company History
Normally I only touch briefly on a company's history, however, in the case of Altius I belief that adding some flesh will significantly attribute to the investment thesis.
Altius (original name: Alberta) was founded in 1997. As mentioned above, it started to acquire claims on mining sites at very low cost and subsequently formed partnerships with existing mining companies to (further) explore these mining sites. In a typical agreement with a mining company Altius provides initial funding and/or a certain mining property in return for an (most often minority) equity stake and/or a royalty agreement. The following example concerning their Kami iron ore project should give some flavor as to how this process works:
"The Corporation entered into an agreement with a private company in November 2009 regarding its Kami iron ore project in western Labrador, Canada. A primary condition of the agreement was that the private company would form a new public company ("Newco") that was to focus on the western Labrador iron ore mining district of Canada. In December 2009, the agreement was assigned to Alderon, a publicly traded company listed on the TSX Venture Exchange and the AMEX exchange. Under the terms of the agreement, Alderon was to incur exploration expenditures totaling $5,000,000 over a two-year period and meet certain financing conditions to earn 100% of the Kami iron ore property. In exchange for the transfer, the Corporation was to retain a 3% gross sales royalty and receive approximately 32 million common shares of Alderon."
One can clearly see the advantages of this type of agreements:
Low capital cost for Altius
Low operational risk (largest part incurred by the junior miner)
Potential long term capital appreciation
Royalty revenues (beneficial in inflationary environments)
Below I will briefly describe the main events that occurred over the past years, in addition, the company has a detailed "Three Year History" section in their 10-K which I strongly advise you to read in order to get a decent flavor of the business.
Aurora Energy Resources Inc.
Most of the current strong financial position of Altius is the result of selling its founding stake in Aurora for gross proceeds of approximately USD 208 million. Aurora, which was founded by Fronteer Gold and Altius, held the Central Mineral Belt uranium properties located in Labrador. Aurora went public in 2006 and Altius significantly profited from selling its share (to Paladin Energy) over the next three years. How significantly? Well, given their initial investment of USD 650 thousand and a payoff of USD 208 million I will let you decide.
In addition, Altius kept an underlying 2% gross uranium sales royalty and a 2% NSR on base and precious metals that may be produced from Paladin's Central Mineral Belt ("CMB") projects.
International Royalty Corporation
Altius further strengthened its cash position by buying a 9.4% stake in International Royalty Corporation, and selling this to Royal Gold in 2010 for cash and share proceeds of approximately USD 63 million.
Initial investment? Somewhere around USD 35 million.
Voisey's Bay Royalty
The Aurora and Royal Gold events attribute significantly to shareholder value and already indicate that management (which has been around for years) is very good at creating value by leveraging their in-depth knowledge of the mineral and mining industry.
However, these two events have little to do with the royalty business model which I mentioned above, which is why we will now focus on the Voisey's Bay Royalty. It is important that you understand this transaction, as the next catalyst for Altius will likely be the royalty stream from a similar project, the Kami project operated by Alderon.
In 2003 Altius bought a royalty on a mineral discovery in eastern Labrador. Altius initially provided financing in return for a stake of 7.5%, and subsequently increased its stake to 10% of the Net Smelter Royalty (NSR) by providing additional financing. At this time the site was not even producing! In 2005 Voisey's Bay started producing and, apart from a strike, Altius states in their 10-K that it expects to receive approximately USD 3 million per year in royalties. Given the historical royalties I belief this is a conservative estimate (FY 2012 they realized USD 4.15 million).
The stake is currently valued at around USD 9.1 million on their books (April 30, 2012). This is way too low as the mine will produce for 30 years and the royalty covers additional exploration on the property. The Voisey's Bay project is at a very early stage so there is still a lot of upwards potential.
Initial cost? USD 13.6 million, based on a LT nickel price of USD 3.25 per pound. (Price of nickel as of 1/1/2013: +/- USD 7.96 per pound)
Newfoundland and Labrador Refining Corporation
NLRC is a private company, in which Altius holds a 39.6% equity stake, which proposed to construct a 300,000 barrel per day oil refinery in southeastern Newfoundland. NLRC was operating under creditor protection under the BIA and currently is part-way through a three year standstill period whereby it is tasked with selling the assets or obtaining the required financing to complete the oil refinery project. NLRC is written down to 0 on the balance sheet, however, being an equity stake holder plus the only secured lender (loan amount: USD 30 million) indicates some possibility of future recovery. This is a nice to have but not at all essential to the investment thesis.
Rambler Metals and Mining
Altius contributed exploration assets in return for a founding equity stake in Rambler Metals and Mining, a public company carrying out advanced exploration and preliminary mine development planning of the historic Ming copper-gold project in the Baie Verte region of Newfoundland. The interest in Rambler was sold during the year ended April 30, 2011 for an estimated profit of USD 6 million.
The purpose of the above write up is to illustrate the type of business activities driving Altius, and the expertise and intelligence of Altius management. Up till now, we have three successful management operations (total value of +/- USD 280 million and a recurring royalty of USD 3 million) and one business failure (USD 52 million). For additional information concerning these (or other) projects, please visit the company's website.
Current Highlights
To arrive at a valuation it is important to look at what is currently playing in Altius's portfolio. We start by looking at the Kamistiatusset ("Kami") iron ore project in western Labrador which, given recent events, might end up as a very strong catalyst in the near future.
Kami Iron Ore Royalty / Alderon Equity
As you could already read in the quoted text above under company history, Altius has both a royalty agreement with and an equity stake in Alderon. The agreement, entered into in 2009, concerns the Kami iron ore project and resulted in the restructuring and financing of Alderon.
In return for acquiring the Kami property, Alderon issued 32 million shares to Altius and agreed to a 3% gross sales royalty on any potential future mining operations. Since inception, numerous developments have taken place at Alderon and the Kami property. The private placements and other financing operations have diluted the equity stake from 44.6% to 25.3%. At a share price of CAD 1.94 the stake in Alderon is currently worth +/- CAD 62 million.
From the Altius website:
August, 2012 - Hebei completed a $62.3 million equity investment in Alderon as part of strategic investment commitment of into both Alderon and its Kami iron ore project in an aggregate amount of C$182.2 million, in exchange for 19.9% of the outstanding common shares of Alderon (the "Private Placement") and a 25% interest in a newly formed limited partnership that will be established to own the Kami Project.
July 2012 - Alderon signed an agreement with the Sept-Iles Port Authority to ship up to eight million metric tonnes of iron ore annually via the new multiuser deepwater dock facility that the port is constructing. Alderon's buy-in payment of $10.23-million ($20.46-million in total) was paid as part of the agreement.
July, 2012 - Alderon released the results of the final mineral resource estimate on its Kamistiatusset iron ore project in western Labrador. The estimate includes a measured and indicated mineral resource of 1.1 billion tonnes at 29.8 per cent iron and an inferred mineral resource of 277.4 million tonnes at 29.5 per cent iron (refer to tables for tonnage and grade details) based on a cut-off grade of 20 per cent iron.
September, 2011, Alderon released results of a Preliminary Economic Assessment ("PEA") study on the Rose Central deposit of the Kamistiatusset property. The PEA was completed by BBA Inc. located in Montreal, Que., and Stassinu Stantec Limited Partnership located in St. John's, Newfoundland and Labrador. Highlights of the Rose Central Kami iron ore PEA included:

Commercial production commencing in 2015 with a mine life of 15.3 years
Capital cost of $989-million (excluding closure costs, sustaining capital and leased equipment)
Pretax internal rate of return of 40.2 per cent
Net present value (discounted at 8 per cent) of $3.07-billion
I consider it out of scope to properly start valuing Alderon (it is also out of my circle of competence). This write up is meant to illustrate the value, and the bargain at which it can be bought, of an investment/royalty generating company, and not so much to describe (the easy part) and assess (the less easy part) the operational side of a junior mining company.
However, some additional information is definitely needed (I will try to be brief):
The Hebei agreement in August 2012 is very beneficial to Alderon

It de-risks the project financially as total investment by Hebei is expected to be more than USD 400 million
Hebei has agreed to purchase 60 % of production (4.8 million tonnes a year), which is a solution for the problem of higher mangenese content found in the ore during the PEA of 2011

There have not been any material problems during the development

Port access has been arranged
Feasibility study with CN rail for construction of 12 km of rail
Benefits from nearby existing infrastructure (hydroelectricity line, etc)
Excellent Management

Management largely consists of the same team members who completed the USD 4.9 billion acquisition of Consolidated Thompson by Cliffs Natural Resources (Including Stan Bharti, amongst other) - Do note, I am not implying that this is what will happen

Recent news

"A group led by China Steel Corp. and Posco agreed to pay $1.1 billion for 15 percent of ArcelorMittal Mines Canada Inc. to secure supplies of iron ore from two mines." - (http://www.bloomberg.com/news/2013-01-02/china-steel-to-buy-stake-in-arcelormittal-s-mines-canada-unit.html) - Again, I do not imply that this will happen, but given that they paid USD 1.1 billion for a 15% stake in a 15Mt/year (Kami has the potential to develop into a 16Mt/year mine) there is clearly "some" upwards potential for both Alderon, and subsequently, Altius.2.
Announced the release date for the 2012 Feasibility Study for the Kami project: 9 January 2013
We will return to the Kami project when looking at the financials.
Cranberry Capital, Chile Operations and Expressions of Interest
Altius also has a USD 25 million investment in Cranberry Capital, a private partnership led by Paul Van Eeden that invests in early stage mineral exploration business.
In November, 2012 Altius expanded its operations to Chile, as it entered into an agreement with Zeus Capital to establish a mineral exploration prospect generation business. Just like usual, Altius will own both an equity stake (49%) and a royalty interest. The program is also backed by the Chilean Fenix program, as this is government sponsored it seems highly unlikely that there will be some form of resource nationalization.
During the last quarter, the Government of Newfoundland and Labrador requested expressions of interest ("EOI") regarding development of lands within exempt minerals lands ("EML") containing the Julienne Lake iron ore deposit. Altius submitted an EOI, which can become very interesting as: "Should the Corporation and its partners be requested to provide a development proposal under the Call for Proposals, it will submit a proposal to combine the EML with its surrounding claims to potentially develop the entirety of the deposit as a larger and longer life mining operation" - MD&A October 31, 2012.
Below you will find a summary of the active projects at Altius, taken from their most recent MD&A. Although not all ventures will prove to be successful, the tables below clearly illustrate the upwards potential for Altius, from both a revenue and an equity stakeholder perspective. Over its 15 year history, Altius has created nearly 60 JV/Option agreements and set up three special purpose companies.
Summary of Exploration Projects, wholly owned or JV/option agreements.
Property

Partner

Agreement Type

Status

Alexis River - uranium

(Southern Labrador)

Kirrin Resources

Inca

Earn in

Earn-in agreement extension granted

to July 2013; no recent results..

Julienne Lake - iron ore

(Western Labrador)

 
 

An Expression of

Interest has been submitted

Labrador West - several

iron ore projects

(Western Labrador)

Rio Tintoa

Earn in (51% to

70%)

Drilling in 2011 resulted in new iron

ore discovery

Moosehead - gold

Central Newfoundland

Agnico-Eagle

Mines Ltd.

Joint venture

(51% AgnicoEagle)

Seeking a partner to undertake a systematic overburden/stripping and advanced exploration program.

Newfoundland Ferro Alloys

- nickel, chromium (Newfoundland & Labrador)

Cliffs Natural

Resources

Strategic Alliance

Targets being evaluated and 2013

exploration program under

consideration.

Notakwanon - uranium

(Northern Labrador)

 
 

Drill-ready project; seeking partner.

Rocky Brook - uranium

(Western Labrador)

Denison Minesb

Joint venture (73.4% JNR)

No work planned at present.

Saglek - Iron

(Northern Labrador)

Cliffs Natural

Resources

Strategic Alliance

Proposed Labrador Inuit Land Use Plan restricts further work in this area; no

further work planned at this time pending finalization of the Land Use Plan

Snelgrove Lake - iron ore

(Western Labrador

Mamba Minerals

Earn-in

Plans being finalized for a 3,000 metre

winter 2013 drill program.

Topsails - copper- molybdenum

(Central Newfoundland)

Denison Minesb

Alliance

No recent work completed; seeking

additional partners to test Koorae CuMo target.

Trough Iron - iron ore projects (Astray, Grenville, Menihek and Schefferville) (Western Labrador)

Century Iron Mines Corporationa

Earn-in( 100%)

and 1% to 4%

sliding scale GSR

$4.3 million of exploration work

commitments recently completed and

results pending .

Grenville Alliance

(Quebec North Shore and southern Labrador)

Virginia Mines

Inc.

Alliance (50/50)

A regional target generation program

including various field surveys and

prospecting completed in 2012.

Results pending.

Wing Pond - gold

(Central Newfoundland)

 
 

No recent work; seeking partner.

aIndicates operator, bRecent takeover of JNR Resources
Summary of Exploration and Pre-Development Stage Royalties
Property

Partner

Agreement Type

Status

Kamistiatusset - iron

ore (Western Labrador)

Alderon Iron Ore Corpa

3% GSR

Current NI 43-101 Resource: 1.1 billion

Tonnes, equity financing and offtake agreement signed with Hebei Steel; Feasibility Study is expected

in early 2013.

Central Mineral Belt -

Uranium (Central Labrador)

Paladin Energy Limiteda

2% GSR

Contained NI-43-101 U3O8 resource:

83.8 million pounds measured and

indicated, and 53.0 million pounds

inferred. Operator commenced a 14,000

metre ore delineation drill program in

August 2012.

Labrador West - iron

Ore (Western Labrador)

Rio Tinto Exploration Inc.a

3% GSR; 1%

buyback

Drilling in late 2011 resulted in a new

iron ore discovery (279m @29.8% Fe);

Rio Tinto is undertaking a 2012 program

Estelle

Gold

(Alaska)

Teck Resources/

Millrock a

(partial)

2% NSR on

gold; 1% NSR

on base metals

1,500 metre drill program commenced

in July 2012.

AUDN Copper-gold

Molybdenum (Alaska)

Valea

/ Millrock

2% NSR on

gold; 1% NSR

on base metals

Surface geochemical sampling and

airborne ZTEM-mag underway.

Topsails - coppermolybdenum

(Central Newfoundland)

Denison Minesb

2% GSR

uranium; 2%

NSR other

Trenching program completed in 2011;

seeking senior partner.

Viking - gold

(Western

Newfoundland)

Spruce Ridge Resources Limiteda

2-4% sliding

scale NSR

NI 43-101 Indicated & inferred resource

total of 147,000 ounces of gold; project

recently transferred to a new operator

with adjacent claims

Humble - copper-goldmolybdenum

(Alaska)

Millrock/ Kinross Gold Corporationa

2% NSR on

gold; 1% NSR

on base metals;

(partial)

Recently completed a 4-hole drill

program; porphyry style alterations

were encountered; planning a follow-up

drill program.

Saglek - Iron

(Northern Labrador)

Cliffs Natural Resources

1% NSR

No further work planned at this time;

awaiting final Labrador Inuit Land Use

Plan, which may prohibit further work.

Snelgrove Lake - iron

Ore (Western Labrador)

Mamba Minerals

Earn-in (100%) and

3% GSR

Plans being finalized for a 3,000 metre

winter 2013 drill program.

Trough Iron - iron ore

projects (Astray, Grenville, Menihek and Schefferville)

(Western Labrador)

Century Iron Mines

Corporationa

Earn-in (100%) and

1% to 4% sliding scale

GSR

Ground gravity and airborne EM surveys

completed, $4.3 million in work

programs recently completed. Results

pending.

Various Copper-gold-moly

Targets (Alaska)

Millrocka

2% NSR on gold; 1% NSR on base metals

Millrock is conducting further early -

stage exploration work on various

properties and is seeking partners.

aIndicates operator, bRecent takeover of JNR Resources
Valuation
The tables above illustrate that Altius has a very high possibility of evolving into a strong cash flow generating business. However, at this moment, with only one ongoing royalty stream, Altius is still far from its full potential. Given these different projects one can wonder how much premium he wants to pay for all this potential.
Looking at the current stock price of CAD 10.58 and a total amount of shares of 28,506,341 we arrive at a Market Capitalization of CAD 301.5 million. In order to assess the stock price, let's take a closer look at the balance sheet:
| | | | |
| --- | --- | --- | --- |
| Asset | Adjustment | amount | comment |
| Cash & Equivalents | None | 40.2 | No Adjustments |
| Marketable Securities | None | 117.7 | No Adjustments |
| Accounts Receivable | 75% | 1.125 | 25% Uncollectable |
| Taxes Receivable | 75% | 5.1 | 25% Uncollectable |
| Voisey Bay | Perpetuity 3million @ 12% | 25 | Conservative as most recently USD 4.15 million |
| Cranberry Capital | 90% | 22.5 | 10% Loss |
| Millrock Resources | 70% | 0.756 | Warrants useless when stock price below 0.45 |
| Century Iron Mines | 70% | 1.33 | With stock price of CAD 0.95 |
| Labrador Properties | 70% | 21 | Rio Tinto can buy 1% of the 3% royalty for USD 10 million, total value royalty = USD 30 million |
| Alderon Shares | 70% | 44 | With stock price of CAD1.94 |
| Alderon Royalty | None | 120 | 4.8 million tonnes (guaranteed by Hebei) @ USD 100 @ 3% royalty @ 12% discount |
| Remaining Projects as illustrated in tables above |   | FREE |   |
|   |   |   | In millions |
|   |   |   |   |
With regards to the Alderon Royalty there is a lot of room for discussion. I take a very conservative approach and state that the mine will only sell the 4.8 million tones that Hebei agreed to buy. This happens at a price of USD 100/ton on which they have a 3% royalty. This gives us a cash flow of USD 14.4 million, discounted by a required rate of return of 12% we end up with a total value of USD 120 million. When you consider the fact that the mine has the potential to be expanded to 16 Mt/year you can pretty much double up to USD 240 million, which would still be a really conservative estimate given the input in my quick and dirty calculation.
In the above analysis I have adjusted those balance sheet items which I belief require a margin of safety, please, do note that I have used really low estimates.
Given these conservative numbers I arrive at a (you could almost say liquidation) value of CAD 398 million (CAD 13.98 per share), which indicates upwards potential of around 33% in a conservative scenario! For comparison purposes, with no adjustments and the Alderon Royalty at USD 240 million we arrive at CAD 551 million (CAD 19.35 per share), implying upwards potential of 83%
Before I forget, I didn't account for any of the other projects currently under development, you get those real options for free.
Risks
Alderon fails to deliver (Focus on Feasibility study, released January 9, 2013)
Iron ore market (or commodities in general) collapses
Illiquid stock
Catalysts
Alderon delivers (Focus on Feasibility study, released January 9, 2013), leading to increased market awareness of Alderon (and Altius) and/or stake acquired by Asian or similar party and/or takeover bid
Other ongoing projects start to deliver (or Altius buys cheap royalties)
Commodity market starts booming
Investors notice the value creation of their share buyback agreement (70,000 a month)
With recent news concerning ArcelorMittal Mining Canada analysts will start to focus on the Canadian mining industry, noticing companies such as Altius
Misc Facts
Investor Rick Rule defined Chile as the most mining friendly country - http://www.thedailybell.com/4334/Anthony-Wile-Rick-Rule-on-Gold-Silver-and-Why-Junior-Mining-Stocks-Have-Languished
Potential windfall from royalty financing of the Muskrat Falls Hydro Project
Possible windfall from NLRC claims
Royalty Stream Financing: http://www.slideshare.net/besget/mineral-royaltystreamfinancing
Summary
Altius is a bargain, and has been a bargain for quite some time. In light of recent events (ArcelorMittal Mining Canada) and of future events (feasibility study at Alderon) I do not expect Altius to remain at current levels, as the awareness of the investor community will definitely increase to these type of companies. Considering its business strategy Altius is the ideal low-risk, high reward commodity play. Even at very negative assumptions the sum of the parts is larger than the part itself.
Currently priced at CAD 10.58, I use my above estimates for a potential value between CAD 13.98 and CAD 19.35 per share, again explicitly mentioning that these are very conservative estimates.
Should you wish to invest in Altius I recommend that you do this before the release of the feasibility study.
Extra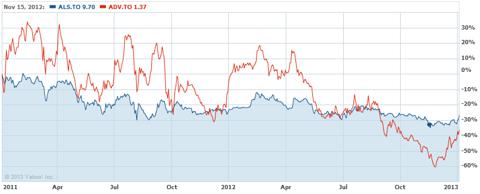 Given the relation between Alderon and Altius share prices I strongly doubt that Altius will respond as quickly as Alderon to the news of the feasibility study. In case one decides to invest and the feasibility study turns out to have negative results I deem it unlikely that the Altius price will react immediately, allowing the investor to dispose of his shares should he have relied on the feasibility study being positive for his initial purchase.
This is my first write up so feel free to comment!
Disclosure: I am long OTCPK:ATUSF.