1. Introduction
In my first year as an investor I found it very appealing to invest in the basic needs of human pleasure. More specifically I'm talking about sex, drugs and gambling. In my reasoning these needs will stick. After all, they have been there for centuries! Another reason why I find these markets very appealing is the willingness to pay, meaning consumers don't spare expenses when it comes to getting excitement in their lives. This translates off course in high margins. It is relatively easily to find publicly traded stocks operating in the last two markets (drugs and gambling), e.g. alcoholic beverage companies, casino's or online betting companies. In contrast I haven't found a good company to invest in the market for sexual pleasures. Until today... Now let me introduce you to DNXCorp, a company that operates in the market of adult content.
2. Profile
DNXCorp is a French company created in 1999. The company is a rare pure internet player that has three main activities:
Adult VOD (Video On Demand: live sex cam chatting) (86,2% of revenue)
E-commerce of erotic products (sex toys, lingerie, ...) (10,8% of revenue)
Web payment services & web services (3,1% of revenue)
The company established a qualitative sober image and clearly distinguishes from shady porn sites. This strategy has successfully attracted costumers as well as partners. In fact it is an European leader in the first two activities. If you want more feeling with their "product" visit these sites to get a feel (just make sure your wife doesn't catch you).
3. Recent developments
The company has grown steadily in the period 2003-2007. In 2008 the company showed explosive growth driven by the launch of its dating sites and erotic flirting dates. Since then top line results have been declining. This decline is driven by new competitors with aggressive marketing, the increasing number of sites with free content and the low entrance barriers for new players (low investments required).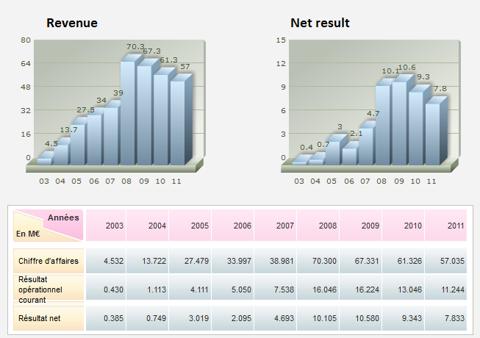 (Chiffre d'affaires = revenue); (Résultat opérationnel courant = EBIT); (Résultat net = net result)
Yet, the company profits from its first mover advantage through its loyal clientele and established name. In order to oppose its declining established businesses the company continuously looks for new opportunities to diversify its activities. A recent example is the development of its web payment services. The group still has plenty of opportunities to diversify activities, e.g. mobile site/apps development and internet games market (company is in development phase). It can also extend its network in Europe (geographical expansion).
4. Comparative analysis (key ratio's)
I compared the company's financial ratio's with two other web companies. Meetic is a French company owning a dating site. Note that there is a takeover bid running from Match.Com. Rentabiliweb is a Belgium company specialized in web based payment services.
 

DNXCorp

Meetic SA

(BEFORE BID)

Meetic SA (AFTER BID)

Rentabiliweb

Share price

18,35

12,35

18,66

5,00

Market cap (M€)

52,01

287,87

434,49

85,85

Net CASH per share (€)

4,93

2,72

2,72

0,41

Net cash / market cap

26,88%

22,02%

14,58%

8,20%

P/E (2013)

9,63

49,74

74,18

14,1

EV/EBITDA

3,51

6,02

9,51

12,6

DIV. YIELD(%)

9,51%

12,19%

8,07%

3,00%
Comparing P/E ratio's or price/book ratio's does not make sense in this sector because web based companies have inconsistent amortization (messes up your P/E) and a lot of intangibles (messes up book value). The best ratio for a peer analysis is the EV/EBITDA-ratio. This ratio is significantly lower for DNXCorp. Meetic's EV/EBITDA was closest, but then got pumped to 9,5x after a bid from Match.com. Based on the EV/EBITDA ratio, DNXCorp has an upward potential of 70% to get a ratio of 6,0.
5. Discounted cash flow valuation
I have build a conservative DCF of DNXCorp. In this valuation I assumed an annual decline of the company's EBIT (and revenue) of 4%. The company's declining profitability is expected to the aggressive competition of sites with free adult content (especially the VOD business). This is off course a pessimistic scenario.
The VOD business is declining but does have a core of loyal clients
Prices (and margins) in the VOD business are probably stabilizing in the next years after taking severe hits
The Web payment services are accelerating in a strong pace (+57% revenue in the first year half) and could offset the company's decline in adult entertainment.
It's internet games development activity is in full development
Q1 and Q2 (2013) already show signs of stabilizing margins and revenue
In summary, I left all potential for growth out of my valuation and assumed for the worst.
I used a discount rate of 8,5%, reflecting the cost of equity and cost of capital (the company is debt free). This is composed of:
a risk free rate of 2,5%
a market risk premium of 6% (for a beta of 1.0)
Note that the company's beta is only -0,13, reflecting the low volatility and risk profile of the business. Normally the market premium should be multiplied by the beta, lowering the discount rate to 3,28% (= 2,25% + 6% *0,13). The 8,5% discount rate is justified, considering it's a small cap with low liquidity (and I also tend to be very conservative in my evaluations).
Assumptions:
Revenue (X+1) = Revenue (NYSE:X) * 0,98
EBITDA (X+1) = EBITDA (X) * 0,96
Tax rate = 33,33% * EBIT
CAPEX = 800 k € yearly
Amortizations & provisions = 1,1% of revenue
Terminal value = 6,0 x EBITDA (2022)

| | |
| --- | --- |
| Market Cap | € 52.01 M |
| Value (NYSE:DCF) | € 62.739 M |
| Safety Margin | 20,63% |
| Shares Outstanding | 2.83 M |
| Price Target | € 22,17 |
6. Tax advantage estimation
One more driver for value... The company has a running project to transfer its business to Luxembourg. This would have an impact on the company taxes paid (33,33 % in France vs 20 % in Luxembourg). Because web services are virtual and therefore geographical location of its activities can be manipulated easily for fiscal advantage, it enables the company to alter its tax structure. In order to estimate the additional value to shareholders, I used the same EBIT-assumptions and multiplied them by 13,33% (difference in tax rate of France and Luxembourg).

| | |
| --- | --- |
| Market cap | € 52.01 M |
| Value | € 6.22 M |
| Shares Outstanding | 2.830 M |
| Value per share | € 2,20 |
| Safety margin | 32,19% |
| Price Target | € 24,29 |
7. Conclusion
The share is heavily undervalued on a comparative basis. The value was also assessed using a (conservative) DCF. The DCF concluded that the share is at least worth 22 €. The current project to transfer its capital to Luxembourg could increase value to 24 € per share. Therefore the upward potential is between 20% to 30%. This target is based on a declining business. Most likely revenue and margins will stabilize in existing markets, but the company will have to proof this during next quarters. On top the company is also developing new growth markets, which will also be contributing in the future. In the mean while, enjoy a dividend yield of approximately 10%.