This week has been very interesting in regards to the price fluctuation in the e-mini S&P. The first chart is from the free chart page I posted last Sunday on my site,
http://www.medianlinestudy.com/free-charts.html
. Price had just ended the week with two large bars down on the 240 minute chart. What was to come as the week began?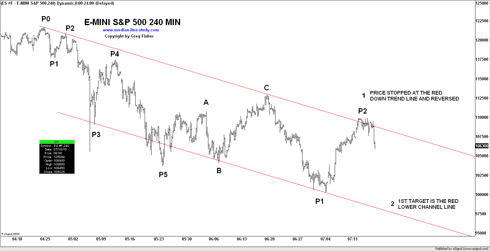 Price drifted higher and then lower through the day on Monday. On Tuesday, prices started to break lower and then made a very impressive rally at the end of the day. At this point, I am thinking which lines of resistance could come into play should price move higher today (Wednesday). I looked at the chart closely and noticed that the last major swing high (marked P2) was slightly higher than the upper channel line, so I drew in a sliding parallel above the upper channel line to account for this "overshoot".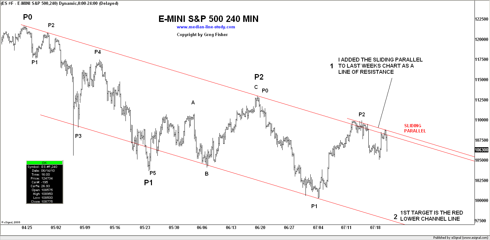 I opened the chart this morning and noticed that price had reached the sliding parallel and was at a decision point – an acceleration higher or a reversal off the sliding parallel? I watched off and on during day as price went essentially nowhere, but did move lower off the sliding parallel. I went to lunch as usual and decided to check the markets upon my return. I was intrigued to see the e-mini S&P down over 15 points! Why?
CNBC ran an article and stated, "
Stocks skidded Wednesday as testimony from Federal Reserve Chairman Ben Bernanke rattled the market. Stocks had struggled all day as Morgan Stanley and Apple gave the market a boost this morning after smashing earnings expectations but weakness in techs and retailers dragged on the market. Bernanke's comments helped push the market decidedly lower
."

Below is a close-up view of the e-mini S&P on a 60 minute chart.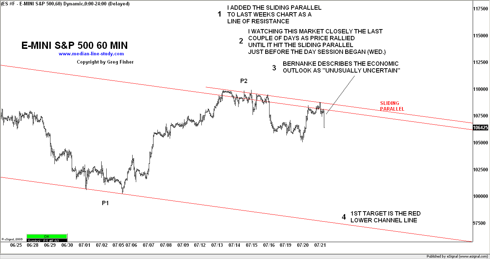 It got me to thinking – did Bernanke's comments really move the market? Didn't the lines tell me over four hours earlier that price was at an important juncture? Was the move down off the sliding parallel a "pre-signal" that Bernanke's comments would be perceived as negative? Did the lines know what Bernanke was going to say? My mind gets carried away at times, but I hope you get the idea. The lines told me something long before Bernanke's comments were made and the CNBC article was written.