EURUSD found some support an hour back or so, after disappointing US Unemployment claims. So I decided to check the intra-day structure on USD Index to see where the buck is positioned and headed next. Well, on the line chart I can see some very clear impulse to the upside, but its presented on a line chart. Its a clear five wave move with a textbook example of an extended wave three. If you are still learning Elliott Wave, then I suggest you to save and print this chart.
Current structure suggests that low is in place, because five-wave move is important evidence for a direction of a current trend. If that's the case then we know that any pull-back to the downside should be only corrective retracement before USD breaks even higher.
If you are interested in our analysis then you can try us absolutely FREE FOR 7 DAYS!
Visit http://www.ew-forecast.com/service/ for more details
USD Index 30min - Elliott Wave Analysis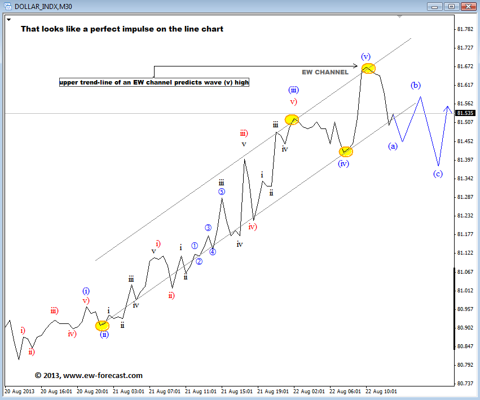 Impulse extension-Elliott Wave Pattern
Most impulses contain what Elliott called an extension. An extension is an elongated impulse with exaggerated subdivisions. The vast majority of impulses contain an extension in one and only one of their three actionary subwaves.
The fact that extension typically occurs in only one actionary subwave provides a useful guide to the expected lengths of upcoming waves. For instance, if the first and third waves are about equal length, the fifth wave will likely be a protracted surge. Conversely, if wave three extends, like on our USD Index chart and on basic chart below, then the fifth should be simply constructed and resemble wave one. In the market, the most commonly extended wave is wave three.
Basic chart of extended third wave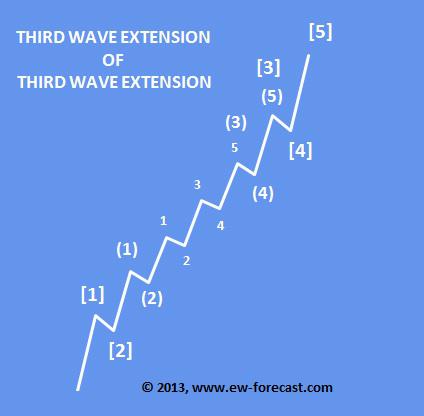 If you are interested in our analysis then you can try us absolutely FREE FOR 7 DAYS!
Visit http://www.ew-forecast.com/service/ for more details